BEST TIME TO VISIT KAMPALA FOR A UGANDA TOUR
Best Time, Seasons & Months To Go On Tour In Kampala?
With its hilly topography and proximity to
Lake Victoria
, Kampala enjoys lovely weather most of the year. Its elevation and location close to the equator ensure pleasantly warm weather through the year, without extreme fluctuation. Whether you are in the city to attend a conference or meeting, or simply on a city tour vacation, most of the months in the year are good in
Kampala
. If a visit to the game parks in the rest of the country is in your plans, you may prefer to schedule your safari holiday during one of the dry seasons as it is the best time to visit: the drier and warmer season that encompasses mid-December, January and February, and the longer, cooler dry season months of June, July, August and the early parts of September. Depending on the month you are planning to travel, you can expect daytime temperature to range from 26-29 C (79-84 F). Nighttime temperatures remain at a range of 16-18 C (61-64 F).
Different Monthly Seasons At Kampala - Dry, Hot, Wet Rainy & Cool
Dry Months, Best Time & High Season For Kampala: Mid-December, January and February are the driest and warmest months but not the peak season of travel in Uganda. Expect few guests compared to the peak season.
Dry & Wet Rainy Months, Very Good Time & Peak Season For Kampala: June, July and August offer mostly dry periods with intermittent showers. July and August have high numbers of visitors into Kampala.
Wet Rainy Months, Good Time & Mid-Peak Season For Kampala: March and September offer a mixture of dry and wet periods with September having an increased number of visitors into Kampala compared to March.
Wet Rainy Season, Least Best Time & Low Season For Kampala: April, May, October, and November. These months are also part of the lush green season in Uganda, and have the least number of visitors due to limited land and water based activities around Kampala. Some roads with limited drainage in Kampala do get flooded.
Hot & Cool Months: There is only 1-3 Celsius degrees variation in temperature in between months at Kampala. January and February are the hottest months with highs of 29 C (84 F) during the day and lows of 18 C (64 F) at night while June, July and August are the coolest months with highs of 26ºC (79 F) during the day and lows of 16 C (61 F) at night. All other months have a range from 27 C (80 F) to 28 C (82 F) during the daytime while nighttime temperatures average around 17 C (62 F).
Key Takeaways
Daytime temperatures ranging from 26 to 29 C (79-84 F) and nighttime temperatures hovering around 16 to 18 C (61-64 F)
Best time to visit is in the dry season months of mid-December to February and June to August.
Cooler months in Uganda coinciding with summer-time in the northern hemisphere when schools are closed for summer holidays. Best time for families to visit.
The rainy season months March to May and mid-September to mid-December
Wet seasons may impede travel on some roads within Kampala
Visiting Kampala During the Dry Seasons - Is It The Best Time To Go On Tour Based On Climate, Temperatures & Weather Conditions?
If you are going to be
touring only in Kampala
, the two dry seasons are the best time for your visit. In an urban setting, exploring the varied attractions is not likely to be hampered by rain unless you access roads that have poor drainage during the peak rainy period. Kampala also sees more holiday guests in the dry seasons because the months of June through August are summer holiday months in North American and European countries. Since schools are closed for the summer, families like to take child-friendly vacations in African countries to introduce their kids to the beauty of wildlife and the importance of conservation efforts. The other short dry season of January and February is also perfect for spending time in the city. The warm weather is a magnet for northern hemisphere tourists looking to take a break from the harsh winters.
Wet Seasons In Kampala & How To Plan Activities During The Rainy Period?
Like all African countries,
Uganda has two dry seasons and two wet seasons
. As it is a tropical country subject to vagaries of weather due to global warming, you can expect to see light rain at any time of the year. However, the long wet season lasts from March to May, while the short rains begin to fall by the end of September, continuing through October and November until about the middle of December. Even during the wet seasons and being close to the equator, it does not rain continuously in Kampala; in between showers the skies become clear and sunny. The wet season in Uganda is also considered an off, low or green season for tourism. While rates for the
hotels in Kampala
generally remain unchanged throughout the year, you can expect the camps and lodges in the reserves to offer discounts during the rainy season.
Other Considerations When Planning Your Tour Dates For Kampala
If you intend to travel to the diverse

parks and reserves

in the country, however, you may want to plan your trip to coincide with one of the two dry seasons. During this period, the dry conditions in the forests are less muddy and ideal for tracking and viewing primates such as mountain gorillas, chimpanzees and monkeys. The plains of Uganda have sparse vegetation in the dry season, prompting terrestrial wildlife, including the large mammals and big cats, to congregate at water sources for drinking. During the wet season, animals are more difficult to find because they tend to spread out when water and food are more readily available. In addition, the dry season has fewer bugs, including mosquitoes, thereby greatly lowering the risk of malaria.
| | |
| --- | --- |
| Kampala Rating By AfricanMecca | |
Write A Trip Review On Kampala In Uganda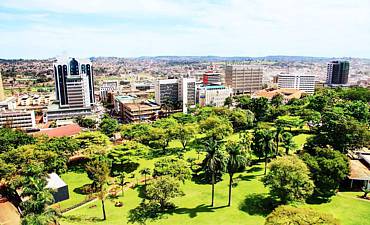 Read More +
GUIDE ON KAMPALA
Kampala (Luganda for Hill of the Impala) is built on what was once undulating green hills, fields of grass and wetlands. Today, it is a fascinating, cosmopolitan city with many attractions and tourist hotspots.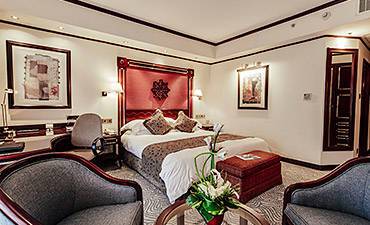 Read More +
WHERE & BEST PLACES TO STAY IN KAMPALA
Kampala offers a diversity of accommodations, from the boutique chic Latitude 0 Degrees to the larger luxuries of Kampala Serena Hotel. The deluxe property options are Humura Resorts and Emin Pasha Hotel.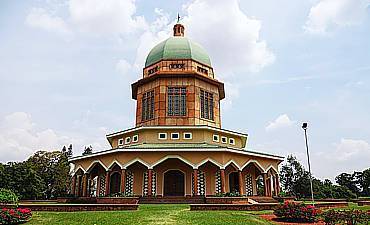 Read More +
KAMPALA ACTIVITIES & TOUR ATTRACTIONS
Experience city tour activities and attractions in Kampala - visit the Baha'i Temple, Craft Village on Buganda Road, mosques, Hindu & Jewish temples, cathedral viewing, Uganda Museum, Serenada wilderness etc.
AFRICANMECCA REVIEWS
What are our Customers saying about us? READ MORE REVIEWS

Rwanda was amazing. The accommodations, food, and guides AfricanMecca arranged were great. Raza also helped us through the complicated process of getting permits for gorilla trekking. AfricanMecca is a fantastic company to work with.

Stephanie Weir - United States

AfricanMecca Safaris created a remarkable honeymoon tailored to our interests and desires. The quality of service and delivery of experience was unsurpassed. I highly recommend AfricanMecca Safaris to honeymooners, families, or any traveler.

Noorin & Jason Nelson - Maryland, United States

First off, we had the most amazing time ever and wanted to thank you very much. Kenya proved without a doubt to meet all of our expectations. Every detail was thought of on our trip by AfricanMecca and were are all flawless.

Marcy Burton & Ryan Kerr - Ontario, Canada

I booked my safari holiday through AfricanMecca. They were the most helpful company I have ever dealt with and I work within the travel industry. I had the most amazing time. The holiday went as clockwork with no hitches anywhere.

Shelley Roberts - Hemel Hempstead, United Kingdom

We have returned from our African adventure and would like to thank you very much for your part in making this such a wonderful experience. We were lucky enough to time the Great Migration from the Serengeti, which was amazing.

Denise Paterson - Belmont, Australia

I just returned from a month in Africa, specifically Rwanda & Kenya. I am left breathless with my experience. AfricanMecca Safaris coordinated the entire trip for me and left no detail, nothing for me to do.

Carol Bobb - Pennsylvania, United States

AfricanMecca Safaris offers incredibly knowledgeable and skilled services! Our travel arrangements for 2 months of volunteering with TEACH Rwanda in country were made quickly and economically. Honored to work with Raza!

Janet Brown - TEACH Rwanda Founder - United States
EAST AFRICA SAFARI BOOKING TRIP IDEA FOR KAMPALA IN UGANDA
When visiting Kampala, we recommend combining it with Bwindi Park for your gorilla safari trek, Queen Elizabeth, Murchison Falls and Kibale (chimpanzee safari) alongside your city tour visits of Entebbe.

You may optionally extend out to other wilderness areas such as Mgahinga to track down golden monkeys and gorillas in the same park, Jinja for whitewater rafting on the Nile River, Semliki, Lake Mburo or Kidepo for an offbeat wildlife tour.

You can end your vacation on the beach at Lake Victoria or even extending out to the exotic spice island of Zanzibar or Lamu, or even Mombasa.
Best Safari Planning Ideas & Trip Experiences For Uganda
Below are guide references on how to plan each of the below safari experience in Uganda. Alternatively, go to the summary section for a quick overview of each trip planning experience.
READ MORE
ARE YOU PLANNING TO BOOK AN AFRICAN TOUR TRIP TO KAMPALA IN UGANDA?
Do You Need Knowledgeable, Experienced & Specialist Guidance For Your Travels In Kampala ? Let Us Help Plan Your Trip Itinerary Correctly
CONTACT AN AFRICA TRAVEL EXPERT ON KAMPALA
HAVE YOU VISITED KAMPALA FOR AN AFRICA SAFARI IN UGANDA?
Write A Travel Or Tourist Trip Review To Share Your Experiences
WRITE KAMPALA REVIEW
AMS BLOG
VIEW ALL -
26 October 2017 by AfricanMecca Safaris, in Blog For AfricanMecca Safaris,Safari Planning Blog Posts - AfricanMecca Safaris

Baggage Guidance & Restrictions On Flying Safaris In Africa Published By Afr...

READ MORE +

07 June 2017 by AfricanMecca Safaris, in Blog For AfricanMecca Safaris,Latest Kenya Blog Posts From AfricanMecca Safaris,Safari Planning Blog Posts - AfricanMecca Safaris

Masai Mara Horseback Riding Safari In Kenya Published By AfricanMecca Safaris | ...

READ MORE +

24 March 2017 by AfricanMecca Safaris, in Blog For AfricanMecca Safaris,Safari Planning Blog Posts - AfricanMecca Safaris

Times Square New York Hosts Kenya Tourism Board & Wilderness Safaris Meet Up...

READ MORE +