WHERE & BEST PLACES TO STAY IN KAMPALA
10 Best Places & Where To Stay At Various Kampala Accommodations?
AfricanMecca Safaris recommends the below
hotels
in Kampala based on your travel budget and Hotel Tier preference.
1. Latitude 0 Degrees - Tier 1 Premier Experience
Latitude 0 Degrees
is an upmarket hotel sited atop Makindye Hill in Kampala. Catering to both corporate travelers and safari vacationers, this chic boutique stayover has a collection of 47 rooms and suites to meet the needs of every discerning visitor. The interiors have lots of natural lighting and views of the lush gardens. The soft muted color themes spell quiet elegance with just the right hints of color and are furnished with either a large double bed or twin single beds. The ensuite bathroom has a shower area, bathtub, single vanity, and a hairdryer. Guests also have access to The Other Side, the hotel's club lounge.
2. Kampala Serena Hotel - Tier 1 Premier Experience
Nestled in the heart of the metropolitan area, the Kampala Serena Hotel is a sophisticated oasis of opulence and luxury that caters to the discerning traveler. The
Kampala Serena Hotel
is tastefully decorated with elegant, local stonework accents that reference Kampala's unique lakeside location and the country's extensive system of tributaries. The first Serena hotel to open in Uganda, it offers 186 rooms in a range of specifications, including 108 Deluxe Rooms, 64 Executive Rooms, 6 Executive Suites, 6 Business Suites, and 2 elegant Presidential Suites. The hotel offers twenty-four-hour room service and multiple restaurant choices, from gourmet rooftop dining to relaxed cafe fare, ensuring that guests can enjoy a sumptuous selection of cuisines prepared and presented to perfection.
3. Le Petit Village Hotel - Tier 2 Deluxe Experience
Located in the outskirts of central Kampala,
Le Petit Village
is a tranquil retreat offering vacationers the ambiance of Ugandan village living complete with the amenities and facilities of an economy establishment. The hotel has just 12 rooms in three categories, including Standard Suites, Junior Suites, and Executive Suites. The Junior Suite includes an in-room bathtub, while the Executive Suite has a well-equipped kitchenette, dining room, an extra upper floor room and living room for families. In addition to enjoying other amenities, you can spend time relaxing on the furnished patio, simply enjoying the serenity of the hotel's environs. Le Petit Village is also close to many urban conveniences such as a bank, pastry shop, pharmacy, and a mall.
4. Emin Pasha Hotel - Tier 2 Deluxe Experience
The
Emin Pasha Hotel
offers guests a deluxe, colonially styled oasis that is conveniently located in the heart of Uganda's urban capital city, Kampala. The Emin Pasha's accommodations are hidden away in the lushly landscaped, tropical gardens of a 2-acre estate. This small, mid-range hotel includes the classic furnishings, boutique charm, and discreet service you're looking for, amid an ambiance reminiscent of a long-gone era. Enjoy your stay in one of its 20 air-conditioned rooms, housed in two-story structures adorned with soft furnishings, carved wooden furniture, local artwork, and modern fittings. Choose from a range of room grades, from Garden Rooms and Superior Rooms to Garden Suites and Superior Suites.
5. Lake Victoria Serena Golf Resort & Spa - Tier 2 Deluxe Experience
Lake Victoria Serena Golf Resort & Spa
has all the facilities, amenities and fine service characteristics typical of Serena properties. This deluxe hotel in Kampala, located 35 km (22 mi) from Entebbe International Airport and 20 km (12 mi) from Kampala city, offers 124 rooms including 114 Deluxe Rooms, 8 spacious Executive Suites, and 2 luxurious Presidential Suites. Guests can also enjoy a round on the championship golf course, the Maisha Spa, tennis and basketball courts, a swimming pool, and fitness center. The hotel serves excellent meals and drinks from its on-site restaurants and bars.
6. Protea Hotel Kampala Skyz - Tier 2 Deluxe Experience
The
Protea Hotel Kampala Skyz
is suitable for the mid-range traveler seeking accommodation for their stay in
Kampala. Standing atop Naguru Hill, the hotel offers stunning views of the city. You can choose from one of the 141 rooms, such as the Standard Guest Rooms, Larger Guest Rooms, 1 Bedroom Suite, 1 Bedroom Executive Suites, and 2 Bedroom Presidential Suite. Groups of up to 5 visiting guests can book the Presidential Suite while the other suites can sleep 3 visitors comfortably. The ensuite bathroom has an opaque glass shower stall, slippers, and single vanity. The Club Lounge is available for the guests staying on the club level floor.
7. Humura Resorts - Tier 3 Value Experience
Humura Resort
, whose name means "a state of calm and relaxation," is a budget boutique hotel in Kampala. An Eden of tranquility amid the bustle of the city, with lovely gardens that are home to native birds, this resort offers guests a serene, boutique experience with warm service. It has just 18 rooms, with a choice of Standard, Deluxe and Suite. If you are visiting as part of a larger party of guests, you can request adjoining rooms connected by internal doors. Humura has tasty food, and guests have the option to dine in the restaurant or al fresco beside the swimming pool.
8. Hilton Garden Inn Kampala - Tier 3 Value Experience
The
Hilton Garden Inn Kampala
is a budget accommodation, and is located in the Kitante locale of the city, providing easy access to the prime business district. You can book one of the 96 rooms, which include options like King, Queen and Twin Rooms. The hotel also has Accessible rooms for guests with mobility challenges. Interconnecting rooms are available for families visiting with kids. The ensuite bathroom has a shower stall, and carries the necessary toiletries, bathrobes and slippers. The room amenities include air-conditioning, safe, work station with a desk lamp and ergonomic chair, minibar, supplies for making tea and coffee.
9. Protea Hotel By Marriott Kampala - Tier 3 Value Experience
The
Protea Hotel Kampala by Marriott
 is a value hotel in the Kololo area of Kampala. A peaceful, elite suburb, Kololo offers vacationers easy access to the Uganda Golf Club, only 400 meters from the hotel doors. Whether you are visiting the city of Kampala on business or for pleasure, you will find that the 70 rooms and suites are well-matched to your requirements. Some of the rooms face the front of the hotel, while others overlook the beautiful gardens at the back. Choose from options such as Standard Rooms, Smaller Suites, Junior Suites, and Executive Suites.
10. Sheraton Kampala Hotel - Tier 3 Value Experience
The
Sheraton Kampala Hotel
is conveniently located, amid beautiful landscaped gardens, within the heart of Kampala city. The hotel offers affordable accommodations, with 236 rooms suited to value-seeking urban vacationers and business guests in a variety of categories. Choose from Botanical Garden View Rooms, Executive Rooms, Club Level Rooms, Diplomatic Suite, Junior Suites, and Presidential Suite. Room amenities include a flat-screen TV, minibar, in-room phone and electronic safe, walk-in shower or bathtub and a balcony. Guests also enjoy access to the hotel's exclusive Club Lounge on the 10th floor. Facilities include a swimming pool, fitness center, spa, and tennis and squash courts.
| | |
| --- | --- |
| Kampala Rating By AfricanMecca | |
Write A Trip Review On Kampala In Uganda
AFRICANMECCA REVIEWS
What are our Customers saying about us? READ MORE REVIEWS

Rwanda was amazing. The accommodations, food, and guides AfricanMecca arranged were great. Raza also helped us through the complicated process of getting permits for gorilla trekking. AfricanMecca is a fantastic company to work with.

Stephanie Weir - United States

AfricanMecca Safaris created a remarkable honeymoon tailored to our interests and desires. The quality of service and delivery of experience was unsurpassed. I highly recommend AfricanMecca Safaris to honeymooners, families, or any traveler.

Noorin & Jason Nelson - Maryland, United States

First off, we had the most amazing time ever and wanted to thank you very much. Kenya proved without a doubt to meet all of our expectations. Every detail was thought of on our trip by AfricanMecca and were are all flawless.

Marcy Burton & Ryan Kerr - Ontario, Canada

I booked my safari holiday through AfricanMecca. They were the most helpful company I have ever dealt with and I work within the travel industry. I had the most amazing time. The holiday went as clockwork with no hitches anywhere.

Shelley Roberts - Hemel Hempstead, United Kingdom

We have returned from our African adventure and would like to thank you very much for your part in making this such a wonderful experience. We were lucky enough to time the Great Migration from the Serengeti, which was amazing.

Denise Paterson - Belmont, Australia

I just returned from a month in Africa, specifically Rwanda & Kenya. I am left breathless with my experience. AfricanMecca Safaris coordinated the entire trip for me and left no detail, nothing for me to do.

Carol Bobb - Pennsylvania, United States

AfricanMecca Safaris offers incredibly knowledgeable and skilled services! Our travel arrangements for 2 months of volunteering with TEACH Rwanda in country were made quickly and economically. Honored to work with Raza!

Janet Brown - TEACH Rwanda Founder - United States
EAST AFRICA SAFARI BOOKING TRIP IDEA FOR KAMPALA IN UGANDA
When visiting Kampala, we recommend combining it with Bwindi Park for your gorilla safari trek, Queen Elizabeth, Murchison Falls and Kibale (chimpanzee safari) alongside your city tour visits of Entebbe.

You may optionally extend out to other wilderness areas such as Mgahinga to track down golden monkeys and gorillas in the same park, Jinja for whitewater rafting on the Nile River, Semliki, Lake Mburo or Kidepo for an offbeat wildlife tour.

You can end your vacation on the beach at Lake Victoria or even extending out to the exotic spice island of Zanzibar or Lamu, or even Mombasa.
Best Safari Planning Ideas & Trip Experiences For Uganda
Below are guide references on how to plan each of the below safari experience in Uganda. Alternatively, go to the summary section for a quick overview of each trip planning experience.
READ MORE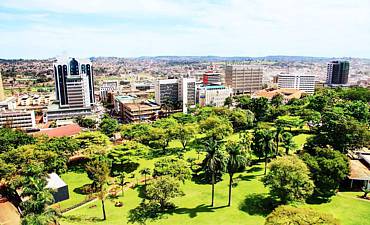 Read More +
GUIDE ON KAMPALA
Kampala (Luganda for Hill of the Impala) is built on what was once undulating green hills, fields of grass and wetlands. Today, it is a fascinating, cosmopolitan city with many attractions and tourist hotspots.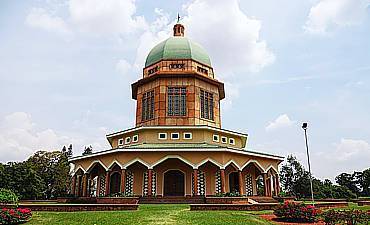 Read More +
KAMPALA ACTIVITIES & TOUR ATTRACTIONS
Experience city tour activities and attractions in Kampala - visit the Baha'i Temple, Craft Village on Buganda Road, mosques, Hindu & Jewish temples, cathedral viewing, Uganda Museum, Serenada wilderness etc.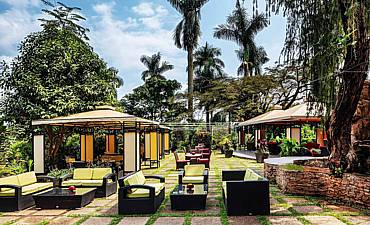 Read More +
BEST TIME TO VISIT KAMPALA
The long dry season starts around the middle of December, January and February, and is considered the best time to visit Kampala in Uganda. The alternate best time to visit is June, July and most parts of August.
ARE YOU PLANNING TO BOOK AN AFRICAN TOUR TRIP TO KAMPALA IN UGANDA?
Do You Need Knowledgeable, Experienced & Specialist Guidance For Your Travels In Kampala ? Let Us Help Plan Your Trip Itinerary Correctly
CONTACT AN AFRICA TRAVEL EXPERT ON KAMPALA
HAVE YOU VISITED KAMPALA FOR AN AFRICA SAFARI IN UGANDA?
Write A Travel Or Tourist Trip Review To Share Your Experiences
WRITE KAMPALA REVIEW
AMS BLOG
VIEW ALL -
26 October 2017 by AfricanMecca Safaris, in Blog For AfricanMecca Safaris,Safari Planning Blog Posts - AfricanMecca Safaris

Baggage Guidance & Restrictions On Flying Safaris In Africa Published By Afr...

READ MORE +

07 June 2017 by AfricanMecca Safaris, in Blog For AfricanMecca Safaris,Latest Kenya Blog Posts From AfricanMecca Safaris,Safari Planning Blog Posts - AfricanMecca Safaris

Masai Mara Horseback Riding Safari In Kenya Published By AfricanMecca Safaris | ...

READ MORE +

24 March 2017 by AfricanMecca Safaris, in Blog For AfricanMecca Safaris,Safari Planning Blog Posts - AfricanMecca Safaris

Times Square New York Hosts Kenya Tourism Board & Wilderness Safaris Meet Up...

READ MORE +