AUTHENTIC TOURS & PERSONALIZED EXCURSIONS AROUND KAMPALA WITH AFRICANMECCA
What Attractions & Tour Activities To Experience During Your Kampala Visit?
The
city of Kampala
is a fascinating melting pot of cultures with a long and illustrious history that began with the reign of the Buganda kings. As you tour the city, you will be able to visit many fascinating sites that stand testament to those times. Visit the Kasubi Tombs for a glimpse of Uganda's royal past, before going on to explore the Uganda National Mosque and the early colonial-era Namirembe and Rubaga Cathedrals. The more unique Baha'i Temple, Muslims mosques, Hindu temples, Kampala Jewish Synagogue and Nakayima Tree all attest to the religious harmony and diversity that prevails in Uganda. Round out your tour by sampling Uganda's impressive range of arts and crafts with a trip to the Uganda Museum and Craft Village on Buganda Road.
Key Takeaways
Incredible melting pot of cultures and historical remnants dating back to the time of the traditional kings of Uganda
Various architectural wonders that showcase religious tolerance and harmony
Shopping expeditions for authentic arts and crafts and global merchandise
Visit conservation sites such as Serenada Eco Tourism Wilderness, Uganda Wildlife Conservation Education Center, Uganda Reptile Village
Experience a diversity of spiritual attraction sites such as Africa's only Baha'i Temple, mosques, Hindu temples, a Jewish Synagogue, cathedrals and a remnant of the Bachwezi Empire - the Nakayima Tree
Watch Video On Kampala Tour Experiences
Our Top 12 Tour Activities In Kampala - Things You Can Do & See
Page Content - Start Here
1. Tour Of The Baha'i Temple
Key Takeaways
One of the only such temples on the continent of Africa
Standing on a 50-acre property on Kikaya Hill
Spectacular architectural design created by Charles Mason Remey
The Baha'i Temple is the only one of its kind on the continent of Africa. Standing atop Kikaya Hill on about 50-acre on the outer edge of the city of Kampala
(where to stay)
, the temple is properly termed a "Mashriqu'l-Adhkar" meaning "The Dawning Place of the Praise of God". Its architectural design with a massive green dome was created by Charles Mason Remey. The Baha'i faith was introduced to Uganda in 1952 and the temple started its construction in 1958 and completed in January 1961. Kampala offers the opportunity to visit a monument so rare that it numbers one of only seven major worldwide, and no matter your faith you will enjoy spending some relaxing spiritual holiday time here, enjoying the peace and serenity of the temple's lushly landscaped tropical garden.
2. Shop At The Craft Village On Buganda Road
Key Takeaways
Shopping at the Crafts Village where handcrafted items are available
Enjoy a bargaining session which is an acceptable pursuit
Selection of canvas art, colorful textile, pottery, musical instruments, beaded jewelry, souvenir utensils and many more
When in Kampala, you must take the time to go shopping at the Craft Village on Buganda Road. Browse around the varied stalls selling fantastic curios and knickknacks to take home as mementos of your
vacation in Africa
. Be sure to pick up a kitenge, a kind of sarong with brightly colored, intricate textile prints, which can be used as a skirt, tablecloth, bed covering or even a commemorative wall hanging. You will also find leather sandals, woven bags, carvings, jewelry, keychains, flutes, drums of different shapes and sizes and clay pots. Remember to ask for the best price, because bargaining is the norm; though, be reasonable in your negotiating proposals.
3. Visit The Uganda National Mosque
Key Takeaways
Standing on the site of the Captain Lugard's Fort that was dismantled during the reign of Idi Amin
Construction commissioned in 1972 and eventually completed in 2006
Stunning specimen of Islamic architecture showcasing fabulous pillars, sparkling glass chandeliers, and intricate mosaics
The Uganda National Mosque was constructed on the site of Captain Lugard's Fort in Kampala. During the reign of Idi Amin, the fort was dismantled and moved to make space for the Uganda National Mosque, also formerly known as Muammar Gaddafi Mosque. The structure is an extraordinary example of Islamic architecture, with minimalist facades surmounted by domes that shimmer in the bright African sun. This unassuming front conceals fabulous pillars, glass chandeliers and complex mosaics.
During your visit to the mosque, don't forget to take off your footwear at the doorway, wear modest dressing that covers your legs, chest and hands, and the women need to wear a headscarf. When your visit to the interiors praying halls is complete, you can request your guide to climb to the apex of the minaret for stunning views of Old Kampala. Although the Mosque was commissioned in 1972, construction halted upon the dictator's exile in 1979 and the mosque was not completed until 2006. Today the mosque is one of the region's largest, with space for 15,000 Muslim worshippers.
4. Rubaga Cathedral Viewing
Key Takeaways
Also called St. Mary's Cathedral Rubaga, built on land donated in 1889 by esteemed Buganda King Mwanga II (Danieri Basammula-Ekkere Mwanga II Mukasa)
Built in Romanesque styles much like the structures in South America and Europe
Final resting place of first African Catholic bishop in Uganda
In the late 1800s, during the reign of the esteemed Buganda king Mwanga II, Bishop Hirth (part of French Catholic missionaries - White Fathers) was granted land on Rubaga Hill in Central Kampala to build a house of worship. The subsequent structure, Rubaga Cathedral, is built in a Romanesque style similar to contemporaneous cathedrals in South America and Europe. Also called St. Mary's Cathedral Rubaga, it has two belfries and interiors adorned with mosaics and exquisite paintings in vibrant colors. On your tour of the cathedral you are likely to notice traces of both European and African artistic styles. Joseph Kiwanuka, the first African Catholic bishop in Uganda, is interred here.
5. Uganda Museum Visit
Key Takeaways
Located on Kira Road close to the British High Commission in Kampala
Culture village designed to educate visitors on the heritage of Uganda
Peaceful gardens where vacationers can spend time
Located within green gardens on Kira Road, close to the British High Commission, is the Uganda Museum. A giant cannon graces the entrance. As you wander through the building, you can see many remnants and relics of Uganda's long and fascinating history. Enjoy exploring the culture village, a magnet for kids, and view the many displays that depict
Uganda's diverse heritage
. Ask all the questions you want and keep an ear open for an impromptu demonstration of a musical instrument. You can also spend some quiet time reveling in the peace of the gardens before moving on to the next stop on your city tour.
6. Namirembe Cathedral Viewing
Key Takeaways
Also called Saint Paul's Cathedral Namirembe, and is the oldest Protestant Church in Uganda
Dismantled and reconstructed four times since its original establishment in 1890
A beautiful organ is one of the most striking features
Namirembe Cathedral is the oldest Protestant church in
Uganda
. Also called St. Paul's Cathedral Namirembe, was originally completed in 1890. Over the years it has been brought down and reconstructed four times, with the most recent version built between 1915 and 1919. At the time, ceramic roof tiles and earthen bricks were used in the construction. In more recent times, the church was renovated once again and the dome was given a glossy finish. The most striking feature of this famous cathedral is its organ, dating to 1931. Should you travel to the Lubaga district, the expert guide assigned to you by AfricanMecca Safaris will explain the fascinating history of the cathedral's multiple incarnations.
7. Uganda Wildlife Conservation Education Center Visit
Key Takeaways
Sanctuary showcasing few of the rich and diverse wildlife of the country
Rehabilitation home to some of the Big Five of Africa along with a range of other terrestrial life
Sightings of avian life, reptile and children's recreation area
For an introduction to some of the wildlife that you can find in the diverse
parks and reserves of Uganda
, there is no point for tourists to visit the Uganda Wildlife Conservation Education Center. It is primarily geared for local residents and school children to visit for their enrichment and enlightenment of the importance of fauna conservation in Uganda. Opened in 1952 by the former colonial government In Uganda, this zoo-like sanctuary rehabilitates injured and orphaned animals giving Ugandans an opportunity to get up close and personal with some of Uganda's most incredible wildlife.
Located about 40 kilometers (25 miles) from the heart of the city, the UWEC houses some of Africa's Big Five, including the lion, leopard, baby elephant and rhino. You can also see red-tailed monkeys, giraffes, waterbucks, chimpanzees, zebras and the Uganda kob. Among the avian life, look out for the African fish eagle, peacock, shoebill stork, ostrich and pelican, to name a few. The center also has a children's recreation area and reptile section. Please note there are photo opportunities for petting and feeding; however, AfricanMecca does not recommend engaging in these activities if you decide to visit the center on your own accord.
8. Serenada Eco Tourism Wilderness Trip
Key Takeaways
Can be reached by taking a 35-minute boat ride from Ggaba Beach
Sanctuary comprising of a papyrus jungle, tropical forests, a beach, and landscaped gardens
Sightings of more than 220 diverse species of avian life
Accessible via a 35-minute boat ride from Ggaba beach, the Serenada Eco Tourism Wilderness is a haven for birdwatchers and home to many species of gorgeous butterflies. The area is on the banks of
Lake Victoria
. While on your tour of Kampala you must visit the sanctuary, which boasts a papyrus jungle, two tropical forests, a beach and beautifully landscaped gardens, along with a section of Mount Kyasa. Look for over 220 species of birds, including the white egret, hammerkopf, grey-crowned crane and many more. Also spot avian insects like the butterfly and dragonfly. Activities include fishing, lake cruising, biking around the villages, canoeing and nature walks. A visit to the wilderness area is combined with a day or overnight stay at Serenada Eco Resort.
9. Tour Of The Hindu Temples In Kampala
Key Takeaways
Shree Sanatan Dharma Mandal (SSDM) located close to Nakasero Market
Built out of sandstone without the use of steel girders or nails, a marvelous architectural specimen
Decorated on Diwali with thousands of small candles called dewas and traditional dance celebrations during Navratri
The Shree Sanatan Dharma Mandal (SSDM) is a Hindu temple near Kampala's Nakasero Market and a fine symbol of religious tolerance in Uganda. Perhaps the temple's most notable feature is that it is built out of sandstone without the use of any steel girders or iron nails. It is lavishly decorated with Hindu symbols. Should you take a
trip
out to the shrine during Diwali, the Festival of Lights, you will find it splendidly lit with thousands of small candles called "dewas.". Another best time to visit the temple is during Navratri (festival of the victory of Good over Evil). To reach the shrine you must climb up many stairs; Hindus believe that as you traverse the stairs you leave behind your sins and reach God, pure in mind and body.
10. Uganda Reptile Village Excursion
Key Takeaways
Located on the highway connecting Kampala and Entebbe
Experienced snake handlers to display and educate visitors on the characteristics of the specimens
Certain species known to live for up to 40 years
Reptile lovers, including those with phobias, do travel to the community based Uganda Reptile Village, on the highway connecting
Kampala (best time to visit)
and
Entebbe
. The experienced snake handlers on site will allow you to interact with and learn more about the 20 species that live here, including pythons, vipers, cobras and mambas, among others. Watch the snakes as they coil and wrap around the handlers, flashing their tongues to gather scents from their surroundings. Given the sanctuary's ideal conditions, some of its snakes can live for up to 40 years. Precaution is taken to ensure the safety of its visitors around the varied specimens; though, the risk is always there.
11. Kampala Jewish Synagogue Visit
Key Takeaways
Located on Mbogo Road in Kibuli, center for the Jewish faith
Houses the Monaco Institute of Science, which offers learners lessons in the Hebrew language and literature
Fixed timings from Monday to Saturday when worshippers and visitors can visit
The Kampala Jewish Synagogue, located on Mbogo Road in Kibuli, serves as a center of Jewish worship. It is also a regional Jewish studies center, accommodating learners from Ethiopia, Eritrea and all over Uganda. The building houses the Monaco Institute of Science, which offers lessons in Hebrew language and literature, along with continuing education courses to help learners from all walks of life understand the faith. The synagogue has fixed timings all through the week for prayer except Sundays where it ends the Havdalah - the end of Shabbat and beginning of the new week; if you would like to pray, you can plan your trip according to these timings. The Jewish community follows the philosophy, "The world stands on three things: On Torah, Worship, and acts of Kindness."
12. Excursion To The Nakayima Tree
Key Takeaways
Remnant of the Bachwezi Empire ruled by three kings, Ndahura, Mulindwa and Wamara
Center of folklore and myths that whisper about their sudden disappearance
Held in reverence by Ugandan women who offer prayers to the spirit of Nakayima who lives in the tree
The Nakayima Tree is a remnant of the Bachwezi Empire, which is surrounded by many myths and fascinating lore. The empire was ruled by three kings: Ndahura, Mulindwa and Wamara. Oral traditions state that they were tall, regal cattle-rearers who mysteriously appeared and then vanished equally strangely, leaving only the mystical Nakayima Tree to mark their presence. This religious monument stands on a hill that offers views of the Mubende town. Traveling to the site is part of a full day tour as the site is about 155 kilometers from Kampala. Here, Ugandan women circle the tree paying homage to the spirit of Nakayima, a favourite medium of King Ndahura, while a Jjaja, the shrine guardian, prescribes rituals that must be undertaken to have any chance of receiving favours from her.
| | |
| --- | --- |
| Kampala Rating By AfricanMecca | |
Write A Trip Review On Kampala In Uganda
AFRICANMECCA REVIEWS
What are our Customers saying about us? READ MORE REVIEWS

Rwanda was amazing. The accommodations, food, and guides AfricanMecca arranged were great. Raza also helped us through the complicated process of getting permits for gorilla trekking. AfricanMecca is a fantastic company to work with.

Stephanie Weir - United States

AfricanMecca Safaris created a remarkable honeymoon tailored to our interests and desires. The quality of service and delivery of experience was unsurpassed. I highly recommend AfricanMecca Safaris to honeymooners, families, or any traveler.

Noorin & Jason Nelson - Maryland, United States

First off, we had the most amazing time ever and wanted to thank you very much. Kenya proved without a doubt to meet all of our expectations. Every detail was thought of on our trip by AfricanMecca and were are all flawless.

Marcy Burton & Ryan Kerr - Ontario, Canada

I booked my safari holiday through AfricanMecca. They were the most helpful company I have ever dealt with and I work within the travel industry. I had the most amazing time. The holiday went as clockwork with no hitches anywhere.

Shelley Roberts - Hemel Hempstead, United Kingdom

We have returned from our African adventure and would like to thank you very much for your part in making this such a wonderful experience. We were lucky enough to time the Great Migration from the Serengeti, which was amazing.

Denise Paterson - Belmont, Australia

I just returned from a month in Africa, specifically Rwanda & Kenya. I am left breathless with my experience. AfricanMecca Safaris coordinated the entire trip for me and left no detail, nothing for me to do.

Carol Bobb - Pennsylvania, United States

AfricanMecca Safaris offers incredibly knowledgeable and skilled services! Our travel arrangements for 2 months of volunteering with TEACH Rwanda in country were made quickly and economically. Honored to work with Raza!

Janet Brown - TEACH Rwanda Founder - United States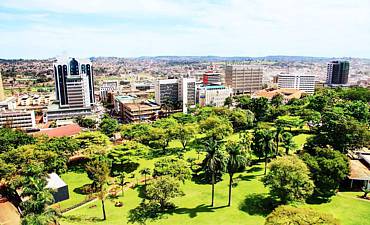 Read More +
GUIDE ON KAMPALA
Kampala (Luganda for Hill of the Impala) is built on what was once undulating green hills, fields of grass and wetlands. Today, it is a fascinating, cosmopolitan city with many attractions and tourist hotspots.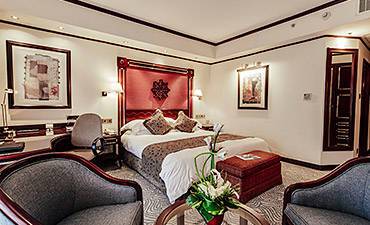 Read More +
WHERE & BEST PLACES TO STAY IN KAMPALA
Kampala offers a diversity of accommodations, from the boutique chic Latitude 0 Degrees to the larger luxuries of Kampala Serena Hotel. The deluxe property options are Humura Resorts and Emin Pasha Hotel.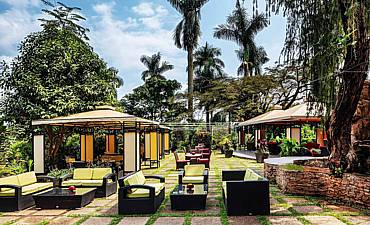 Read More +
BEST TIME TO VISIT KAMPALA
The long dry season starts around the middle of December, January and February, and is considered the best time to visit Kampala in Uganda. The alternate best time to visit is June, July and most parts of August.
EAST AFRICA SAFARI BOOKING TRIP IDEA FOR KAMPALA IN UGANDA
When visiting Kampala, we recommend combining it with Bwindi Park for your gorilla safari trek, Queen Elizabeth, Murchison Falls and Kibale (chimpanzee safari) alongside your city tour visits of Entebbe.

You may optionally extend out to other wilderness areas such as Mgahinga to track down golden monkeys and gorillas in the same park, Jinja for whitewater rafting on the Nile River, Semliki, Lake Mburo or Kidepo for an offbeat wildlife tour.

You can end your vacation on the beach at Lake Victoria or even extending out to the exotic spice island of Zanzibar or Lamu, or even Mombasa.
Best Safari Planning Ideas & Trip Experiences For Uganda
Below are guide references on how to plan each of the below safari experience in Uganda. Alternatively, go to the summary section for a quick overview of each trip planning experience.
READ MORE
ARE YOU PLANNING TO BOOK AN AFRICAN TOUR TRIP TO KAMPALA IN UGANDA?
Do You Need Knowledgeable, Experienced & Specialist Guidance For Your Travels In Kampala ? Let Us Help Plan Your Trip Itinerary Correctly
CONTACT AN AFRICA TRAVEL EXPERT ON KAMPALA
HAVE YOU VISITED KAMPALA FOR AN AFRICA SAFARI IN UGANDA?
Write A Travel Or Tourist Trip Review To Share Your Experiences
WRITE KAMPALA REVIEW
AMS BLOG
VIEW ALL -
26 October 2017 by AfricanMecca Safaris, in Blog For AfricanMecca Safaris,Safari Planning Blog Posts - AfricanMecca Safaris

Baggage Guidance & Restrictions On Flying Safaris In Africa Published By Afr...

READ MORE +

07 June 2017 by AfricanMecca Safaris, in Blog For AfricanMecca Safaris,Latest Kenya Blog Posts From AfricanMecca Safaris,Safari Planning Blog Posts - AfricanMecca Safaris

Horseback Riding Safari In Masai Mara (Kenya) Published By AfricanMecca Safaris ...

READ MORE +

24 March 2017 by AfricanMecca Safaris, in Blog For AfricanMecca Safaris,Safari Planning Blog Posts - AfricanMecca Safaris

Times Square New York Hosts Kenya Tourism Board & Wilderness Safaris Meet Up...

READ MORE +