AUTHENTIC TOURS & PERSONALIZED EXCURSIONS AROUND ENTEBBE WITH AFRICANMECCA
What Attractions & Tour Activities To Experience During Your Entebbe Visit?
Guests
planning trips to Uganda
often ask our AfricanMecca Safaris consultants whether it's worth it to stop in Entebbe, and what there is to do there. We like to tell them that this lakeside town, which acts as the main entry point for a country once dubbed the "Pearl of Africa," is a little gem of its own, full of surprises. You'll be struck by its relaxed pace, somewhat modernized mix of colonial and rural elements, and what feels like a lakeside island getaway experience. Throw in avian opportunities for viewing some of the most beautiful birds of Africa, and you have the perfect recipe for fun-filled relaxation and exploration. Entebbe's distinctive eateries serve a flavorful selection of local and international cuisine. You can enjoy yourself just lazing on a beach, feeling warm breezes from the lake. And, when the mood strikes, go fishing or boating, or perhaps take a sunset cruise.
Rising from the banks of scenic Lake Victoria are the beautiful Entebbe Botanical Gardens, established more than a century ago. In addition to a fabulous collection of unique flora, the gardens are home to a wide variety of avian life, butterflies, and other insects. You might even have a chance to spot the resident monkeys. Another historic location to visit on your
tour
is the Entebbe Golf Course, first created in 1901. Even if you're not a golfer, the course is worth a visit for its scenic views of the lake and the Uganda Wildlife Conservation Education Center (UWEC).
A conservation area, the UWEC aims to educate mostly Uganda's young people alike about the importance of preserving wildlife and their habitats. You will be able to view some of the rare species of plants, trees, and herbs, some of which have medicinal properties. The area also provides a refuge where injured and sick animals can be nursed back to health, and various rare species of animals are protected here.
Next on your travel itinerary is the Mabamba Swamp, a veritable paradise for bird lovers. A Ramsar (international treaty for protecting wetlands) site, the area hosts about 300 species of birds, including the shoebill stork—just one of many species that avid birders can spend hours viewing. While taking a boat ride through the papyrus-lined channels, you may even spot the rare sitatunga.
If you enjoy that experience, your next stop should be on one of the islands in the Ssese Archipelago, located offshore within Lake Victoria. Revel in the magnificent beauty of the lake as you cruise your way to the Ngamba Island Chimpanzee Sanctuary. Every moment of the vacation time spent with the primates on the island will be truly memorable. You'll learn about their histories, unique personalities, and behaviors from keepers who will talk fondly about their community life and how they arrived on the island sanctuary for rehabilitation. Before leaving
Entebbe
and traveling on to
Kampala
or other
parks in Uganda
, take a bit of time to visit the Uganda Reptile Village. A labor of love for its local community, the small sanctuary hosts many species of snakes, one of which is the gaboon viper, one of the most deadly in Africa. You will also have the opportunity to meet tortoises, monitor lizards, and chameleons.
Key Takeaways
Main entry point into the "Pearl of Africa" showcasing colonial and traditional African elements
Sightings of exciting avian life that abounds on the shores of Lake Victoria
Visiting conservation and cultural centers that give guests a tantalizing glimpse into everything that Uganda has to offer
Safari expeditions to the Mabamba Swamp, recognized as a Ramsar Birding Site hosting around 300 species
Spending time on the islands of the Ssese Archipelago known for their stunning beaches and natural beauty
Watch Video On Entebbe Tour Experiences
Our Top 8 Tour Activities In Entebbe - Things You Can Do & See
Page Content - Start Here
1. Tour The Entebbe Botanic Gardens
Key Takeaways
Conservation site for flora that thrive on the banks of Lake Victoria
Gardens also abound with beautiful butterflies that flit amidst the flowers
Sightings of aquatic and terrestrial birdlife
The Entebbe Botanical Gardens take visitors back to a time 100 years ago, when the protected area was first established. Nestled on the banks of
Lake Victoria
, the gardens is a charming conservation area for Uganda's endemic trees and plants, as well as some species imported from other locations. The long history of the gardens has contributed to its value as a sanctuary for the incredible variety of birdlife that flourishes here. Go on a leisurely walking tour of the gardens to meet some of the gorgeous species that abound, or perhaps favor the waterfront.
Keep an eye out for the pair of Verreaux's eagle owls that typically hang about at the entrance to welcome vacationers, or the orange weaver and orange-tufted and red-chested sunbirds. Your assigned AfricanMecca Safaris guide is an expert on the local species and will regale you with details about them. Closer to the lake, you might spot pied kingfishers, black-headed herons, African open-billed stork, and grey-headed gull, to name just a few. Your guide will also show you the medicinal plants that are featured in one section of the gardens, as well as the lush copses of bamboo found in another.
Look carefully and you'll see many types of flowers with colors bursting from the undergrowth, along with beautiful shrubs that are enchanting in their variety of colors and forms. And, of course, you must look out for butterflies flitting around or chameleons on branches, as well as other insects. The Entebbe Botanical Gardens also has a resident troop of lively vervet monkeys.
2. Excursion To Uganda Wildlife Conservation Education Center
Key Takeaways
Originally established in the 1960s as a zoo, later converted into a conservation center housing rare species of fauna and flora including medicinal plants
Opportunity to educate on the importance of preserving the country's natural treasures
Center houses more than 120 species of avian life and rehabilitation of predators, primates, and herbivores. Haven for animals rescued from poachers and illegal buyers of exotic species
Originally established as a zoo by British colonialists in the 1960s, the Uganda Wildlife Conservation Education Center (UWEC) was reinvented as a conservation center in 1994. A needful piece of wilderness on the banks of Lake Victoria in Entebbe
(
best time to go
)
, its lush indigenous flora includes many rare species and medicinal plants. It also houses a fascinating array of insect species, including brightly colored butterflies with wings in dazzling patterns.
The UWEC is a haven for many animals that have been rescued from poachers and illegal wildlife purchasers. Orphaned, ailing, and injured animals found in the wild also arrive at the center for treatment and rehabilitation. They live here until they are ready to be released back into their natural habitats. Rare Ugandan species are also kept here in an effort to preserve those that are remaining and breed them to increase their numbers. In addition to protecting wildlife, the center also helps educate the younger generation of Ugandans and
families with children touring Uganda
about the importance of conserving the nation's wildlife treasures. A team of onsite veterinarians take care of the resident animals and carefully supervise breeding to keep the gene pool as diverse as possible.
The center offers an opportunity to view a range of birds and animals up close. Some of the more than 120 avian species you might encounter are the shoebill stork, sunbirds, great blue turaco, giant kingfisher, hammerkopf, stork-billed crane, and African fish eagle. The center also has a resident lion, cheetah, and leopard. While UWEC offers photo opportunities and interactions with these animals, AfricanMecca Safaris encourages guests to refrain from participating in these activities. Among the primates at the center, you can meet a chimpanzee as well as vervet, de braza, black and white colobus, patas, and red-tailed monkeys. There are also many herbivores at the center, including giraffes, baby elephants, rhinos, reedbucks, impalas, hartebeests, giant forest hogs, elands, bushbucks, and buffalo.
3. Support The Uganda Reptile Village Community Project
Key Takeaways
2 acre conservatory established in 2003 to showcase the reptilian denizens of the country
Developed by Yasin Kazibwe (founder) as a labor of love and designed to educate people on the importance of reptiles for the ecosystem
Located on the main Entebbe-Kampala highway. Comprises of structures on the periphery with cages and enclosures for the animals set up in the center
Established in 2003, the Uganda Reptile Village offers a close look at the reptilian species of Uganda. The 2 acre conservatory at Abaita Ababiri is about 4 kilometers from the main Entebbe-Kampala highway. When it was first founded, the property was covered with thick underbrush; its owner, Yasin Kazibwe, put in many long hours of hard work clearing it away. He later set up a series of enclosures for his beloved reptiles.
Today, a small rural complex is being built around this community based attraction. A fence encloses the property, which includes three concrete buildings that house some of the species, as well as an open basin that houses non-climbing species. A must-see for those touring the center is another basin that houses four varieties of tortoises. You will also find a special enclosure for five chameleons that has a tree in its center, and a good-sized pool for the crocodile that lives here. While the reptile village is relatively small, it hosts some 50 specimens from 20 species of endemic reptiles, including monitor lizards, agama lizards, geckos, skinks, boomslangs, cobras, mambas, pythons, puff adders, and gaboon vipers—the latter among Africa's most venomous snakes, with fangs 5 cm (2 inch) long.
In developing the Uganda Reptile Village, Kazibwe hoped it would become a place to educate Ugandans and outside visitors alike about the importance of reptiles to the ecosystem, and the need to preserve and protect these sometimes feared or snubbed animals.
4. Mabamba Swamp Birding & Shoebill Viewing Safari
Key Takeaways
Important wetlands conservation area named a Ramsar Site and Important Bird Area (IBA)
Houses some of the 300 incredible avian life that can be spotted during boating excursions. Also houses smaller rare animals like the elusive sitatunga antelope
Most boat safaris are organized in the morning or evening and last about two and a half hours. Day-long trips with a lunch break is also an option
Vacationing in Uganda offers a rare and memorable opportunity to visit a Ramsar site and an Important Bird Area (IBA), the Mabamba Swamp. Accessing this swamp, named under an international treaty as an important wetlands conservation site, is possible by way of a road and boat trip from Entebbe or Kampala. As your expert guide assigned by AfricanMecca Safaris will advise you, your boat excursion will give you plenty of daylight time to photograph some of the 300 amazing species that live around the swamp. While much of the avian life here consists of indigenous Ugandan species, the area also receives migratory birds. The most notable is, of course, the shoebill stork, clearly distinguished by its unique beak. Aside from a host of aquatic birds, you may also be able to spot sitatunga antelopes, otters, and bush pigs, to name a few.
Most
birding tours
in the Mabamba Swamp begin at eight in the morning and take, at a minimum, about two and a half hours to complete. Dressing in a long-sleeved shirt and full pants with a hat for sun protection is recommended, as is carrying water and a snack. You will travel by a small traditional boat along the papyrus-lined channels. Each boat carries a paddler, an expert guide, and around three other guests. Look out for gorgeous specimens such as the African common moorhen, intermediate egret, swamp flycatcher, banded martin, black-headed weaver, malachite kingfisher, and African jacana. Typically, you will have your choice of either a morning or afternoon tour at Mabamba Swamp. Avid birding enthusiasts can opt to take both, supplemented by a lunch break in the middle.
5. Ssese Islands Explorations
Key Takeaways
Islands can be reached with a boat ride or short flight. Possibility of booking day tours or overnight stays
Experiencing a unique getaway abounding with folklore and fascinating legends. Visiting settlements of Bassesse people for a peek into their traditional lifestyles
Exploring the island that is teeming with birds and smaller fauna species. Moonlight viewing in the soothing light of the millions of stars in the African sky
Some of the Ssese Islands are easily accessed by ferry service from Entebbe or a short boat ride. You can visit the islands on a day tour or spend the night at a beachfront hotel. As spectacular as the flora and fauna is the mystical air of these islands. Local people often enjoy relating some of the island folklore involving tribal flying kings and warriors, mysterious maidens, fierce battles, legendary shrines to the old gods, and island spirits. You will also learn about the fascinating relationships the island folk once shared with the people of the mainland, some of mutual respect and others of superstition and wariness.
A few of the island bays offer tantalizing glimpses of gaping crocodiles and snorting hippos, while other islands are miniature Edens with pristine white-sand beaches, dense undergrowth, fascinating bird species, and monkeys chattering to each other in the trees. On your tour of Ssese you might also encounter small, bucolic settlements with friendly Bassese people who are happy to welcome you into their homes and let you peek into their
traditional Ugandan culture and lifestyle
. As the sun slides over the horizon, the sky may light up with the soothing white glow of a million stars in the African night sky. On some nights, the display of lightning in the sky seems like a superb natural celebration in the heavens.
Aside from Bugala Island, other islands that can be visited on your holiday in Entebbe include Bufumira, Bukasa, Bubeke, and the private island of Bulago. From the ferry dock in Bugala, you can drive to Kalangala, the main administrative hub of the island. Wander around this Ugandan paradise and you may catch sight of fauna such as vervet monkeys, sitatunga antelope, bushbuck, and, on rare occasions, black and white colobus monkeys. Also keep a look out for incredible birds such as flycatchers, robin-chats, turacos, barbets, brown-throated wattle-eye, and jewel-like pygmy kingfishers, to name a few. You might even spot gorgeous butterflies flitting in the bushes.
While on your island beach vacation you must sample freshly caught tilapia fish from the lake, paired with island delicacies such as succulent mangoes, watermelons, jackfruit, papayas, pineapples, and organically grown bananas that have a unique taste unlike those from elsewhere in the world.
6. Visit The Chimpanzee Sanctuary At Ngamba Island
Key Takeaways
Day trips to Ngamba Island to view chimpanzees through electrified fences designed to protect them. Island accessible with a 45-minute boat ride
Natural habitat provided for chimpanzees rescued from poaching and illegal trade. Around 50 individuals live here. Shopping for mementos to support conservation initiatives and fishing village
Spotting around 120 species of birds around the island. Sightings of smaller animals like otters and monitor lizards
Hidden within the Ssese Archipelago in Lake Victoria off Entebbe is a small sanctuary for a fascinating species: the chimpanzee. While you will find chimps in their natural habitats in many locations in Africa, Ngamba Island Chimpanzee Sanctuary offers a unique perspective. Most of the island's 95 acres are dedicated to the preservation and expert care of more than 50 chimpanzees rescued from the clutches of poachers and illegal traders in animal meat. Established by the Jane Goodall Institute, the haven allows them to roam freely, returning to their enclosures mostly to feed and sleep.
Between visits to the chimpanzees, you can explore more of Ngamba Island. This little Eden in the Ssese Islands houses some 120 species of gorgeous birds including African fish eagles, along with brilliantly-colored butterflies, fruit bats, and other insects that inhabit the dense undergrowth. Smaller animals such as otters and monitor lizards can also be spotted sunning themselves in the warm sunshine. You can spend afternoons beside the lake, soaking up the sun, or indulging in water activities.
You can arrive on Ngamba Island by way of a speedboat, which takes about 45 minutes to reach the sanctuary's boat pier from Entebbe. When you arrive on the island, you will receive a short introduction to the residents and the history of the development of the reserve. You can view the primates from behind an electrified fence. Take all the pictures you want and watch them being fed on fruit sourced from the local fruit markets. There are two feeding times during the day, after which the chimpanzees return to the forest. Unlike on some of the islands, this forest has been preserved and is intact. Some of the chimps may return in the evenings to sleep in the enclosures, while others sleep in the forest.
Once feeding time is over, it will be time to go back to Entebbe by way of yet another
pleasurable trip
that lets you enjoy the panoramic beauty of the lake and its many inhabitants.
Just before it is time to leave for
Entebbe
, you can stop at the little store to pick up a few mementos. Proceeds from the store go towards assisting the fishing village on the island. Besides the Jane Goodall Institute, trustees for this sanctuary include the Born Free Foundation, the International Fund for Animal Welfare, the Environmental Conservation Trust of Uganda (ECOTRUST), the Uganda Wildlife Education Center, and the Uganda Wildlife Society.
7. Entebbe Golf Club Experience
Key Takeaways
Century-old golf course standing on the banks of Lake Victoria
Ability to play on the 6,684 yards of greens. Various other sporting facilities also available
Fabulous views of the lake and Uganda Wildlife Conservation Education Center
If you are an avid golfer—or just curious enough to wonder what a scenic, century-old golf course in the heart of Africa looks like—you must visit the Entebbe Golf Club. Sprawled on the banks of Lake Victoria, the 18-hole course covers acres and acres of lush, rolling greens. Stop by the legendary Hole Number 3 for superb views of the lake and the Uganda Wildlife Conservation Education Center. Although the sign indicates that the club is only open to members, touring guests can play a few rounds after paying the applicable day fee. Enjoy playing the 6684 yards of greens, which include five par 5 holes, seven par 4 holes, and six par 3 holes—a total of par 71.
In addition to golfing, the Entebbe Golf Course also offers other sports facilities. Check out the basketball court, cricket ground, and tennis courts. You can also spend some vacation time playing snooker, darts, and badminton here. When you are ready for a snack or meal, drop by the clubhouse, which serves a tasty selection of dishes such as vegetable samosas, tilapia fish, muffins, and sandwiches—along with cold beer, of course. Enjoy the warm, courteous service that is characteristic of Entebbe.
8. Lake Victoria Fishing Tour From Entebbe
Key Takeaways
Angling to catch the legendary Nile perch that can grow to more than 200kg
Choice of full-day angling trips that can last for 8 hours for up to 3 anglers
Half-day angling excursions that depart in the morning and after lunch for up to 4 anglers
All necessary equipment available onboard the fishing boats, which are examined for proper functionality before departure
Availability of snacks and beverages on the boat
Lake fishing is one adventure activity in Entebbe
(best places & where to stay)
that tests the mettle of the angler in every way. You need patience and resilience, but the thrill of snagging one of the giants of Lake Victoria is every bit worth it. Whether you're a newcomer or an expert, this is an active vacation experience that will give you a lifetime of memories. The legendary Nile perch is known to grow to more than 200 kg (440 lbs), though most are somewhere between 8 kg and 80 kg (17-176 lbs). One of the 10 largest fish species in the world, the Nile perch is not native to Lake Victoria but was brought in by the British colonialists in an effort to introduce commercial fishing.
You can choose a full-day fishing expedition or a half-day tour. Half-day excursions depart at 9 a.m. and return at 12:30 p.m., while those that depart at 1 p.m. return around 5 p.m. Full-day trips last for 8 hours, with all groups departing from the Uganda Wildlife Conservation Education Center, just a short distance from the pier. Aboard the fishing boat you can enjoy the scenic beauty of Lake Victoria as you travel for about 45 minutes to reach the prime fishing spots. If the weather is a little rough, your AfricanMecca Safaris assigned guide or skipper will choose a sheltered base where the water is less choppy. You also have the option of an overnight fishing expedition, in which case transportation will be arranged for you to and from your hotel.
While fishing is possible all through the year, holiday fishers typically avoid the wet seasons of April and May and full-moon nights. Angling on Lake Victoria is done on a catch-and-release basis, using the trolling method with lures. You will find all the necessary equipment you need aboard, to a maximum of 4 lines per boat, but feel free to bring your own gear. All the boats and equipment are examined to ensure they're in perfect working condition before departure. The boat will also have additional items you might need, such as a raincoat to protect you from the spray, sun canopies for shade, life jackets, emergency cell phones, a first-aid box, and a fire extinguisher.
Any fishing tour at Lake Victoria you book with AfricanMecca Safaris includes the use of a fishing boat (shared or exclusive), gasoline, assistance of an expert guide, and the necessary fishing equipment. You can also have lunch on full-day fishing excursions and refresh yourself with a cool beer, mineral water, soda, or soft drinks from the cooler on board. Tea and coffee are also available.
To remain comfortable on your angling expedition on Lake Victoria, it is recommended that you wear a t-shirt and shorts with a hat for sun protection. Also have along insect repellent, sunglasses, and sunblock, since daytime temperatures can hover around 25 C to 28 C (77 F to 82 F). In case it gets cooler as evening approaches, you might want to carry a light jacket. Choose light footwear such as sandals or flip-flops. A fishing safari presents unique opportunities for viewing the incredible birdlife around the lake, so carrying binoculars and cameras is also recommended.
The boats made available to you can carry up to 4 anglers at a time and are 18 to 30 foot boats (6 to 10 meters) with twin outboard engines for power. Day-trip groups of 2 or 3 anglers can opt for a 24-foot fiberglass canoe powered by an outboard motor.
| | |
| --- | --- |
| Entebbe Rating By AfricanMecca | |
Write A Trip Review On Entebbe In Uganda
AFRICANMECCA REVIEWS
What are our Customers saying about us? READ MORE REVIEWS

Rwanda was amazing. The accommodations, food, and guides AfricanMecca arranged were great. Raza also helped us through the complicated process of getting permits for gorilla trekking. AfricanMecca is a fantastic company to work with.

Stephanie Weir - United States

AfricanMecca Safaris created a remarkable honeymoon tailored to our interests and desires. The quality of service and delivery of experience was unsurpassed. I highly recommend AfricanMecca Safaris to honeymooners, families, or any traveler.

Noorin & Jason Nelson - Maryland, United States

First off, we had the most amazing time ever and wanted to thank you very much. Kenya proved without a doubt to meet all of our expectations. Every detail was thought of on our trip by AfricanMecca and were are all flawless.

Marcy Burton & Ryan Kerr - Ontario, Canada

I booked my safari holiday through AfricanMecca. They were the most helpful company I have ever dealt with and I work within the travel industry. I had the most amazing time. The holiday went as clockwork with no hitches anywhere.

Shelley Roberts - Hemel Hempstead, United Kingdom

We have returned from our African adventure and would like to thank you very much for your part in making this such a wonderful experience. We were lucky enough to time the Great Migration from the Serengeti, which was amazing.

Denise Paterson - Belmont, Australia

I just returned from a month in Africa, specifically Rwanda & Kenya. I am left breathless with my experience. AfricanMecca Safaris coordinated the entire trip for me and left no detail, nothing for me to do.

Carol Bobb - Pennsylvania, United States

AfricanMecca Safaris offers incredibly knowledgeable and skilled services! Our travel arrangements for 2 months of volunteering with TEACH Rwanda in country were made quickly and economically. Honored to work with Raza!

Janet Brown - TEACH Rwanda Founder - United States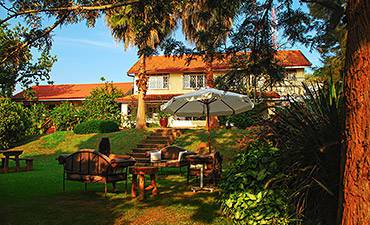 Read More +
GUIDE ON ENTEBBE
Entebbe near the fresh waters of Lake Victoria retains its old-world charm and boasts some colonial style hotels. The laidback town feels more like a tranquil lakeside getaway spot than Uganda's entry point.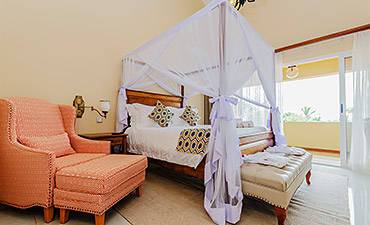 Read More +
WHERE & BEST PLACES TO STAY IN ENTEBBE
Entebbe offers a diversity of accommodations, from the boutique chic Hotel Number 5 to the mid-range Protea Entebbe and Pineapple Bay Resort (Lake Victoria island). The value options are Karibu and Boma.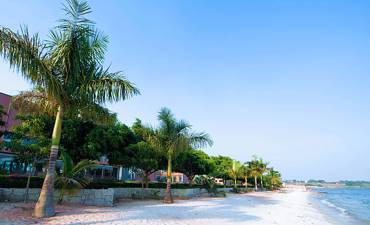 Read More +
BEST TIME TO VISIT ENTEBBE
The long dry season in Entebbe and Lake Victoria starts around the middle of December, January and February, and is considered the best time to visit. The alternate best time is June, July and most parts of August.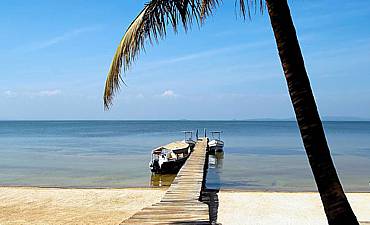 Read More +
LAKE VICTORIA GUIDE
Lake Victoria, also called Victoria Nyanza, is the largest tropical and the world's second largest freshwater lake. It continues to captivate and awe many travelers, and the source of the mighty Nile River.
EAST AFRICA SAFARI BOOKING TRIP IDEA FOR ENTEBBE IN UGANDA
When visiting Entebbe near Lake Victoria, we recommend combining it with Bwindi Park for your gorilla safari trek, Queen Elizabeth, Murchison Falls and Kibale (chimpanzee safari) alongside your city tour visits of Kampala.

You may optionally extend out to other wilderness areas such as Mgahinga to track down golden monkeys and gorillas in the same park, Jinja for whitewater rafting on the Nile River, Semliki, Lake Mburo or Kidepo for an offbeat wildlife tour.

You can end your vacation on the beach by extending out to the exotic spice island of Zanzibar or Lamu, or even Mombasa.
Best Safari Planning Ideas & Trip Experiences For Uganda
Below are guide references on how to plan each of the below safari experience in Uganda. Alternatively, go to the summary section for a quick overview of each trip planning experience.
READ MORE
ARE YOU PLANNING TO BOOK AN AFRICAN TOUR TRIP TO ENTEBBE IN UGANDA?
Do You Need Knowledgeable, Experienced & Specialist Guidance For Your Travels In Entebbe ? Let Us Help Plan Your Trip Itinerary Correctly
CONTACT AN AFRICA TRAVEL EXPERT ON ENTEBBE
HAVE YOU VISITED ENTEBBE FOR AN AFRICA SAFARI IN UGANDA?
Write A Travel Or Tourist Trip Review To Share Your Experiences
WRITE ENTEBBE REVIEW
AMS BLOG
VIEW ALL -
26 October 2017 by AfricanMecca Safaris, in Blog For AfricanMecca Safaris,Safari Planning Blog Posts - AfricanMecca Safaris

Baggage Guidance & Restrictions On Flying Safaris In Africa Published By Afr...

READ MORE +

07 June 2017 by AfricanMecca Safaris, in Blog For AfricanMecca Safaris,Latest Kenya Blog Posts From AfricanMecca Safaris,Safari Planning Blog Posts - AfricanMecca Safaris

Horseback Riding Safari In Masai Mara (Kenya) Published By AfricanMecca Safaris ...

READ MORE +

24 March 2017 by AfricanMecca Safaris, in Blog For AfricanMecca Safaris,Safari Planning Blog Posts - AfricanMecca Safaris

Times Square New York Hosts Kenya Tourism Board & Wilderness Safaris Meet Up...

READ MORE +