WHERE & BEST PLACES TO STAY IN ENTEBBE
6 Best Places & Where To Stay At Various Entebbe Accommodations?
AfricanMecca Safaris recommends the below
hotels
in Entebbe based on your travel budget and Hotel Tier preference.
1. Hotel Number 5 - Tier 1 Premier Experience
Hotel Number 5

in Entebbe is a luxury accommodation located in a tranquil suburban area of the city. This stayover has a total of 15 rooms for vacationers with a choice of a large double bed or twin single beds. You can book rooms such as Luxury Twins and Luxury Doubles. Business travelers will find the two floor Luxury Apartment suitable on long stays. Families and larger groups of up to 4 guests could opt for the two-bedroom The Residence, which is privately housed in a two-level structure and also has a living room and kitchen. The ensuite bathroom features a hairdryer, bathrobes, and shower area.
2. Protea Hotel Entebbe By Marriott - Tier 2 Deluxe Experience
The

Protea Hotel Entebbe By Marriott

stands on the banks of beautiful Lake Victoria, offering fabulous views amid the tranquility of well-landscaped gardens. Housed in two and three-story structures, this mid-range accommodation in Entebbe has a total of 86 rooms in five specifications - Standard Guest Room, Larger Guest Room, Executive Suite, Junior Suite and Presidential Suite. A child-friendly hotel, the Protea Entebbe has a separate wading pool for kids and can set up cribs or rollaway beds in some of the rooms upon request. Guests can also make use of the well-equipped fitness center, lake-facing swimming pool, and on-site massage spa services.
3. Pineapple Bay Resort - Tier 2 Deluxe Experience
Visit

Pineapple Bay Resort

on private Bulago Island for a taste of casual, laid-back island living. A mid-range resort off the coast of Entebbe on Lake Victoria, it offers 8 cottages for guests to enjoy during their beach vacation, 6 of which are on the waterfront while 2 are located in the gardens. Relax beside the swimming pool, napping or reading between sightings of beautiful island birds in the palm trees and around the lakeshore. The resort also has a lovely kitchen garden, where workers grow their own vegetables and fruits. The chef takes orders for vegetarian and gluten-free meals, along with other special meal requests.
4. Karibu Entebbe - Tier 3 Value Experience
Taking its name from the Swahili term for "welcome," Karibu Entebbe offers the warm, comfortable feel of a home away from home. Once a presidential home, the two-story white hotel has a red-tile roof and terrace and has retained an old-world colonial charm, despite having been converted into a guest house hotel for discerning tourists. Accessible via a 8-kilometer (5-mile) drive from Entebbe International Airport, this accommodation offers 8 rooms in all. Some of the rooms face the beautiful gardens with resident birdlife indigenous to Entebbe, while others face Lake Victoria and its superb sunsets.
5. The Boma Entebbe - Tier 3 Value Experience
Located just a 5-kilometer (3-mile) drive from Entebbe International Airport, The Boma Entebbe is a converted 1940 colonial home and economy establishment. The hotel retains its old-world charm with deep, shady patios, wicker furniture, and wooden ceiling rafters. It makes an effort to highlight gorgeous Ugandan art, including tapestries, wall murals, curios, and rugs. Vacationers can choose from room specifications such as Single Rooms, Double Rooms, and Triple Rooms. Those looking for the most budget-friendly option in Entebbe will appreciate the hotel's Budget Rooms, which come with bathrooms on the outside corridor of the room. A child-friendly hotel, cribs are available upon request, and there is a wading pool and children's play area.
6. Best Western Premier Garden Hotel Entebbe - Tier 3 Value Experience
The

Best Western Premier Garden Hotel Entebbe

is an affordable value accommodation, strategically located on the main artery between Kampala and Entebbe. Its proximity to Entebbe International Airport makes it convenient for leisure or business travelers looking for one- or two-night stays. The hotel offers a selection of 51 rooms in various specifications, such as the Deluxe Room, Executive Suite and Junior Suite. Some of the Deluxe Rooms have double beds, while others have twin beds. All offer room categories offer the typical amenities of a budget establishment. The rooms are non-smoking and well suited for physically challenged guests.
| | |
| --- | --- |
| Entebbe Rating By AfricanMecca | |
Write A Trip Review On Entebbe In Uganda
AFRICANMECCA REVIEWS
What are our Customers saying about us? READ MORE REVIEWS

Rwanda was amazing. The accommodations, food, and guides AfricanMecca arranged were great. Raza also helped us through the complicated process of getting permits for gorilla trekking. AfricanMecca is a fantastic company to work with.

Stephanie Weir - United States

AfricanMecca Safaris created a remarkable honeymoon tailored to our interests and desires. The quality of service and delivery of experience was unsurpassed. I highly recommend AfricanMecca Safaris to honeymooners, families, or any traveler.

Noorin & Jason Nelson - Maryland, United States

First off, we had the most amazing time ever and wanted to thank you very much. Kenya proved without a doubt to meet all of our expectations. Every detail was thought of on our trip by AfricanMecca and were are all flawless.

Marcy Burton & Ryan Kerr - Ontario, Canada

I booked my safari holiday through AfricanMecca. They were the most helpful company I have ever dealt with and I work within the travel industry. I had the most amazing time. The holiday went as clockwork with no hitches anywhere.

Shelley Roberts - Hemel Hempstead, United Kingdom

We have returned from our African adventure and would like to thank you very much for your part in making this such a wonderful experience. We were lucky enough to time the Great Migration from the Serengeti, which was amazing.

Denise Paterson - Belmont, Australia

I just returned from a month in Africa, specifically Rwanda & Kenya. I am left breathless with my experience. AfricanMecca Safaris coordinated the entire trip for me and left no detail, nothing for me to do.

Carol Bobb - Pennsylvania, United States

AfricanMecca Safaris offers incredibly knowledgeable and skilled services! Our travel arrangements for 2 months of volunteering with TEACH Rwanda in country were made quickly and economically. Honored to work with Raza!

Janet Brown - TEACH Rwanda Founder - United States
EAST AFRICA SAFARI BOOKING TRIP IDEA FOR ENTEBBE IN UGANDA
When visiting Entebbe near Lake Victoria, we recommend combining it with Bwindi Park for your gorilla safari trek, Queen Elizabeth, Murchison Falls and Kibale (chimpanzee safari) alongside your city tour visits of Kampala.

You may optionally extend out to other wilderness areas such as Mgahinga to track down golden monkeys and gorillas in the same park, Jinja for whitewater rafting on the Nile River, Semliki, Lake Mburo or Kidepo for an offbeat wildlife tour.

You can end your vacation on the beach by extending out to the exotic spice island of Zanzibar or Lamu, or even Mombasa.
Best Safari Planning Ideas & Trip Experiences For Uganda
Below are guide references on how to plan each of the below safari experience in Uganda. Alternatively, go to the summary section for a quick overview of each trip planning experience.
READ MORE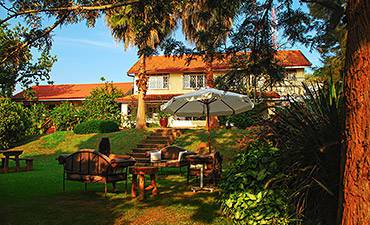 Read More +
GUIDE ON ENTEBBE
Entebbe near the fresh waters of Lake Victoria retains its old-world charm and boasts some colonial style hotels. The laidback town feels more like a tranquil lakeside getaway spot than Uganda's entry point.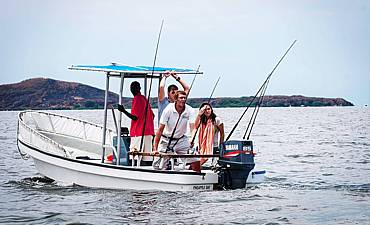 Read More +
ENTEBBE ACTIVITIES & TOUR ATTRACTIONS
Experience city tour activities and attractions in Entebbe - visit the Botanic Gardens, birding safari and shoebill viewing at Mabamba Swamp, explore islands of Ssese, fishing on Lake Victoria, craft shopping etc.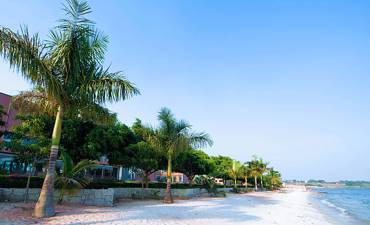 Read More +
BEST TIME TO VISIT ENTEBBE
The long dry season in Entebbe and Lake Victoria starts around the middle of December, January and February, and is considered the best time to visit. The alternate best time is June, July and most parts of August.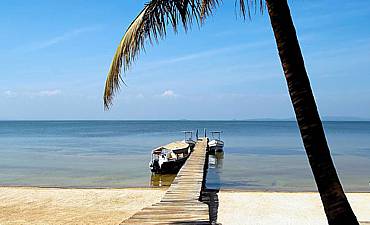 Read More +
LAKE VICTORIA GUIDE
Lake Victoria, also called Victoria Nyanza, is the largest tropical and the world's second largest freshwater lake. It continues to captivate and awe many travelers, and the source of the mighty Nile River.
ARE YOU PLANNING TO BOOK AN AFRICAN TOUR TRIP TO ENTEBBE IN UGANDA?
Do You Need Knowledgeable, Experienced & Specialist Guidance For Your Travels In Entebbe ? Let Us Help Plan Your Trip Itinerary Correctly
CONTACT AN AFRICA TRAVEL EXPERT ON ENTEBBE
HAVE YOU VISITED ENTEBBE FOR AN AFRICA SAFARI IN UGANDA?
Write A Travel Or Tourist Trip Review To Share Your Experiences
WRITE ENTEBBE REVIEW
AMS BLOG
VIEW ALL -
26 October 2017 by AfricanMecca Safaris, in Blog For AfricanMecca Safaris,Safari Planning Blog Posts - AfricanMecca Safaris

Baggage Guidance & Restrictions On Flying Safaris In Africa Published By Afr...

READ MORE +

07 June 2017 by AfricanMecca Safaris, in Blog For AfricanMecca Safaris,Latest Kenya Blog Posts From AfricanMecca Safaris,Safari Planning Blog Posts - AfricanMecca Safaris

Masai Mara Horseback Riding Safari In Kenya Published By AfricanMecca Safaris | ...

READ MORE +

24 March 2017 by AfricanMecca Safaris, in Blog For AfricanMecca Safaris,Safari Planning Blog Posts - AfricanMecca Safaris

Times Square New York Hosts Kenya Tourism Board & Wilderness Safaris Meet Up...

READ MORE +