WHERE & BEST PLACES TO STAY IN BWINDI PARK DURING YOUR GORILLA TREKKING IN UGANDA
9 Best Places & Where To Stay At Various Bwindi Accommodations?
If you are looking to spend your safari holiday in Uganda spotting many of the incredible denizens of Bwindi Impenetrable National Park, you can set up base at one of the sector trailheads located at Ruhija, Rushaga, Nkuringo, or Buhoma. Various
lodges and camps in Bwindi
are now open for business around these bases, and you can choose the one that best meets your specifications and budget. During your stay at any of these accommodations, you will also have the opportunity to interact with the local Bakiga and Pygmy communities. Participate in their
cultural safari
activities as you go on walks around the village and get a taste of their traditional ethos, art, music, dance, and ancient lore, which relates to the history of the magical forests you'll explore on your visit.
1. Bwindi Lodge - Tier 1 Premier Experience
Bwindi Lodge
is located on the edge of a high ridge, overlooking the immensely beautiful Bwindi Impenetrable National Park. Suitable for safari vacationers looking for exceptional facilities and amenities, the lodge has a pleasing, glass-fronted lounge for enjoying the vistas of the park. Stone-paved pathways lead to the 9 banda chalets, three of which have twin single beds while the remaining six have double beds. Mosquito netting suspended from the ceiling, a spacious living area, side tables, area rugs, and a patio are other features that guests will appreciate. Each room has a private butler to assist guests. The ensuite bathroom has twin vanities, a hairdryer, and a shower area.
2. Sanctuary Gorilla Forest Camp - Tier 1 Premier Experience
Sanctuary Gorilla Forest Camp
is a luxury vacation accommodation located atop a high ridge just within the border of Bwindi Impenetrable National Park. The lodge is composed of a series of structures that are topped with thatch and have a pleasing rustic ambiance. The 10 rooms offered are built of a combination of concrete, stone, canvas, and mesh to give you the safari camping experience but with modern facilities. Each room has two queen-sized beds covered with mosquito netting, along with side tables, racks for unpacking, area mats, and a seating arrangement on the patio. The ensuite stone-walled bathroom features both a bathtub and shower stall.
3. Clouds Mountain Gorilla Lodge - Tier 1 Premier Experience
Clouds Mountain Gorilla Lodge
is a mid-range stayover for safari vacationers in Bwindi Impenetrable National Park. Built of wood, rock, and volcanic stone, the lodge has a comfortable lounge area that also houses the restaurant and bar. Stone-paved steps lead to the seven cottages, which include a separate living area to relax in. Each room has a two-sided fireplace, plush sofas, area rugs, and writing desk. Hand-painted local art adorns the walls, while large windows let in the superb vistas of the reserve. Ensuite bathrooms feature twin vanities and a shower stall. The lodge also provides a private butler and housekeeper with each cottage to care for the requirements of guests.
4. Buhoma Lodge - Tier 2 Deluxe Experience
Buhoma Lodge
is mid-range vacation accommodation in Bwindi Impenetrable National Park. Constructed with locally available materials and operating on eco-friendly principles, the lodge offers just 10 chalets for safari guests, including a larger Family/Honeymoon Suite that has a separate living area. Each of the rooms has a large double bed or twin single beds with mosquito netting for protection from bugs. Other amenities include open racks for unpacking, side tables, area rugs, and an electronic safe. The balcony has a seating arrangement for enjoying superb vistas of the reserve. The ensuite bathroom has a standalone vanity or twin vanities, and a shower area while some also have a bathtub.
5. Mahogany Springs - Tier 2 Deluxe Experience
Located a scarce two-minute drive from the Buhoma Gate of Bwindi Impenetrable National Park is the mid-range
Mahogany Springs Lodge
. This lodge stands amid natural gardens on an incline near the Munyanga River. It has just 12 suites for gorilla-seeking travelers, including 8 Superior Suites, 2 Honeymoon Suites, and 2 Presidential and Family Suites. The Superior Suites can sleep up to three guests, while the Presidential Suite has two bedrooms with a separate living room and can accommodate up to four people. Each of the rooms has a thatched roof with wooden flooring, beds with mosquito netting, a writing desk that also serves as a dressing table, and a private terrace.
6. Gorilla Safari Lodge - Tier 3 Value Experience
Gorilla Safari Lodge
is a budget accommodation located at a 5-minute drive from the Rushaga sector's closest trailhead in Bwindi Impenetrable National Park. The lodge has a central lounge that includes a restaurant and 18 cottages scattered on a hillside around well-landscaped gardens, lighted with lanterns in the evening. Each of the rooms has a sloping tin roof with hardwood floors, mosquito netting for the beds, and seating arrangements indoors and outdoors. Larger groups of vacationers can choose a cottage with two interconnecting bedrooms and a fireplace. Few of the ensuite bathroom comes with a large bathtub for soaking while others have a tiled shower area.
7. Nkuringo Bwindi Gorilla Lodge - Tier 3 Value Experience
Nkuringo Bwindi Gorilla Lodge
is an eco-friendly economy accommodation located atop the Nteko Ridge in the Bwindi Forest Highlands. Offering superb views of the Virunga Volcanoes, Nkuringo Hill, and mist-covered highlands of the park, the lodge has just 16 rooms for safari vacationers. The 8 Garden Cottage Rooms have twin singles or a double bed can sleep up to 3 guests. Larger groups of guests can opt for the 2-bedroom Villa that has interconnecting doors and can be transformed into a family suite for up to 6 to 8 guests. The lodge rooms have a fireplace, and hot water bottles are tucked in bed each evening.
8. Silverback Lodge - Tier 3 Value Experience
Silverback Lodge
is one of several properties throughout Uganda owned by Marasa Africa. A value safari vacation stayover with views of the scenic forests of Bwindi Impenetrable National Park. With just unpretentious 12 rooms, guests have the option to choose four rooms with double beds, seven rooms with two single beds or a single solo traveler room. Wooden beds covered with mosquito netting grace the rooms, along with a side table and area rugs. The ensuite bathroom features a curtained-off shower area, and the veranda is perfect for unwinding.
9. Chameleon Hill Lodge - Tier 3 Value Experience
Chameleon Hill Lodge
is an economy stayover located on the banks of Lake Mutanda. The lodge has a whimsical, kitschy appeal, with structures painted in brilliant colors. You can book one of its 10 chalets for your safari vacation, each of which has one double or two single beds with mosquito netting. The remaining simplistic decor includes side tables, luggage racks, wooden masks, handmade art, and a dugout canoe. Guests will also have a patio, which is perfect for enjoying views of the lake and the surrounding gardens.
| | |
| --- | --- |
| Bwindi Park Rating By AfricanMecca | |
Write A Trip Review On Bwindi In Uganda
AFRICANMECCA REVIEWS
What are our Customers saying about us? READ MORE REVIEWS

AfricanMecca Safaris offers incredibly knowledgeable and skilled services! Our travel arrangements for 2 months of volunteering with TEACH Rwanda in country were made quickly and economically. Honored to work with Raza!

Janet Brown - TEACH Rwanda Founder - United States

I just returned from a month in Africa, specifically Rwanda & Kenya. I am left breathless with my experience. AfricanMecca Safaris coordinated the entire trip for me and left no detail, nothing for me to do.

Carol Bobb - Pennsylvania, United States

AfricanMecca Safaris created a remarkable honeymoon tailored to our interests and desires. The quality of service and delivery of experience was unsurpassed. I highly recommend AfricanMecca Safaris to honeymooners, families, or any traveler.

Noorin & Jason Nelson - Maryland, United States

I booked my safari holiday through AfricanMecca. They were the most helpful company I have ever dealt with and I work within the travel industry. I had the most amazing time. The holiday went as clockwork with no hitches anywhere.

Shelley Roberts - Hemel Hempstead, United Kingdom

This is to let you know my guests, The Bryant's, had a wonderful time on the trip Samburu, Masai Mara/Kenya, Chobe/Botswana & Victoria Falls/Zambia. Everything was perfect! Thank you.

Christine Milan - MT Carmel Travel - Connecticut, United States

We have returned from our African adventure and would like to thank you very much for your part in making this such a wonderful experience. We were lucky enough to time the Great Migration from the Serengeti, which was amazing.

Denise Paterson - Belmont, Australia

Rwanda was amazing. The accommodations, food, and guides AfricanMecca arranged were great. Raza also helped us through the complicated process of getting permits for gorilla trekking. AfricanMecca is a fantastic company to work with.

Stephanie Weir - United States
EAST AFRICA SAFARI BOOKING TRIP IDEA FOR BWINDI IN UGANDA
When visiting Bwindi Park for your gorilla safari trek, we recommend combining it with Queen Elizabeth, Murchison Falls, and Kibale (chimpanzee safari) alongside your city tour visits of Kampala and Entebbe.

You may optionally extend out to other wilderness areas such as Mgahinga to track down golden monkeys and gorillas in the same park, Jinja for whitewater rafting on the Nile River, and Semliki, Lake Mburo or Kidepo for an offbeat wildlife tour.

You can end your vacation on the beach at Lake Victoria or even extending out to the exotic spice island of Zanzibar or Lamu, or even Mombasa.
Best Safari Planning Ideas & Trip Experiences For Uganda
Below are guide references on how to plan each of the below safari experience in Uganda. Alternatively, go to the summary section for a quick overview of each trip planning experience.
READ MORE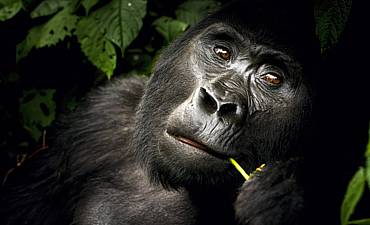 Read More +
GUIDE ON BWINDI PARK
Standing on the edge of the Albertine Rift Valley at a UNESCO World Heritage site, Bwindi is known for the amazing biodiversity. The highlight of your safari in Bwindi Park is undoubtedly the gorilla-viewing experience.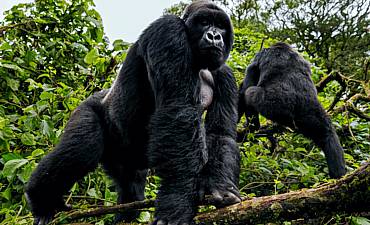 Read More +
BWINDI SAFARI ACTIVITIES & TOUR ATTRACTIONS
The primary activity at Bwindi Park is gorilla trekking including the habituation experience. Other tours are birdwatching excursions, forest waterfall hikes, Buhoma mountain biking, Batwa cultural encounters etc.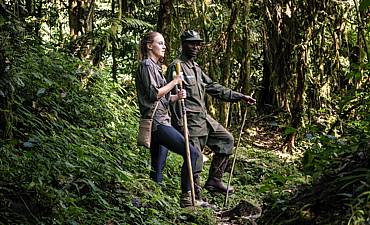 Read More +
BEST TIME TO VISIT BWINDI
Given that the main focus of your safari in Uganda is likely to be the mountain gorillas, the best time to visit Bwindi is in the long dry season, which begins in June and continues through July and August.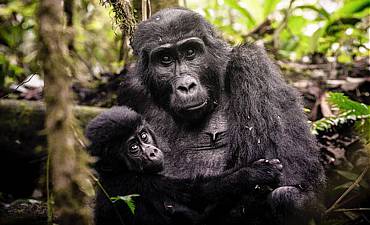 Read More +
GORILLA FAMILY GROUPS IN BWINDI
Should you plan a gorilla viewing safari to Bwindi Impenetrable National Park, you will learn that the park has twenty resident gorilla families that are habituated to the presence of humans.
HAVE YOU VISITED BWINDI FOR AN AFRICA SAFARI IN UGANDA?
Write A Travel Or Tourist Trip Review To Share Your Experiences
WRITE BWINDI REVIEW
AMS BLOG
VIEW ALL -
26 October 2017 by AfricanMecca Safaris, in Blog For AfricanMecca Safaris,Safari Planning Blog Posts - AfricanMecca Safaris

Baggage Guidance & Restrictions On Flying Safaris In Africa Published By Afr...

READ MORE +

07 June 2017 by AfricanMecca Safaris, in Blog For AfricanMecca Safaris,Latest Kenya Blog Posts From AfricanMecca Safaris,Safari Planning Blog Posts - AfricanMecca Safaris

Masai Mara Horseback Riding Safari In Kenya Published By AfricanMecca Safaris | ...

READ MORE +

24 March 2017 by AfricanMecca Safaris, in Blog For AfricanMecca Safaris,Safari Planning Blog Posts - AfricanMecca Safaris

Times Square New York Hosts Kenya Tourism Board & Wilderness Safaris Meet Up...

READ MORE +