BEST TIME TO VISIT BWINDI PARK FOR A UGANDA GORILLA SAFARI TREK
Best Time, Seasons & Months To Go Gorilla Trekking In Bwindi?
When planning your safari vacation, one of the first questions you may have is about the best time to visit the reserve – especially if you plan to see the
famed mountain gorillas of Bwindi Park
. As the tour consultant at AfricanMecca Safaris will advise, you can visit at any time of the year. That's because temperatures don't fluctuate significantly in these areas. The only other factors to consider when choosing your best time to travel to Bwindi are seasonal climatic conditions, accommodation costs and tourist numbers in the park.
Different Monthly Seasons At Bwindi - Dry, Hot, Wet Rainy & Cool
Dry Months, Best Time & Peak Season For Bwindi: June, July, and August. Note September is peak season but is also part of the wet rainy season.
Dry & Wet Rainy Months, Very Good Time & High Season For Bwindi: End of December, January, and early parts of February.
Wet Rainy Months, Good Time & Mid-Peak Season For Bwindi: March and September are both rainy periods though September is also a peak period with high number of visitors into Bwindi. These months are also the start of the lush green season.
Wet Rainy Season, Least Best Time & Low Season For Bwindi: April, May, October, and November.
Hot & Cool Months: There is only 1-3 Celsius degrees variation in temperature in between months at Bwindi. January and February are the hottest months with highs of 25 C (77 F) during the day and lows of 12 C (54 F) at night while June and July are the coolest months with highs of 22 C (72 F) during the day and lows of 11 C (52 F) at night. All other months have a range from 22 C (72 F) to 24 C (75 F) during the daytime while nighttime temperatures average from 11 C (52 F) and 12 C (54 F).
Best Time For Birdwatching Safaris In Bwindi: The best time for birding safaris in Bwindi is from the end of May to September though March is a great time to visit but trekking in the steep forest is always challenging in the rains. The migratory birds arrive in November and leave by April.
Key Takeaways
Best months to visit to Bwindi for your gorilla trek is during the long dry season beginning in June continuing all through August
The long wet season months are September, October, November, and early part of December, while the short wet season begins around mid to late February through March, April and May
Gorillas can be seen during the dry and wet seasons; though, it is easier to traverse the forests when it's dry. In the wet season, there are also sightings of migratory birds. Lush greenery during the wet seasons because of which gorillas stay in the lower slopes where food is readily available.
Higher visitor footfall during the dry seasons since this is also the time for summer in Europe and North America and schools are closed, and is also the best time for safari in other parks in Africa i.e. Serengeti, Masai Mara, Ngorongoro, Chobe, Okavango Delta, Kruger etc
Highest temperatures all through the year ranging from 22 C (72 F) to 25 C (77 F) during the day and 11 C (52) to 12 C ( (54 F) at night
Climate, Temperatures & Weather Conditions For Bwindi
You want to come prepared for the possibility of unpredictable weather conditions due, at least in part, to global warming. Do keep in mind that, like the rest of Africa,
Uganda (best time to visit)
has two dry seasons and two wet seasons, which may affect your experience of the park. Given that the main focus of your safari holiday is likely to be the gorillas, the best time to visit Bwindi is in the long dry season, which begins in June and continues through July and August. These months are the best time to visit, since the trails in Bwindi Impenetrable National Park are generally less muddy and traveling along them takes less time. The intermittent dry season with pockets of rain runs from December, January, and early parts of February, is also a very good time to go. You can expect that the highest temperatures in the daytime will range from 22 C (72 F) to 25 C (77 F), with nighttime temperatures around 11 C (52) to 12 C (54 F).
Visiting Bwindi During the Dry Seasons - Is It The Best Time To Go On Safari?
You may notice more visitors to the park during the dry season months of June to August (best time to go to Bwindi), as these periods coincide with the summer months in the northern hemisphere. Since schools are closed for the summer break, many parents find this an ideal time for a
family safari vacation
with older children. Visitors from North America and Europe also tend to visit Africa during the short dry season, especially the latter two weeks of December, during the winter holiday season. The other factor is the dry season in Bwindi coincides with dry season in other parks in Kenya and Tanzania e.g. Masai Mara, Amboseli, Lewa - Laikipia, Serengeti, Ngorongoro etc. Also, during the dry season in Uganda, you are likely to encounter fewer insects, which lowers malaria risk. Further, the foliage is sparser, so you might find that following your woodland trail excursion is easier when tracking down mountain gorillas in Bwindi.
Wet Rainy Seasons in Bwindi
Visiting in the wet seasons may also be a smart adventurous option, since food is more readily available at the lower altitudes and gorilla families are less likely to wander to the upper inclines of the forest looking for it. The long wet season begins in September, and leads into October, November, and early part of December, while the short wet season begins around mid to late February through March, April and May. During these times, the forests of Bwindi Impenetrable National Park take on a lush, green cover that is truly wonderful to see. You may also be able to spot more of the migratory birds that arrive in these seasons.
Planning Activities In The Wet Rainy Season At Bwindi
It should be noted that it doesn't rain continuously through the day in the wet season in Bwindi, and there are often areas that don't get rainfall at all on a particular day. You can expect times when the weather is clear and the sun is shining. During this period, your
gorilla safari trekking
and
nature walking excursions
around the rainy spells does continue as per assigned activity permit date. Planning your gorilla-viewing expedition in the wet season has an additional advantage, in that most camps and lodges offer discounted room rates. Aside from the roads getting muddier and logistics taking somewhat longer, your holiday itinerary for Bwindi Impenetrable National Park will progress as planned; though, excessive rains can sometimes limit activities.
| | |
| --- | --- |
| Bwindi Park Rating By AfricanMecca | |
Write A Trip Review On Bwindi In Uganda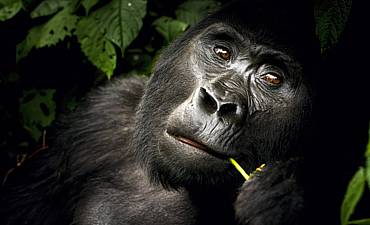 Read More +
GUIDE ON BWINDI PARK
Standing on the edge of the Albertine Rift Valley at a UNESCO World Heritage site, Bwindi is known for the amazing biodiversity. The highlight of your safari in Bwindi Park is undoubtedly the gorilla-viewing experience.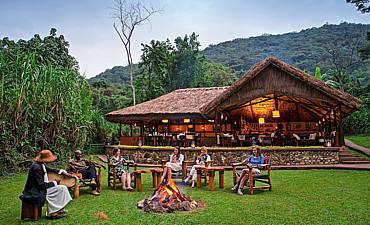 Read More +
WHERE & BEST PLACES TO STAY IN BWINDI
Bwindi has varied accommodations, from the forest luxuries of Sanctuary Gorilla Forest Camp, Clouds Mountain Gorilla Lodge and Bwindi Lodge. The deluxe options are Buhoma Lodge and Mahogany Springs.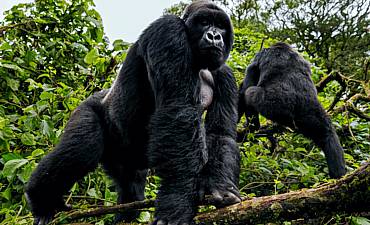 Read More +
BWINDI SAFARI ACTIVITIES & TOUR ATTRACTIONS
The primary activity at Bwindi Park is gorilla trekking including the habituation experience. Other tours are birdwatching excursions, forest waterfall hikes, Buhoma mountain biking, Batwa cultural encounters etc.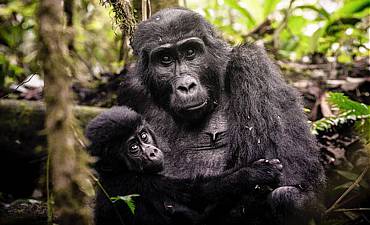 Read More +
GORILLA FAMILY GROUPS IN BWINDI
Should you plan a gorilla viewing safari to Bwindi Impenetrable National Park, you will learn that the park has twenty resident gorilla families that are habituated to the presence of humans.
AFRICANMECCA REVIEWS
What are our Customers saying about us? READ MORE REVIEWS

AfricanMecca Safaris offers incredibly knowledgeable and skilled services! Our travel arrangements for 2 months of volunteering with TEACH Rwanda in country were made quickly and economically. Honored to work with Raza!

Janet Brown - TEACH Rwanda Founder - United States

I just returned from a month in Africa, specifically Rwanda & Kenya. I am left breathless with my experience. AfricanMecca Safaris coordinated the entire trip for me and left no detail, nothing for me to do.

Carol Bobb - Pennsylvania, United States

AfricanMecca Safaris created a remarkable honeymoon tailored to our interests and desires. The quality of service and delivery of experience was unsurpassed. I highly recommend AfricanMecca Safaris to honeymooners, families, or any traveler.

Noorin & Jason Nelson - Maryland, United States

I booked my safari holiday through AfricanMecca. They were the most helpful company I have ever dealt with and I work within the travel industry. I had the most amazing time. The holiday went as clockwork with no hitches anywhere.

Shelley Roberts - Hemel Hempstead, United Kingdom

This is to let you know my guests, The Bryant's, had a wonderful time on the trip Samburu, Masai Mara/Kenya, Chobe/Botswana & Victoria Falls/Zambia. Everything was perfect! Thank you.

Christine Milan - MT Carmel Travel - Connecticut, United States

We have returned from our African adventure and would like to thank you very much for your part in making this such a wonderful experience. We were lucky enough to time the Great Migration from the Serengeti, which was amazing.

Denise Paterson - Belmont, Australia

Rwanda was amazing. The accommodations, food, and guides AfricanMecca arranged were great. Raza also helped us through the complicated process of getting permits for gorilla trekking. AfricanMecca is a fantastic company to work with.

Stephanie Weir - United States
EAST AFRICA SAFARI BOOKING TRIP IDEA FOR BWINDI IN UGANDA
When visiting Bwindi Park for your gorilla safari trek, we recommend combining it with Queen Elizabeth, Murchison Falls, and Kibale (chimpanzee safari) alongside your city tour visits of Kampala and Entebbe.

You may optionally extend out to other wilderness areas such as Mgahinga to track down golden monkeys and gorillas in the same park, Jinja for whitewater rafting on the Nile River, and Semliki, Lake Mburo or Kidepo for an offbeat wildlife tour.

You can end your vacation on the beach at Lake Victoria or even extending out to the exotic spice island of Zanzibar or Lamu, or even Mombasa.
Best Safari Planning Ideas & Trip Experiences For Uganda
Below are guide references on how to plan each of the below safari experience in Uganda. Alternatively, go to the summary section for a quick overview of each trip planning experience.
READ MORE
HAVE YOU VISITED BWINDI FOR AN AFRICA SAFARI IN UGANDA?
Write A Travel Or Tourist Trip Review To Share Your Experiences
WRITE BWINDI REVIEW
AMS BLOG
VIEW ALL -
26 October 2017 by AfricanMecca Safaris, in Blog For AfricanMecca Safaris,Safari Planning Blog Posts - AfricanMecca Safaris

Baggage Guidance & Restrictions On Flying Safaris In Africa Published By Afr...

READ MORE +

07 June 2017 by AfricanMecca Safaris, in Blog For AfricanMecca Safaris,Latest Kenya Blog Posts From AfricanMecca Safaris,Safari Planning Blog Posts - AfricanMecca Safaris

Masai Mara Horseback Riding Safari In Kenya Published By AfricanMecca Safaris | ...

READ MORE +

24 March 2017 by AfricanMecca Safaris, in Blog For AfricanMecca Safaris,Safari Planning Blog Posts - AfricanMecca Safaris

Times Square New York Hosts Kenya Tourism Board & Wilderness Safaris Meet Up...

READ MORE +