Read More About Aberdare Lodges & Camps In Central Kenya
Aberdare has only a few accommodations located in distinct areas of the park. As a recommendation, we have highlighted the below safari lodge.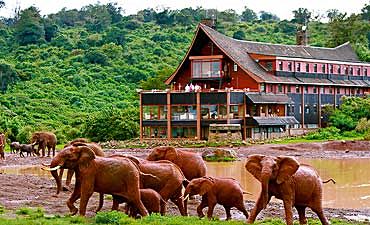 Read More +
THE ARK
Value Experience - Safari Tier 3
CONTACT AND TALK TO OUR SAFARI EXPERTS TODAY TO KICK-START YOUR TOUR PLANNING PROCESS
Request Kenya Custom Or Tailor-Made Safari Pricing Based On Your Specific Travel Dates At Your Preferred Safari Tier Camp Or Lodge
CONTACT AN EXPERT ON KENYA SAFARI PRICES & TOURS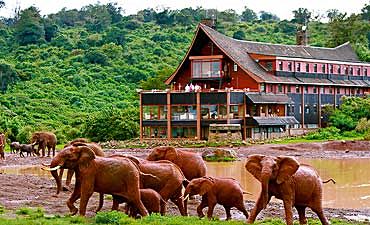 Read More +
WHERE TO STAY IN ABERDARE
If you prefer to stay inside the park, Treetops and Ark are the only choices you have. The Ark has 60 rooms and Treetops has 36 rooms, and both of these lodges are situated next to a waterhole.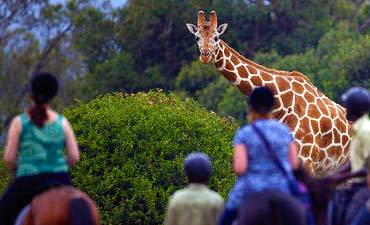 Read More +
SAFARI & TOUR IN ABERDARE
Elephants, rhinos, warthogs and other grazers are easily observed, but hiding in the deep grasses are leopards, spotted hyenas, golden cats and other elusive predators. The rare Bongo are found here too.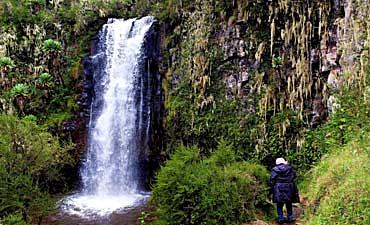 Read More +
BEST TIME TO VISIT ABERDARE
Aberdare Park experiences a cycle of dry and rainy seasons. The long dry season, which we consider to be the best time to visit the park, is from July to October. The rainy seasons do have its advantages.
AFRICANMECCA REVIEWS
What are our Customers saying about us? READ MORE REVIEWS

Just returned from Kenya. We thoroughly enjoyed our stay at the Treetops with AfricanMecca. The safari was professionally organized and conducted. We will definitely recommend this trip to others.

Fred Rischmiller - Commander US Military - Djibouti

Just wanted to say that we had an absolutely fantastic vacation in Kenya. Everything worked very smoothly. You can be sure I will recommend you to other people. Thanks again for organizing everything for us.

Sissel Johanne Berentsen, United Nations - Pristina, Austria

We had the most wonderful time. Throughout, I found AfricanMecca to be helpful, prompt, informative and extremely professional and I would recommend using them without hesitation.

Catherine Wright - Braintree, United Kingdom

We had a wonderful time in Kenya. Thank you. The people were extremely friendly and made us feel very welcome. The safari was magical. Thank you for your help over the bookings.

Lesley Grant Haworth - Farnham, United Kingdom

Jambo Altaf and Raza! We are back on earth now after our fabulous honeymoon. This is to say THANK YOU so much for organising a week in Kenya that we will never forget.....!

Dr Krina Zondervan, Oxford University - United Kingdom

In regards to the recent Kenya Safari I experienced with AfricanMecca, it was a trip of a lifetime and we'll never forget it. I can't say enough how much we loved this trip. Thank you.

Roz Applebaum, Owner, Paws By Roz - Massachusetts, United States

We were extremely pleased with our itinerary. All those elephants and giraffes just posing and asking to have their pictures taken. Thank you for planning one of the best trips I have ever taken.

Professor Donald S. Kisiel - Biology Department Suffolk County Community College - New York, United States
HAVE YOU VISITED ABERDARE FOR AN AFRICA SAFARI IN KENYA?
Write A Travel Or Tourist Trip Review To Share Your Experiences
WRITE ABERDARE REVIEW
AMS BLOG
VIEW ALL -
26 October 2017 by AfricanMecca Safaris, in Blog For AfricanMecca Safaris,Safari Planning Blog Posts - AfricanMecca Safaris

Baggage Guidance & Restrictions On Flying Safaris In Africa Published By Afr...

READ MORE +

07 June 2017 by AfricanMecca Safaris, in Blog For AfricanMecca Safaris,Latest Kenya Blog Posts From AfricanMecca Safaris,Safari Planning Blog Posts - AfricanMecca Safaris

Horseback Riding Safari In Masai Mara (Kenya) Published By AfricanMecca Safaris ...

READ MORE +

24 March 2017 by AfricanMecca Safaris, in Blog For AfricanMecca Safaris,Safari Planning Blog Posts - AfricanMecca Safaris

Times Square New York Hosts Kenya Tourism Board & Wilderness Safaris Meet Up...

READ MORE +