Read More About Meru Lodges & Camps In Eastern Kenya
Meru has only a few accommodations located in distinct areas of the park. As a recommendation, we have highlighted the below safari lodge.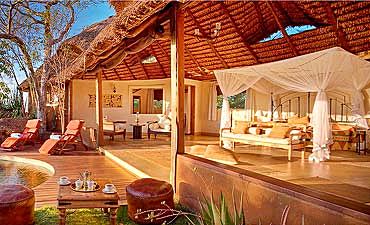 Read More +
ELEWANA ELSA'S KOPJE
Premier Experience - Safari Tier 1
CONTACT AND TALK TO OUR SAFARI EXPERTS TODAY TO KICK-START YOUR TOUR PLANNING PROCESS
Request Kenya Custom Or Tailor-Made Safari Pricing Based On Your Specific Travel Dates At Your Preferred Safari Tier Camp Or Lodge
CONTACT AN EXPERT ON KENYA SAFARI PRICES & TOURS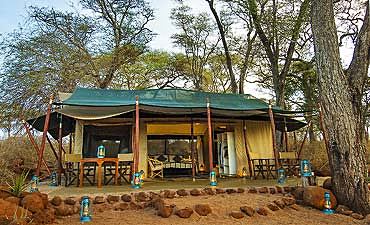 Read More +
WHERE TO STAY IN MERU
For guests who desire the utmost pampering and luxury, Elsa's Kopje offers lodging that celebrate the life and work of Joy and George Adamson. Offbeat Meru, Rhino River, Ikwete Camps are other options.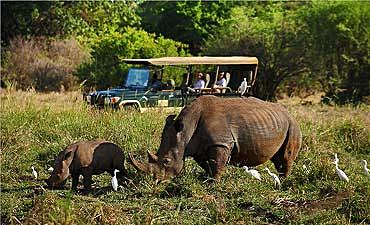 Read More +
SAFARI & TOUR IN MERU
Meru is a discerning unspoiled paradise. From the non-stop action of a game drive to the more relaxed and subtle interactions of a nature walk, the park is a dream wilderness sited in eastern Kenya.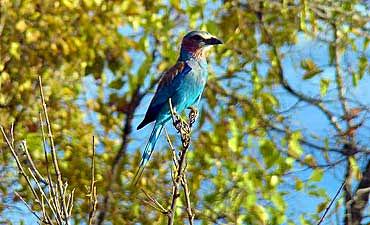 Read More +
BEST TIME TO VISIT MERU
The long cool-dry season from July to October is widely-recognized as the best time to visit Meru. With little to no new precipitation, seasonal watering holes evaporate and vegetation is sparse.
AFRICANMECCA REVIEWS
What are our Customers saying about us? READ MORE REVIEWS

Dear Raza, You turned our dream into a reality. Our honeymoon and wedding in Kenya was so much more than we hoped for. We've never in our wildest dreams thought a vacation could be so perfect...

Mrs Annemarie Bain, Post Production Producer, Maury Show NBC Studios - New York, United States

To sum it up, it was awesome! The accommodations were beautiful, the food was great, and the people of Kenya were warm and friendly. I would give an A+ to the overall rating of this safari trip. Thank you....

Sharon Kolodziejski & Family - Michigan, United States

We are writing to you on our return to say what a marvellous job AfricanMecca did for us on our holiday in Kenya. All the arrangements you made went like clockwork. We are already recommending you to friends.

Liz and Nigel Barnes - West Sussex, United Kingdom

Our Best Of Kenya Tier I safari was really wonderful. Everything was perfect. Excellent top notch service from AfricanMecca! Thanks very much for making our trip really memorable.

Lorna Mata - Ottawa, Canada

Dear AfricanMecca, I could not think of any other better way to tell you about our superb safari that you organized in Kenya than to send you my 11 year old's safari Journal..Thank you

Zahira Hassanali & Family - Long Island - New York, United States

Jambo Raza: We are very impressed by your efficient team work and considerate programming. We spent a wonderful time in Kenya. Thanks for your thoughtful service. Looking forward to the next safari.

Lin Tien-Li of Lin's Family - Yi-Lan City - Taiwan

Dear Raza, Just a note to let you know that my daughter and I had a wonderful time in Kenya. I fell in love with your beautiful country. You certainly lived up to your commitment of superb service.

Patricia Young - Universal Music Group - California, United States
HAVE YOU VISITED MERU FOR AN AFRICA SAFARI IN KENYA?
Write A Travel Or Tourist Trip Review To Share Your Experiences
WRITE MERU REVIEW
AMS BLOG
VIEW ALL -
26 October 2017 by AfricanMecca Safaris, in Blog For AfricanMecca Safaris,Safari Planning Blog Posts - AfricanMecca Safaris

Baggage Guidance & Restrictions On Flying Safaris In Africa Published By Afr...

READ MORE +

07 June 2017 by AfricanMecca Safaris, in Blog For AfricanMecca Safaris,Latest Kenya Blog Posts From AfricanMecca Safaris,Safari Planning Blog Posts - AfricanMecca Safaris

Masai Mara Horseback Riding Safari In Kenya Published By AfricanMecca Safaris | ...

READ MORE +

24 March 2017 by AfricanMecca Safaris, in Blog For AfricanMecca Safaris,Safari Planning Blog Posts - AfricanMecca Safaris

Times Square New York Hosts Kenya Tourism Board & Wilderness Safaris Meet Up...

READ MORE +