BEST TIME TO VISIT KIBALE FOR A UGANDA SAFARI
Best Time, Seasons & Months To Go On Safari In Kibale?
While you're planning your
chimpanzee safari vacation
in beautiful Kibale National Park, our expert consultant at AfricanMecca Safaris will explain the weather variations that may affect your choice of season to visit. The truth is that you can plan your visit at any time, as the region has more or less constant moderate temperatures throughout the year; though, the rainy months can affect forest trails, chimpanzee viewing and photographing experiences. The maximum daytime temperatures vary between 25ºC (77 F) and 28ºC (83 F), whereas the lowest nighttime temperatures range from 13ºC (55 F) to 16ºC (61 F), making the nights cool but comfortable.
Different Monthly Seasons At Kibale - Dry, Hot, Wet Rainy & Cool
Dry Months, Best Time & Peak Season For Kibale: June, July, and August. Note September is peak season but is also part of the wet rainy season.
Dry Months, Very Good Time & High Season For Kibale: End of December, January, and February.
Wet Rainy Months, Good Time & Mid-Peak Season For Kibale: March and September are both rainy periods though September is also a peak period with high number of visitors into Kibale. These months are also the start of the lush green season.
Wet Rainy Season, Least Best Time & Low Season For Kibale: April, May, October, and November.
Hot & Cool Months: There is only 1-3 Celsius degrees variation in temperature in between months at Kibale. January, February and March are the hottest months with highs of 28 C (83 F) during the day and lows of 16 C (61 F) at night while June, July and August are the coolest months with highs of 25ºC (77 F) during the day and lows of 13 C (55 F) at night. All other months have a range from 26 C (79 F) to 27 C (81 F) during the daytime while nighttime temperatures average from 14 C (57 F) and 15 C (59 F).
Best Time For Birdwatching Safaris In Kibale: The best time for birding safaris in Kibale Park is at the start of the short rains in March, April and May, and after the dry season months and beginning of the long rainy months of September, October and November when food is plentiful and birds are breeding. The migratory birds arrive in November and leave by April though not abundant in the forest areas of the park. They can be seen in the more open southern areas of Kibale. The short and long rainy months bring abundance of food that leads to a lot of avian activity though trails can be slippery, and also roads and airstrips can be challenging to navigate.
Key Takeaways
Maximum daytime temperatures varying between 25ºC (77 F) and 28ºC (83 F) and lowest nighttime temperatures ranging from 13ºC (55 F) to 16ºC (61 F)
Best time to visit is in the primary dry season, which begins in June and continues through most parts of August; fewer bugs and sparse vegetation is ideal for chimp viewing
Tracking down chimpanzees is not preferable in the wet season due to slippery and challenging trails
Wet season is suitable for birdwatching excursions because of the breeding and fruiting season
Lower tourist visits in the alternate best dry season months of January and February
Visiting Kibale During the Dry Seasons - Is It The Best Time To Go On Safari Based On Climate, Temperatures & Weather Conditions?
Given that the main purpose of your visit is probably viewing the chimpanzees of Kibale National Park, you will want to plan your
primate tour
in East Africa according to the best time to see them: the dry season, which begins in June and continues through to August. Like the rest of Africa, Uganda has two wet seasons and two dry seasons. The second dry season occurs in the months of December to February, which is also the best time to visit the park with the least number of guests. The long rains in Kibale National Park begin at the end of August - beginning of September and continue through to the middle and later parts of December. You can also expect to see short rains from the middle and end of March to end of May.
Even during the long rains, however, it does not rain continuously all day and there are times when the sky is clear and the sun is shining. Furthermore, certain areas of Kibale may see rain while other pockets remain dry. AfricanMecca recommends you schedule your chimpanzee-tracking excursions during the dry weather months for your travels in Uganda.
The dry and wet seasons each have their own advantages and offer distinct safari experiences in
Kibale National Park
. During the dry seasons, the vegetation is sparse and spotting the chimpanzees in the foliage of the trees overhead is easier. You will also note that the walking trails are less muddy and easier to traverse with fewer bugs, including mosquitos.
Families on their safari holiday
prefer the dry season as the best time to visit Africa since it is summer in the north and schools are typically closed. Families like to bring the older children to introduce them to the wonders of the natural world in Uganda, so you are likely to meet more visitors from North America and Europe during the dry seasons.
Wet Seasons In Kibale Park & How To Plan Activities During The Rainy Period?
But the wet seasons can also be a good time to visit
Kibale (where to stay)
. That's because the rains make the higher slopes of the hills of Kibale cooler and the primates keep to the lower slopes, where it's warmer and there is better availability of food. The chimpanzees don't need to forage as far to find edible fruits, leaves seeds, tree bark, flowers, insects and honey, though trekking on muddy trails can be a challenge and slippery adventure for some. Kibale also takes on a rare beauty during the rainy season, with a burst of fresh flora. Come prepared, though, as the rains could make photography a challenge with increased low light conditions of the forest and cloudy skies.
If viewing birds is a big part of your travel plans, the wet seasons are the perfect time to visit the reserve. This is the fruiting and breeding season, when many resident species can be more readily seen. Many migratory species also arrive in these seasons, though, not much in the woodland areas of the park. You might be able to spot more of them in the open southern areas of Kibale. You can also expect reduced prices on rooming, since it is the low season in Kibale National Park, making your
trip
more economical.
Other Considerations When Planning Your Safari Dates For Kibale Park
The last two weeks of December also constitute a good time to visit the park, when you can enjoy a magical holiday season with family and friends in the warmth of Uganda, far away from harsh northern winters. You may also note that Kibale National Park sees fewer tourists in the rainy wet months for obvious reasons. Most safari guests opt to visit during from July to September, which coincides with the summer months in North America and Europe and also
Tanzania's wildebeest migration of the Serengeti
and
Kenya's Masai Mara
.
| | |
| --- | --- |
| Kibale Park Rating By AfricanMecca | |
Write A Trip Review On Kibale In Uganda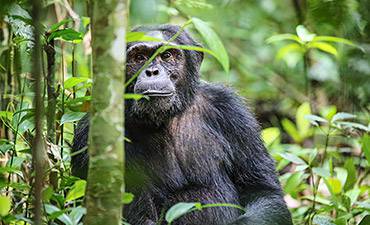 Read More +
KIBALE NATIONAL PARK GUIDE
Kibale National Park is a stunningly beautiful natural reserve in Uganda. Its most valued treasure is an incredible diversity of primates – 13 species in all, including the rare Eastern chimpanzee.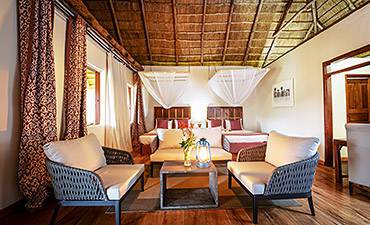 Read More +
WHERE & BEST PLACES TO STAY IN KIBALE
Kibale has varied accommodations, from the luxuries of Kyaninga Lodge to the deluxe option of Ndali Lodge. The value lodge options in Kibale National Park are Crater Safari Lodge and Primate Lodge.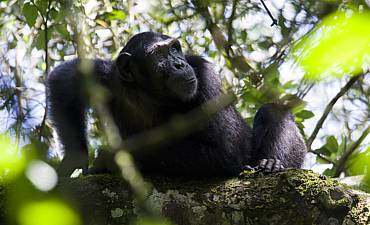 Read More +
KIBALE SAFARI ACTIVITIES & TOUR ATTRACTIONS
Experience chimpanzee trekking safaris in Kibale. Other activities including birdwatching, crater lakes hikes, cultural interactions, night forest walks, chimp habituation experience, and canoe excursions.
AFRICANMECCA REVIEWS
What are our Customers saying about us? READ MORE REVIEWS

AfricanMecca Safaris offers incredibly knowledgeable and skilled services! Our travel arrangements for 2 months of volunteering with TEACH Rwanda in country were made quickly and economically. Honored to work with Raza!

Janet Brown - TEACH Rwanda Founder - United States

I just returned from a month in Africa, specifically Rwanda & Kenya. I am left breathless with my experience. AfricanMecca Safaris coordinated the entire trip for me and left no detail, nothing for me to do.

Carol Bobb - Pennsylvania, United States

AfricanMecca Safaris created a remarkable honeymoon tailored to our interests and desires. The quality of service and delivery of experience was unsurpassed. I highly recommend AfricanMecca Safaris to honeymooners, families, or any traveler.

Noorin & Jason Nelson - Maryland, United States

I booked my safari holiday through AfricanMecca. They were the most helpful company I have ever dealt with and I work within the travel industry. I had the most amazing time. The holiday went as clockwork with no hitches anywhere.

Shelley Roberts - Hemel Hempstead, United Kingdom

This is to let you know my guests, The Bryant's, had a wonderful time on the trip Samburu, Masai Mara/Kenya, Chobe/Botswana & Victoria Falls/Zambia. Everything was perfect! Thank you.

Christine Milan - MT Carmel Travel - Connecticut, United States

We have returned from our African adventure and would like to thank you very much for your part in making this such a wonderful experience. We were lucky enough to time the Great Migration from the Serengeti, which was amazing.

Denise Paterson - Belmont, Australia

Rwanda was amazing. The accommodations, food, and guides AfricanMecca arranged were great. Raza also helped us through the complicated process of getting permits for gorilla trekking. AfricanMecca is a fantastic company to work with.

Stephanie Weir - United States
HAVE YOU VISITED KIBALE FOR AN AFRICA SAFARI IN UGANDA?
Write A Travel Or Tourist Trip Review To Share Your Experiences
WRITE KIBALE REVIEW
AMS BLOG
VIEW ALL -
26 October 2017 by AfricanMecca Safaris, in Blog For AfricanMecca Safaris,Safari Planning Blog Posts - AfricanMecca Safaris

Baggage Guidance & Restrictions On Flying Safaris In Africa Published By Afr...

READ MORE +

07 June 2017 by AfricanMecca Safaris, in Blog For AfricanMecca Safaris,Latest Kenya Blog Posts From AfricanMecca Safaris,Safari Planning Blog Posts - AfricanMecca Safaris

Masai Mara Horseback Riding Safari In Kenya Published By AfricanMecca Safaris | ...

READ MORE +

24 March 2017 by AfricanMecca Safaris, in Blog For AfricanMecca Safaris,Safari Planning Blog Posts - AfricanMecca Safaris

Times Square New York Hosts Kenya Tourism Board & Wilderness Safaris Meet Up...

READ MORE +