WHERE & BEST PLACES TO STAY IN MURCHISON FALLS PARK
5 Best Places & Where To Stay At Various Murchison Falls Accommodations?
AfricanMecca Safaris recommends the below
safari lodges and camps
in Murchison Falls National Park based on your travel budget and Safari Tier preference.
1. Nile Safari Lodge - Tier 1 Premier Experience
Nile Safari Lodge
is an upper-premier vacation stayover located on an elevation above the iconic Nile River in Murchison Falls National Park. Step into the utter tranquility of the lodge and prepared to be charmed by the sight of traditional luxury bandas constructed using naturally-occurring materials. Sloping roofs are supported by eucalyptus poles and flow in smooth lines to the ground, also making up the walls. You can choose from a total of 8 bandas, 6 of the Deluxe Bandas are suitable for up to 3 guests. The Family Banda has two bedrooms, each with a mezzanine that can sleep up to 8 guests, and also has a private pool.
Honeymooners
and couples on their
safari vacation in Uganda
can choose to stay in the Deluxe Suite with a private plunge pool and star bed. The ensuite bathrooms in all the bandas have indoor and outdoor showers, standalone bathtub, and twin vanities.
2. Baker's Lodge - Tier 1 Premier Experience
Located in a lovely location beside the Victoria Nile River in Murchison Falls National Park is
Baker's Lodge
, which takes its name from the 19th-century British explorer Samuel Baker. The luxury lodge is a series of structures constructed on short pillars with wooden floors and decks. Thatched roofs cover the lounge/dining area and bar as well as the lodge's 10 cottages. You will be charmed by the lodge's rustic ambiance, enhanced by area rugs, handmade curios, mosquito netting covering the beds, and rough-hewn wooden furniture. Seating arrangements on the decks allow for pleasant safari vacation siestas and relaxation, while the swimming pool is perfect for cooling dips.
3. Murchison River Lodge - Tier 3 Value Experience
The
Murchison River Lodge
offers an economical vacation accommodation option in the southern bank area of Murchison Falls National Park. Enjoy spending time in the tranquil atmosphere of this eco-friendly rustic lodge, which has a river view lounge-cum-bar-dining on a raised area and a shaded rock-lined swimming pool with a separate wading section at the back. The lodge offers distinct rooming suitable for families with kids including Thatched Cottages, Thatched Safari Tents, and River Tents. At the back of the lodge is a backpackers campground with a parking area for guests who bring their own equipment, with a separate block of shared toilets and showers, campsite bar, a fire pit, a covered area, and seating areas.
4. Paraa Safari Lodge - Tier 3 Value Experience
Located within Murchison Falls National Park is
Paraa Safari Lodge
. This economy vacation accommodation offers 57 rooms in different specifications to suit the needs of every budget-conscious guest. Choose from Standard Rooms and Suites located in the main two-story building. If you need more spacious living spaces, consider opting for the two-bedroom Queen's Cottage which is ideal for
families on safari
. If you're looking for a canvas safari experience, the Safari Tents with river views should be your choice. The lodge also has a free-form swimming pool with a separate wading section, where kids can play under the family supervision.
5. Chobe Safari Lodge - Tier 3 Value Experience
The
Chobe Safari Lodge
is a value safari vacation accommodation located on the remote eastern banks of the Victoria Nile River in Murchison Falls National Park. The lodge offers all the amenities and facilities typical of the Marasa hotel chain in East Africa. You can choose from a range of 62 rooms, suites, tents and cottage in various specifications to meet the requirements of every guest. The Standard Rooms and Suites are located within the three-story main structure. The lodge also has a series of riverside tent options such i.e. Standard Tents, Deluxe Tents, and Super Deluxe Tents. Guests looking for privacy and exclusivity can book the Presidential Cottage.
| | |
| --- | --- |
| Murchison Falls Park Rating By AfricanMecca | |
Write A Trip Review On Murchison Falls In Uganda
AFRICANMECCA REVIEWS
What are our Customers saying about us? READ MORE REVIEWS

AfricanMecca Safaris offers incredibly knowledgeable and skilled services! Our travel arrangements for 2 months of volunteering with TEACH Rwanda in country were made quickly and economically. Honored to work with Raza!

Janet Brown - TEACH Rwanda Founder - United States

I just returned from a month in Africa, specifically Rwanda & Kenya. I am left breathless with my experience. AfricanMecca Safaris coordinated the entire trip for me and left no detail, nothing for me to do.

Carol Bobb - Pennsylvania, United States

AfricanMecca Safaris created a remarkable honeymoon tailored to our interests and desires. The quality of service and delivery of experience was unsurpassed. I highly recommend AfricanMecca Safaris to honeymooners, families, or any traveler.

Noorin & Jason Nelson - Maryland, United States

I booked my safari holiday through AfricanMecca. They were the most helpful company I have ever dealt with and I work within the travel industry. I had the most amazing time. The holiday went as clockwork with no hitches anywhere.

Shelley Roberts - Hemel Hempstead, United Kingdom

This is to let you know my guests, The Bryant's, had a wonderful time on the trip Samburu, Masai Mara/Kenya, Chobe/Botswana & Victoria Falls/Zambia. Everything was perfect! Thank you.

Christine Milan - MT Carmel Travel - Connecticut, United States

We have returned from our African adventure and would like to thank you very much for your part in making this such a wonderful experience. We were lucky enough to time the Great Migration from the Serengeti, which was amazing.

Denise Paterson - Belmont, Australia

Rwanda was amazing. The accommodations, food, and guides AfricanMecca arranged were great. Raza also helped us through the complicated process of getting permits for gorilla trekking. AfricanMecca is a fantastic company to work with.

Stephanie Weir - United States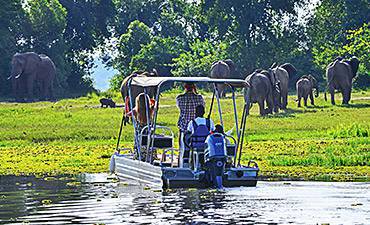 Read More +
MURCHISON FALLS NATIONAL PARK GUIDE
Murchison Falls Park offer a rich diversity of avian, semi-aquatic and terrestrial life - showcases 76 species of mammals and 451 types of birds. The primary attractions are the falls and mighty Nile River.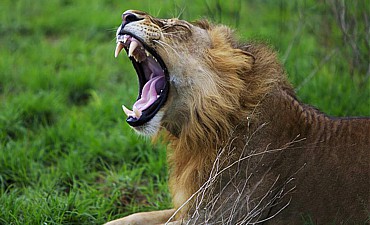 Read More +
MURCHISON FALLS SAFARI ACTIVITIES & TOUR ATTRACTIONS
Experience safari game drives in the Buligi game tracks area, boat safaris on the Victoria Nile to see the Murchison Falls and Lake Albert Delta, wild chimpanzee trekking safari in Budongo Forest and more.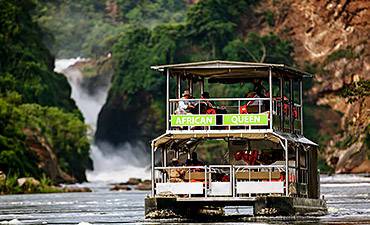 Read More +
BEST TIME TO VISIT MURCHISON FALLS
Like most locations in Africa, Murchison Falls National Park has two wet rainy seasons and two dry seasons. December to March, June & July is the best times to visit Murchison Falls National Park in Uganda.
HAVE YOU VISITED MURCHISON FALLS FOR AN AFRICA SAFARI IN UGANDA?
Write A Travel Or Tourist Trip Review To Share Your Experiences
WRITE MURCHISON FALLS REVIEW
AMS BLOG
VIEW ALL -
26 October 2017 by AfricanMecca Safaris, in Blog For AfricanMecca Safaris,Safari Planning Blog Posts - AfricanMecca Safaris

Baggage Guidance & Restrictions On Flying Safaris In Africa Published By Afr...

READ MORE +

07 June 2017 by AfricanMecca Safaris, in Blog For AfricanMecca Safaris,Latest Kenya Blog Posts From AfricanMecca Safaris,Safari Planning Blog Posts - AfricanMecca Safaris

Masai Mara Horseback Riding Safari In Kenya Published By AfricanMecca Safaris | ...

READ MORE +

24 March 2017 by AfricanMecca Safaris, in Blog For AfricanMecca Safaris,Safari Planning Blog Posts - AfricanMecca Safaris

Times Square New York Hosts Kenya Tourism Board & Wilderness Safaris Meet Up...

READ MORE +