TRIP IDEA & SAMPLE ITINERARY FOR YOUR TOUR IN PEMBA
When beach vacationing in Pemba, we recommend experiencing some of the surrounding island attractions and cultural activities after your Northern Tanzania safari to Lake Manyara, Tarangire, Ngorongoro Crater and Serengeti or Southern Tanzania parks such as Selous and Ruaha.
ARUSHA
On your arrival in northern Tanzania, we recommend spending 1 or 2 nights in the suburbs of Arusha to unwind but also to give you an opportunity to experience the rich historical and cultural heritage of this diverse city. The town is located at the base of Mount Meru offering endless vistas of this iconic highland, as well as the roof of Africa -- Mount Kilimanjaro.
Nestled within one of Tanzania's largest coffee plantations is Arusha Coffee Lodge, a premier hotel in Arusha. The design of the lodge is an elegant blend of wood, brick and glass set within the foothills of Mount Meru. Within this splendid setting are 30 Plantation Houses with 12 Plantation Suites and 18 Plantation Rooms that reflect the historical architecture of the original 1900's house.

Hatari Lodge is situated on the edge of Arusha National Park, giving you access to one of Tanzania's majestic wilderness areas for your African safari, offering inordinate panoramas of the mighty Kilimanjaro mountain and striking Mount Meru amidst diverse terrestrial fauna. The two best ways to explore the park are via game drives and walking safaris supplemented with canoeing experience at Momella Lakes.

Located only 20 minutes from the city, Arusha Safari Lodge is a conveniently-located and personable hotel in Arusha. The accommodation was formerly known as "Safari Spa" until the welcoming rebranding. When you arrive, the professional and courteous staff greets you with a refreshing glass of fresh juice and warm face towels. When you arrange your travel, you may choose from any of the 2 guest rooms in the main building or any 7 poolside cottages situated by the gardens.

TOUR EXPERIENCES OF ARUSHA
TARANGIRE
Proceed to Tarangire National Park for the next 2 nights. The tributaries and swamps of the Tarangire River provide permanent water sources when surrounding shallow lakes dry up, thus attracting a migratory movement of up to 250,000 mammals during the dry season from June to October with a more varied mix of ungulates.
Tarangire Treetops is an adult dream and a childhood fantasy. As African safaris go, that is a pretty potent combination. Take the adult yearning for freedom, wilderness and untamed wildlife. Then graft it onto your inner child's fairy tale tree house up in the air and far from every-day reality. There you have Treetops, stilted premier residences high amongst the branches of ancient baobab trees, overlooking the dense dry vegetation awash with fascinating wildlife to the farthest horizon.

Kikoti Safari Camp offers a unique Tanzanian safari holiday experience to travelers who value the thrill of wilderness living, far from the usual tourist haunts, down a long, adventurous trail from Arusha, through lightly wooded savannah to the heart of a private game concession of thirty thousand acres owned by the Maasai people. There is so much to see and do on tour in Tarangire that you could spend a day exploring the Tarangire River, where hundreds of elephant dig for water.

Kirurumu Tarangire Lodge is designed for safe and comfortable wilderness living. It is a perfect value African safari accommodation, on the Northern edge of Tarangire National Park, 75 miles from Arusha outskirts, with all necessary amenities for budget aware adventurers who appreciate under canvas authenticity and natural beauty. You can take walks, ride mountain bikes, or enjoy night game-viewing drives which are not permitted within the park itself. Herds of zebra and wildebeest can be daunting in proximity.

TOUR EXPERIENCES OF TARANGIRE
NGORONGORO CRATER
Proceed to Ngorongoro for the next 2 nights with a combo-game drive at the spectacular Great Rift Valley lake - Manyara, and also on the Ngorongoro Crater floor. Home to the densest concentration of wild animals in Africa, Ngorongoro Crater is sited within 100 square miles of varied micro-climates, encompassing over 30,000 mammals, half of them rangy wildebeest and well-rounded zebra, together with their many predators, lordly lion, lithe cheetah, retiring leopard, opportunist jackal and skulking hyena, with a vast cast of smaller mammals and birds, form a compelling destination for a dream tour of Tanzania.
Set amidst tranquil gardens within a 1500 acre coffee farm in Northern Tanzania, the Manor at Ngorongoro combines bygone Colonial charm with East African hospitality at its best. For a truly luxurious taste of Cape Dutch style and modern Elewana comfort with all the drama of African adventure, the Manor at Ngorongoro safari cannot be beaten. Adjacent to the borders of Ngorongoro Crater Conservation Area, in verdant highlands, it makes a memorable home-base from which to explore the entire range of the volcanic uplands and the spectacular Ngorongoro Crater itself, a collapsed volcano which contains the densest and most diverse wildlife to be found on a tour to Africa.

Ngorongoro Serena Lodge is a superbly camouflaged safari haven set high on the largest caldera in the world and cushioned in the Ngorongoro Crater Conservation Area, Tanzania. It offers AfricanMecca guests a convenient base from which to explore the varied, self-contained biosphere of what is arguably the most densely populated wildlife conservancy in the world. The Ngorongoro Serena Lodge safari experience combines an unforgettable setting, massive, boulder-built walls and ponderously dramatic accommodation, with unbeatable year-round game-viewing opportunities in a veritable paradise for photographers, adventurers and enthusiastic bird-watchers alike.

Ngorongoro Farm House is a hugely successful, popular African travel lodge set on a 500 acre coffee farm a few miles from the Lolduare Gate to the Ngorongoro Crater Conservation Area, with views of the massive Oldeano Volcano towering to 9,000 feet on the edge of the Great African Rift Valley. Like its smaller sister, Tloma Lodge, a short distance away, it offers comfortable Tanganyika Wilderness accommodations set amidst beautiful and productive gardens, with decor reminiscent of the Colonial era.

TOUR EXPERIENCES OF NGORONGORO CRATER
CENTRAL SERENGETI
You will proceed to the Seronera Valley in Central Serengeti for the next two nights, a year-round game-viewing mecca with impressive populations of herbivores and predators which remain even after the spectacular hordes of rutting wildebeest and zebra have gone. Across the vast plains of the Serengeti National Park range a fantastic cast of wild creatures including impressive numbers of hoofed herbivores, predators and avi-fauna. Amongst them, the principal actors are the blue wildebeest (gnu) and the stalking predators, determining the nature of the ecosystem by their spectacular annual Great Migration, The Greatest Show Of The Natural World.
Serengeti Pioneer Camp is an addition to a collection of Elewana lodges, camps and hotels located in East Africa. This camp specifically is located within the Moru Kopjes area in the southern end of the central sector of the Serengeti in Tanzania. Situated close to the breeding plains of the wildebeest, near the start of their dramatic yearly mass migration, it is ideally placed to observe this world famous event. Over a million wildebeest set off every year on a year round trip following the rains for succulent grazing attended by several hundreds of thousands of gazelle, zebra and other hooved animals, together with thousands more predators who feed off the young, the stragglers and the weak.

Soroi Serengeti Lodge is located in the western side of central sector of the Serengeti National Park in Tanzania. It is a superbly built luxury Mbali Mbali safari accommodation, a must stop for discerning adventurers who travel in Africa. Set high on a majestic granite rocky outcrop overlooking the Musabi plains panorama and shading distant and nearby hills; it is cushioned by the breath-taking views over the Serengeti plains and its fantastic wildlife, the Soroi is a safari accommodation and location to be prized for its own sake on your AfricanMecca vacation in Tanzania.

You have not experienced the true nature of safaris in Africa until you have tried an authentic bush tented camp such as the Kati Kati Camp overlooking the vast rolling grass plains in Central Serengeti. The camp provides an ecologically responsible way to get back to your roots during your tour in Tanzania with AfricanMecca. Ecologically sound, because the management takes care in minimizing footprint to the ecology from their activities by re-sitting the tents periodically to provide former sites to naturally renew..

TOUR EXPERIENCES OF SERENGETI CENTRAL
SERENGETI - SOUTH, NORTH, WEST & EAST
After your stay in Central Serengeti, you will proceed for 3 nights to the polar direction of where the migrating wildebeests are located, moving from or towards the area (view Serengeti wildebeest migration map), and choosing a strategic Serengeti accommodation to maximize on your migration tracking activities, predator-prey interactions and other diverse terrestrial, aquatic and avian fauna viewing opportunities. The Great Migration of the wildebeest in the Serengeti is the largest single movement of wild animals in the world, deservedly listed as one of the "Natural Wonders Of The World", and a superb reason for a dream tour of Tanzania with AfricanMecca.
On a
Serengeti South Safari with AfricanMecca
, from
December to March
, you can follow the wildebeest in at Kusini, in the Serengeti National Park, at Ndutu in the similar Serengeti ecology of the Ngorongoro Conservation Area, and at the bordering Maswe Game Reserve. On the rich grasslands from Ndutu to Kusini, the gnu produce 8,000 calves a day for three weeks. Predatory lion, leopard, cheetah, jackals and hyena eat their fill, but the majority survive. Nearby lakes attract colorful flamingos. Acacia woodlands provide homes for hundreds of birds, monkeys and small mammals. Grassland erupts with wildflowers and fascinating insect life.
From
July to September
, the Mara River in Northern Serengeti affords the most dramatic river crossings. Fierce and deep, cliff-sided and rain-swollen, the river takes an enormous toll of the exhausted and terrified wildebeests that surge through its torrential flow, drowning helplessly, foundering in narrow defiles, floundering in mud, falling victim to prehistoric crocodiles, staggering, exhausted to dry land and often, in confusion, returning to the scene of their ordeal. On a
Serengeti North Mara River Safari with AfricanMecca
, this raw, moving farce-cum-tragedy cannot fail to rivet itself in memory as the gnu clowns of Africa, these ungainly animals, demonstrate their strength and courage, each an expendable unit of a single wildebeest herd-entity determined to survive.
From
April to June
, a vast army of wildebeest and zebra head out from Central South Serengeti towards the Western Corridor, with an intent to cross over the less treacherous Grumeti River. Harassed behind by lion, cheetah and hyenas and ahead by giant Nile crocodiles, many hundreds perish as they hazard the river crossing. But the beauty of the landscape, stretching without end beneath an infinite sky on a
Serengeti West Safari with AfricanMecca
, changes something within the watcher, who becomes more aware of the place of humankind within the drama of the animal world. There is a sizable resident wildebeest population which does not migrate but remains here year-round. When the seasonal Mbalageti River runs dry, the Grumeti River retains pools which attract thousands of mammals. Buffalo and hippopotamus rarely stray far from water.
Enjoy a
Serengeti East Safari with AfricanMecca
during
October and November
when the mega herds from Masai Mara National Reserve in Kenya return to the rich plains of the Serengeti National Park, east of the Grumeti River, passing through Lobo and Western Loliondo and under the majestic Gol Mountains, at the northern edge of the Ngorongoro Conservation Area. Here, you will find higher concentrations of cheetah in the Serengeti, preying on thousands of indigenous gazelle. The mountains shelter colonies of Rupels Griffon Vultures. Wildebeest cover the valleys on their way north in the long rains in March to May, and some pour through the scenic bottleneck of the Angata Kiti pastures during the shorter rains on their way back south. But with or without the migratory millions, this area is breath-taking for its immensity and feeling of freedom. These lands, the way Africa used to be, are home to the nomadic Maasai people, a fitting destination for an African cultural safari.
TOUR EXPERIENCES OF SERENGETI SOUTH, NORTH, WEST & EAST
RECOMMENDED PRE AND POST SAFARI AND BEACH EXTENSIONS IN TANZANIA
After your Northern Tanzania safari, we recommend a combination off-beat extension to either Southern or Western Tanzania depending on your safari activity and wildlife preferences. Thereafter, harmoniously conclude with a beach rest and relaxation visit to the Eastern coast of Tanzania with varied seashore, cultural and historic experiences available on the spice island of Pemba or alternatively at the idyllic private islands of Mnemba, Chapwani, Chumbe, Fanjove and Lazy Lagoon. Other island destinations are Zanzibar and Mafia or even the secluded Ras Kutani Beach located south of Dar es Salaam. The options are endless!
PEMBA ISLAND EXPERIENCE - RECOMMENDED FOR 3 NIGHTS STAY
A beautiful, verdant jewel set in the shimmering romantic azure of the Indian Ocean is the Pemba Island dubbed "El Huthera" or The Green by early Omani sailors. The
island of Pemba
has managed to retain her laid-back charm, unlike the bustle of her larger sister island - Zanzibar. She is still unspoiled by modern civilization, and here you will find very few modes of transport. There are limited accommodations here for your barefoot beach vacation, and the best night-time activity is to fall asleep underneath the twinkling heavens and to the scents of cloves augmented by the cool ocean breezes while being serenaded by the calls of resident fauna, from vervet monkeys, bushbabies to tropical birds. The most fascinating aspect of Pemba Island is clearly its awesome beaches with their powdery soft pristine white sands and amazingly clear waters. Here, when on your dream marine trip with AfricanMecca, you can explore the stunning underwater kingdom of colorful coral reefs and their even more vibrant inhabitants, each more enchanting than the other. Or simply laze on the sands soaking up the warm tropical sun with cool drinks in hand. You are unlikely to be disturbed because there are very few beach visitors traveling on Pemba Island. You could spend your entire trip in complete tranquility reveling in solitude thanks to the island's scant population.
SOUTHERN TANZANIA SAFARI EXPERIENCE - RECOMMENDED FOR 3 NIGHTS STAY
Selous Game Reserve in Southern Tanzania has 55,000 square kilometers (over 21000 square miles) of pristine wilderness designated as a UNESCO World Heritage Site since 1982. It is the stately Rufiji River with its navigable network of stunning oxbow lakes and tributaries forming an inland delta that makes Selous so unique from all the other parks in Tanzania. You can boat, walk and game drive here! Apart from its massive herds of tens of thousands of elephants and Cape buffalo, the reserve boasts a varied population of large mammals including huge pods of hippos and prides of lions as well as packs of African wild dogs and families of black rhinoceros, both fast disappearing in other parts of Africa.
Ruaha is one of the most awe-inspiring African safari destinations. Its unspoiled character results from its inaccessibility which contributes to the tremendous range of wildlife to be found on tour in wild Ruaha, not in vast herds of single species, but in diverse and wide-spread fauna communities. In its unadulterated ecology, lions snooze on the sandy Mwagusi River bed and rangy cheetah mothers can be spotted with their hungry cubs around rocky kopjes on dry grassland as they wait to ambush a careless antelope. The park boasts of over of 20,000 elephants in dissected herds, and also buffalo, hundreds of crocodiles and hippopotamus, 38 kinds of fish in the Great Ruaha River, and one of the largest bird checklist ever to delight a twitcher's heart, with over 570 species recorded.
WESTERN TANZANIA SAFARI EXPERIENCE - RECOMMENDED FOR 4 NIGHTS STAY
Only a few hundred privileged African safari enthusiasts can visit Katavi National Park each year. Arguably the most remote and unspoiled wildlife haven in Tanzania, at 4471 square kilometers (1727 square miles) in extent, this is the third largest wilderness area dedicated to the conservation of spectacular concentrations of indigenous mammals, including thousands of Cape buffalo, various antelopes, zebras, elephants, hippos, crocodiles and predators such as lions, cheetahs, leopards, hyenas and jackals. The endangered African wild dogs are also found here as well as many smaller felines, including the golden and wild cats, servals, caracals and civets.
There are four sub-species of chimpanzees in Africa, all threatened by loss of their tropical forest habitats. One sub-species is found on the banks of the stunningly beautiful
Lake Tanganyika in western Tanzania
. The most popular primate safaris are in Gombe and Mahale, sites of intensive studies of chimpanzees, mankind's closest living genetic kin with more than 95% of DNA in common. Dr. Jane Goodall studied one group of over 60 chimpanzees, the Kasakela community, which you may see on a chimpanzee safari to Gombe Stream National Park, where she has set up a research center. Down in Mahale Mountains, the park is justly famous by Japanese researchers headed by the late Dr. Toshisada Nishida since the 1960s, where for over 800 wild chimpanzees roam, more than any other African park.
EASTERN TANZANIA BEACH EXPERIENCE - RECOMMENDED FOR 3 TO 6 NIGHTS STAY
Tanzania's Eastern coastline and surrounding islands have come a long way from its tempestuous history of imperialists from many nations vying for control of this priceless gem on the shores of the Indian Ocean. Today, its peaceful and tranquil environment offers you a dream beach vacation where turtles are nesting, completely oblivious to humans, cream beautiful deserted sands and waves caressing them under the warmth of the tropical sun. The only sounds that greet you are that of the waves softly stroking the sand and the sea breeze rustling through the Indian Ocean palm trees on your secluded beach. Complement your beach holiday with Swahili cultural and historic experiences in
Bagamoyo
and
Kilwa
.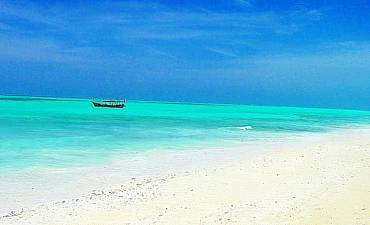 Read More +
WANT TO VISIT ZANZIBAR?
An exquisite Indian Ocean jewel, off the east coast of Tanzania, Zanzibar or the Spice Island is a laid-back little settlement where history whispers and pristine beaches sooth your mind, body and soul.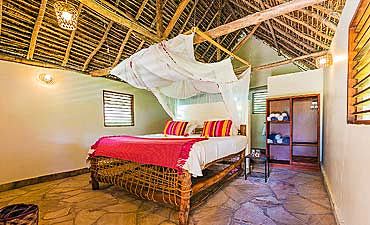 Read More +
WHERE TO STAY IN PEMBA
There are two main accommodations on the island. Fundu Lagoon affords a personalized and intimate boutique experience while Manta Resort is most suited to the travelers who are more restricted on their budget.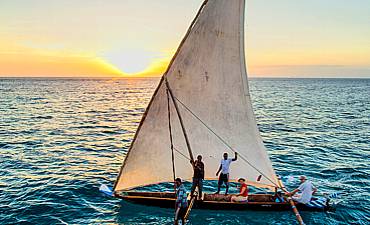 Read More +
PEMBA TOURS & ATTRACTIONS
Pemba offers varied island experiences, from a walking tour of the Ngezi Forest Reserve in search of the Flying Fox Bats to visiting sandbanks, scuba diving and snorkeling at pristine coral reefs to fishing and more.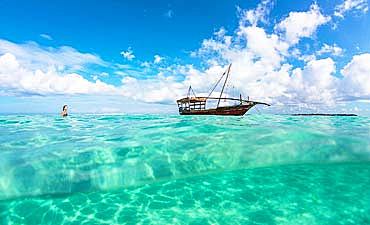 Read More +
BEST TIME TO VISIT PEMBA
The best times to holiday on Pemba are its cool-dry seasonal months from July to October which typically sees temperate weather conditions and also the humid-hot dry seasonal months of January and February.
AFRICANMECCA REVIEWS
What are our Customers saying about us? READ MORE REVIEWS

The Fundu Lagoon Resort at Pemba was outstanding. All personnel there care and deliver great service. Beach dinner experiences and superb variations of meal menus plus changes of venue for dinners were wonderful.

Viv & Kirsty Turner - KwaZulu-Natal, South Africa

Jambo Altaf, We did enjoy the Manta Reef Lodge in Pemba. People were very friendly, food very good with lots of variety lunch & dinner. Diving was well organized, professional people and good infrastructure.

Michela Casaldi & Jason Haynes - Newbury, United Kingdom

AfricanMecca Safaris created a remarkable honeymoon tailored to our interests and desires. The quality of service and delivery of experience was unsurpassed. I highly recommend AfricanMecca Safaris to honeymooners, families, or any traveler.

Noorin & Jason Nelson - Maryland, United States

Greetings to you and our most fervent thanks for a wonderful trip of Kenya, Zanzibar, South Africa & Victoria Falls. Everything went very well. This was truly a perfect vacation. Thank you so much for all your arrangements.

Adrienne & Barrie Carter - Canada

We have returned from our African adventure and would like to thank you very much for your part in making this such a wonderful experience. We were lucky enough to time the Great Migration from the Serengeti, which was amazing.

Denise Paterson - Belmont, Australia

Ras Nungwi was a beautiful property, the pristine white beach not more than forty feet from our lovely room, the Indian Ocean sublime. Raza, it was the vacation of a lifetime, again, thanks so much.

Jamie Davis & Liudmila Kondakova - California, United States

Dear Raza, I want to thank you for being the very best travel partner to design and arrange our spectacular trip to Kenya, Tanzania and Zanzibar. I have already recommended you to several of my friends and colleagues.

Pat Bernard, Vice President, Global Channel Sales, Novell Corp - New Hampshire United States
ARE YOU PLANNING TO BOOK AN AFRICAN TRIP TO PEMBA IN TANZANIA?
Do You Need Knowledgeable, Experienced & Specialist Guidance For Your Travels In Pemba ? Let Us Help Plan Your Trip Itinerary Correctly
CONTACT AN AFRICA TRAVEL EXPERT ON PEMBA
PEMBA BEACH HOTELS & RESORTS
HAVE YOU VISITED PEMBA ON AN AFRICA TRIP IN TANZANIA?
Write A Travel Or Tourist Trip Review To Share Your Experiences
WRITE PEMBA REVIEW
AMS BLOG
VIEW ALL -
26 October 2017 by AfricanMecca Safaris, in Blog For AfricanMecca Safaris,Safari Planning Blog Posts - AfricanMecca Safaris

Baggage Guidance & Restrictions On Flying Safaris In Africa Published By Afr...

READ MORE +

07 June 2017 by AfricanMecca Safaris, in Blog For AfricanMecca Safaris,Latest Kenya Blog Posts From AfricanMecca Safaris,Safari Planning Blog Posts - AfricanMecca Safaris

Masai Mara Horseback Riding Safari In Kenya Published By AfricanMecca Safaris | ...

READ MORE +

24 March 2017 by AfricanMecca Safaris, in Blog For AfricanMecca Safaris,Safari Planning Blog Posts - AfricanMecca Safaris

Times Square New York Hosts Kenya Tourism Board & Wilderness Safaris Meet Up...

READ MORE +