AUTHENTIC TOURS & PERSONALIZED EXCURSIONS AROUND JINJA - NILE RIVER WITH AFRICANMECCA
What Safari Attractions & Tour Activities To Experience During Your Jinja - Nile River Visit?
Outdoor enthusiasts, adventure seekers, nature lovers, history buffs, and cultural aficionados will be enthralled with the charming
Nile River town of Jinja
. It is a place where the warmth and hospitality of the people make you feel at home. A stroll through the town reveals shaded, quiet roadways lined with rural markets, colonial-era architecture, craft shops, affordable eateries, and quaint houses, all of which tell a part of the town's story.
A stone monument outside town marks the point where the Nile River begins its three-month journey to the Mediterranean Sea, around 6,670 km away. Here the waters are quite tranquil, but just below the outlet, the power of the Nile erupts into a cascade of 1 million liters of water per second. This section of the Nile River is renowned as one of the best whitewater rafting destinations in the world, and our guests agree. The activity can be customized to your personal comfort and desires, ranging from short excursions to multi-day adventures. Couple this with a bungee jump over the river and you will be in adventure heaven. If the intense main rapids are too extreme, we recommend kayaking, stand-up paddleboarding, and river swimming on some of the calmer sections of the river.
Key Takeaways
Aqua activities like white water rafting, kayaking, stand-up paddleboarding, and river swimming
Mabira Forest tours, fishing at Bujagali Falls, Nile lunch cruise, and sunset cruise among the other activities to do here
A multi-faceted city with rural art stores, colonial-era architecture, craft shops, modest restaurants, and quaint houses
Main town attractions include Coronation Park and gardens near the golf course that also house a memorial to John Speke
Shrines for notable personalities like Mahatma Gandhi and Nelson Mandela
A small group of multi-story buildings around the town demonstrates how Jinja has adapted to progressive times and become a respected epicenter for commerce and business. Yet, the town maintains an understated character that contributes to a relaxed guest experience. Two of the most popular attractions are Coronation Park and the gardens near the golf course. Coronation Park offers cultural displays and craft shops, while at the gardens you will find a memorial to John Speke, the first European to visit the area. A shrine to Mahatma Gandhi has also been established, as some of his ashes were reputedly scattered in the Nile here. You may walk in the footsteps of humanitarians who have visited the shrine, including Nelson Mandela after he was released from prison. From the gardens, take a boat cruise across the lake to the bird sanctuary at Samuka Island.
Although Jinja is primarily known for high-energy
safari holidays
in Uganda, nature lovers and birders have plenty of opportunities to relax and take in the scenery. You can experience locations rarely seen by taking a quad biking tour along the river. These rides are tailored to the riders' experience level, from beginner to expert. Should you be traveling solo, we can even arrange a private ride for just you. Another incredible way to see the ecosystem along the Nile River is by horseback. The panoramic views are stunning on the trails, and you will even meet some of the locals.
The
Mabira Forest
offers an almost endless number of trails for mountain biking, from casual, easy rides to challenging trails for a good aerobic workout. If you love to fish, we can arrange an outing near Bujagali Falls, where you can trawl, baitfish, and use spinners. Fishing gear can be rented for the day. Take a guided boat tour on Bujagali Lake to see many of Uganda's avi-fauna, experience a leisurely Nile lunch cruise, and end your day with a sunset cruise, including finger foods and cocktails.
Watch Video On Jinja - Nile River Safari Experiences
Our Top 10 Safari Activities In Jinja - Nile River - Things You Can Do & See
Page Content - Start Here
1. Whitewater Rafting On The Nile River
Key Takeaways
Grade 5 classified Nile whitewater rapids featuring drops, steep inclines, obstacles, islands, and waves
Expert guides on board that provide orientation and supervision during the expedition
Lunch break at Malubisi Island and optional second tour to Bujagali Dam
The whitewater rapids near Jinja are some of the best in the world. With a Grade 5 classification, this section of the Nile River is known for its drops, steep inclines, obstacles, islands, and waves that must be skillfully navigated along a precise path. Whitewater rafting is the most popular Nile adventure experience, and we arrange these tours with expert guides who are uniquely qualified to strike a balance between safety and thrills. The tour begins at one of the designated starting points with pick-up from your
accommodation
in Jinja, where you join your guide for an overview and safety briefing. After guests board the raft, your guide gives some last-minute pointers and then navigates away from the shoreline.
A quiet excitement builds inside as you see the rapids ahead, and then the adrenaline rush begins. The intense twists and turns are interspersed with gentler rolls across the water, giving you a few moments to revel in the beauty along the river's edge. At the midway point, your guide guides the raft to Malubisi Island for a lunch break. For more hardcore AfricanMecca guests who want multiple whitewater adventures, we can arrange a second tour at Bujagali Dam. Short tours begin just below the dam and continue into a section of whitewater that was once used only for multi-day trips.
2. Nile River Kayaking
Key Takeaways
Whitewater kayaking on the Nile River with the option of taking lessons offered for novices
Experienced instructor for training, safety equipment, kayaks, and lunch provided
Option of kayaking at Bujagaili Dam that has higher difficulty levels
Rafting the Nile rapids is a great group and adrenaline-rush activity, but some guests want a more individual and calmer experience, the kind that can only be found with whitewater kayaking. With an expert guide always nearby, you'll take on challenges that strengthen your skills and adeptness. The stretches of the Nile rapids approved for kayaking are less intense and gentle than the rafting sections, yet the degree of difficulty is similar because you'll be charged with controlling the kayak along the course set by the guide. We can arrange lessons for first-timers and novices to learn kayaking basics and get a feel for how to navigate the craft in the water.
Working with an experienced Jinja instructor in calmer waters builds the confidence you'll need to participate safely in a guided kayaking tour on sections of Nile rapids that meet your personal comfort level. Your guide has an intimate knowledge of the rapids and will recommend areas that match your newly acquired skills. Kayaking and safety equipment are included, as well as lunch and beverages on the river. As your confidence improves, enhance your Nile River experience with kayaking at Bujagali Dam.
3. Bungee Jump Over The Nile River
Key Takeaways
Bungee jumping from a platform 44 meters above the waters of the Nile
Option of arranging a tandem jump with an experienced instructor
Night bungee jumping with the stars and moonlight guiding the dive
Update: Bungee jumping activity is currently not operating.
If you need a more extreme adrenaline rush than whitewater rafting on the challenging rapids, consider bungee jumping over the Nile River! After climbing to a platform 44 meters above the water, you'll stand on a small platform to consider your next move. Some guests are unable to follow through, but those who do experience one of the most sensational jumps in the world. If you want to jump but feel uneasy about doing it alone, we can arrange a tandem jump with an experienced instructor.
Try it just one time, or make multiple jumps. After a few jumps, you get the hang of controlling the descent and you can add a little flair by touching the water. Try it once and you'll want to go back for more, enhancing each jump with a new maneuver. The most remarkable jumps happen at night. Imagine standing on the platform in the dark, with an infinite number of stars overhead and moonlight as the only way to see the river below.
4. Horseback Riding In Jinja - Nile River Banks
Key Takeaways
Intimate way to experience the pristine beauty of the Nile River passing through villages and skirting hills
Possibility of combining the excursion with bird watching trips and multi-day rides to the local plantations and Mabira Forest
More challenging trails for trained riders and opportunity for cantering the horses
The most intimate way to experience the immaculate beauty of the Nile River is on
horseback
. The tour takes you to the top of the surrounding Nile Valley for impressive hilly views and into a Ugandan village, where you can learn about the local people of Jinja and their ancient traditions. The tour can also be customized for birdwatching. Horseback riding is both romantic and nostalgic. Our guests often say they riding on horseback here makes them feel as if they are traveling in the footsteps of early explorers. Pre-booking is required to ensure that individual horses and trails are chosen in accordance with rider experience and comfort.
If your group has a mix of riders, we may recommend starting the tour together and then separating along the way. Advanced riders can take a bypass along more challenging trails, while newer riders continue along the easier trail before the groups rejoin toward the end of the trail. If you prefer, we can also arrange a special outing for advanced riders only, which provides opportunities for cantering the horses. Multi-day rides are also available to take you to local plantations and the Mabira Forest. There are also opportunities for 30 to 60 minutes pony rides for beginner children and adults alike.
5. Paddleboard Tour On The Nile
Key Takeaways
Relaxed paddleboard rides for reveling in the splendid beauty of the riverbanks and their myriad visitors
Expert guide on boards who shares pointers and local knowledge about the sights you see
Great morning workout since core strength is needed for this activity
The Nile near the town of Jinja supports an amazing ecosystem, and the river is a unique vantage point from which to explore. The high-paced energy of whitewater rafting and kayaking leaves little time to appreciate the delicate details of the various flora and fauna, but the leisurely, relaxed pace of a paddleboard tour is perfect. Your guide shows you how to maneuver the board and provides safety tips to maximize your enjoyment of this wonderful activity.
Once you reach a good comfort level and demonstrate basic skills, your guide leads you out onto the river. You set the pace and your guide shares pointers and local knowledge along the way. Take the time to improve your skills while immersing yourself in the beauty of the Nile. Examine the trees, water, and ground for signs of wildlife on the river banks, and listen carefully to the bird calls to identify the species. You may see a river otter, monitor lizard, or other small denizens of the Nile at the water's edge. Core strength is important for paddleboarding, so this activity is a great morning workout.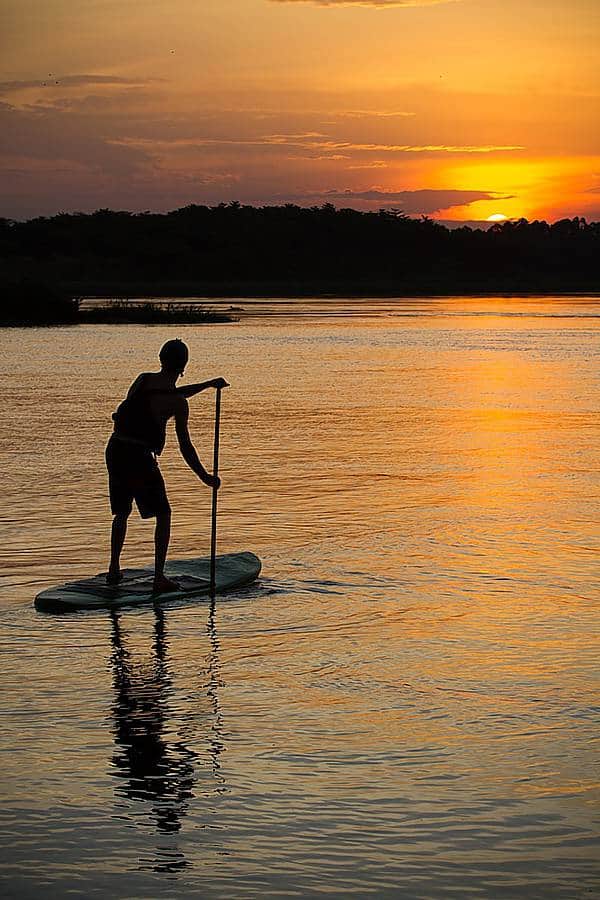 6. Quad Biking Ride In Jinja - Nile Valley
Key Takeaways
River quad biking to explore less accessible locations like the Nile Valley, Bujagali Falls, and Bujagali Dam
Opportunity to explore some of the picturesque rural areas, forests, and farms
Option of booking excursions for solo guests, families with children, and larger groups of travelers
Lack of accessibility leaves much of the Nile River Valley little-visited by guests, but you can experience much more than most with a River Ride Quad Biking Tour led by an expert guide who knows all the secret locations. Quad bike tours begin at Bujagali Falls just below the dam and then go inland from the shoreline to some of the rural areas, farms, and forests. Before the ride, your guide provides safety tips and basic training on operating the quad bikes.
One of three trails is chosen based on the experience levels in the group; each trail starts with an easier section and gradually increases in complexity. Rest assured that riders can be escorted back to the base should the trail become too difficult. Rides can also be arranged for solo guests and families. Families can ride together on easier, shorter trails, or one of our guides can take your little one out on a children's quad bike. The river ride quad biking activity includes refreshments and protective gear, and you should dress to get muddy.
7. Mountain Biking Trips Around Jinja
Key Takeaways
Mountain biking tours with a range of difficulty levels from easy to advanced trails
Each trip lasting anywhere from two hours to a full day to explore locations like Mabira Forest, plantations, and villages
Option of extending out to the banks of the Nile River and a boat ride on Lake Victoria
If you prefer to use your own energy to explore inland areas of the Nile River Valley near Jinja, mountain biking is a "must do" activity. Take your pick of trails, ranging from easy to advanced. For breathtaking views of the Nile, take the guided ride to the eastern side of Bujagali Falls through small farms and villages. The northern banks of
Lake Victoria
and Jinja are the centerpieces of the lake and riverside ride, which can be coupled with a boat ride from the lake. The trail takes you into Jinja and along the Nile, ending at a vantage point with panoramic views of the city and lake.
The ride to Mabira Forest Reserve is tailor-made for nature lovers. The ride starts 20 kilometers outside Jinja and follows a trail under the tree canopy. Along the way, you may spot a variety of monkeys, butterflies, and birds, as well as myriad types of trees and plants, some of which are endangered. The trail continues through plantations and villages, which is an excellent way to see rural Uganda. Mountain biking rides are customized to the experience and fitness levels of the riders, as well as guest desires. Bike rides from Jinja can last anywhere from 2 hours to a full day.
8. Fishing Tours On The Nile River
Key Takeaways
Selection of different kinds of angling such as bait fishing, trawling, fly fishing, or spinning
Possibility of snagging fish like yellow fish, catfish, tilapia, and Nile perch, catch-and-release regulations in place
Excursions organized in the early morning, afternoon, or for the full day
Anglers are thrilled with the idea of catching yellow fish, catfish, tilapia, and Nile perch in the longest river on earth. Whether you enjoy bait fishing, trawling, fly fishing, or spinning, the Nile River will delight even the most discerning of anglers. The most popular spot for our guests is at the rapids, and tackle and bait are available for a fee. If you prefer, bring your own tackle and venture out with a guide. These private angling tours take you to spots known only to locals and specialist fishing guides. The quality of the fishing depends on the time of day that you go, and we recommend going in the early morning or afternoon. Full-day fishing trips can also be arranged. Drinking water, camping gear, fishing gear, and safety gear are included. All fish must be released after being caught unless the fish is unlikely to survive being landed.
9. Birdwatching Around Jinja - Nile River
Key Takeaways
Cruising on Bujagali Lake aboard boats with a capacity of 8 to 10 guests with safety gear, identification book, and binoculars available on board
Full-day birding excursions that include a picnic lunch served buffet style
Nile Lunch Cruise that includes visits to some of the small islands in the river
Bujagali Lake near Jinja offers our guests several unique activities, including
birdwatching
and cruises. The avi-fauna of the Nile River Valley includes some of East Africa's most desired species, such as African darters, great kingfishers, African fish eagles, great cormorants, black kites, great blue turacos, green-backed herons, pied kingfishers, and African openbill storks, to name a few! Groups of 8 to 10 guests set out in a specially designed boat and are provided with all the necessities, including a bird identification book and list of Ugandan species, binoculars, a recording device, and boating safety gear.
We recommend that you also bring your personal birding journal so that you can update it in real-time. Birdwatching tours last a minimum of two hours, so you have ample time to locate numerous species. Mornings are the best time for superb birdwatching when the birds are quite active. The setting sun in the evening tour provides a stunning backdrop for nature photography. Most of the avi-fauna is preparing to roost at this time, but predatory birds and raptors are often out looking for an evening meal.
We can also arrange full-day birding tours that include a packed lunch. Based on your desires, we may arrange a lunchtime cruise at midday, after which you can resume birding. The Nile Lunch Cruise follows the shore and visits some of the small islands. Enjoy a buffet lunch while scanning the river to spy monitor lizards, otters, birds, and other small creatures. The cruise is also another chance to try your hand at fishing.
10. Sunset Cruises On The Nile
Key Takeaways
Opportunity to view the marvelous sunsets on Bujagali Lake and Nile River aboard a two-tiered pontoon boat
Barbecued dishes served on a buffet with finger foods and complimentary cocktails and beer
Excursions booked for couples, families, and larger groups of guests
From the warmth and hospitality of the people to the excitement of being at the traditional source of the longest river on Earth, Jinja fills your days with intrigue and adventure
(

best time to go

)
. Yet the township holds one more secret: enchanting sunset cruises on Bujagali Lake and the early section of the Nile River. As the sun slips below the horizon, the waters are dappled with a kaleidoscope of colors to create a romantic setting made just for two. The chef prepares a lovely barbecue dinner as you sample delights from the buffet of finger foods and sip two complimentary cocktails or beers. The selection of Nile cruises accommodates couples and families, as well as large groups requiring a two-level pontoon boat for special events.
| | |
| --- | --- |
| Jinja - Nile River Rating By AfricanMecca | |
Write A Trip Review On Jinja - Nile River In Uganda
AFRICANMECCA REVIEWS
What are our Customers saying about us? READ MORE REVIEWS

Rwanda was amazing. The accommodations, food, and guides AfricanMecca arranged were great. Raza also helped us through the complicated process of getting permits for gorilla trekking. AfricanMecca is a fantastic company to work with.

Stephanie Weir - United States

AfricanMecca Safaris created a remarkable honeymoon tailored to our interests and desires. The quality of service and delivery of experience was unsurpassed. I highly recommend AfricanMecca Safaris to honeymooners, families, or any traveler.

Noorin & Jason Nelson - Maryland, United States

First off, we had the most amazing time ever and wanted to thank you very much. Kenya proved without a doubt to meet all of our expectations. Every detail was thought of on our trip by AfricanMecca and were are all flawless.

Marcy Burton & Ryan Kerr - Ontario, Canada

I booked my safari holiday through AfricanMecca. They were the most helpful company I have ever dealt with and I work within the travel industry. I had the most amazing time. The holiday went as clockwork with no hitches anywhere.

Shelley Roberts - Hemel Hempstead, United Kingdom

We have returned from our African adventure and would like to thank you very much for your part in making this such a wonderful experience. We were lucky enough to time the Great Migration from the Serengeti, which was amazing.

Denise Paterson - Belmont, Australia

I just returned from a month in Africa, specifically Rwanda & Kenya. I am left breathless with my experience. AfricanMecca Safaris coordinated the entire trip for me and left no detail, nothing for me to do.

Carol Bobb - Pennsylvania, United States

AfricanMecca Safaris offers incredibly knowledgeable and skilled services! Our travel arrangements for 2 months of volunteering with TEACH Rwanda in country were made quickly and economically. Honored to work with Raza!

Janet Brown - TEACH Rwanda Founder - United States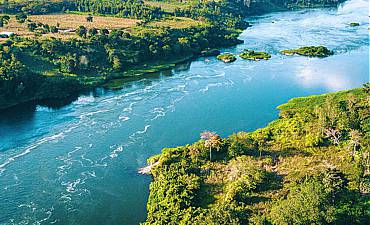 Read More +
GUIDE ON JINJA - NILE RIVER
The story of Jinja in Uganda has many fascinating chapters, from a chance geological event to worldwide recognition as what Speke believed to be the source of the Nile. Today, it is the East Africa's adventure capital.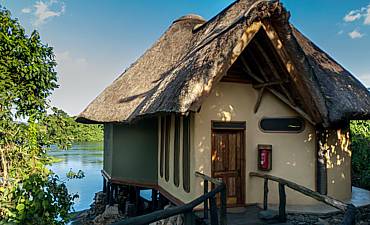 Read More +
WHERE & BEST PLACES TO STAY IN JINJA - NILE RIVER
Jinja has limited good quality accommodations. AfricanMecca only recommends Wildwaters Lodge with a mid-range Deluxe Tier 2 Safari rating. It offers a private island lodge experience on the banks of Nile River.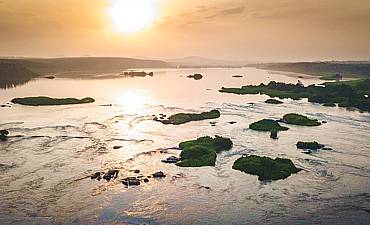 Read More +
BEST TIME TO VISIT JINJA - NILE RIVER
The long dry season starts around the middle of December, January and February, and is considered the best time to visit Jinja in Uganda. The alternate best time to visit is June, July and most parts of August.
ARE YOU PLANNING TO BOOK AN AFRICAN SAFARI TRIP TO JINJA - NILE RIVER IN UGANDA?
Do You Need Knowledgeable, Experienced & Specialist Guidance For Your Travels In Jinja - Nile River ? Let Us Help Plan Your Trip Itinerary Correctly
CONTACT AN AFRICA TRAVEL EXPERT ON JINJA - NILE RIVER
HAVE YOU VISITED JINJA - NILE RIVER FOR AN AFRICA SAFARI IN UGANDA?
Write A Travel Or Tourist Trip Review To Share Your Experiences
WRITE JINJA - NILE RIVER REVIEW
AMS BLOG
VIEW ALL -
26 October 2017 by AfricanMecca Safaris, in Blog For AfricanMecca Safaris,Safari Planning Blog Posts - AfricanMecca Safaris

Baggage Guidance & Restrictions On Flying Safaris In Africa Published By Afr...

READ MORE +

07 June 2017 by AfricanMecca Safaris, in Blog For AfricanMecca Safaris,Latest Kenya Blog Posts From AfricanMecca Safaris,Safari Planning Blog Posts - AfricanMecca Safaris

Horseback Riding Safari In Masai Mara (Kenya) Published By AfricanMecca Safaris ...

READ MORE +

24 March 2017 by AfricanMecca Safaris, in Blog For AfricanMecca Safaris,Safari Planning Blog Posts - AfricanMecca Safaris

Times Square New York Hosts Kenya Tourism Board & Wilderness Safaris Meet Up...

READ MORE +