BEST TIME TO VISIT LAKE MBURO FOR A UGANDA SAFARI
Best Time, Seasons & Months To Go On Safari In Lake Mburo?
Owing to the 13 lakes that form the biome of
Lake Mburo National Park
, the region has lovely weather ideal for safari vacationing at any time of the year. Temperatures are consistent throughout the year with no extreme variations, remaining between 25 C (77 F) and 27 C (80 F)  during the day and 13 C (55 F) to 15 C (59 F) at night. For this reason, your AfricanMecca Safaris consultant is likely to advise that you carry light jackets or warm fleece for the early morning and evening game drives. When you travel around the park, you will notice temperatures in the north and east of the park are slightly higher than in the south and west.
Different Monthly Seasons At Lake Mburo - Dry, Hot, Wet Rainy & Cool
Note On Wet Rainy Season For Lake Mburo National Park:
In comparison to other parks like Queen Elizabeth National Park and Bwindi Impenetrable National Park, the precipitation in millimeters is less in Lake Mburo National Park. This is primarily due to the warm temperate equatorial climate based on its geographical location in southern Uganda.
Dry Months, Best Time & Peak Season For Lake Mburo:

June, July, and August. Note September is peak season but is also part of the dry and wet rainy season.

Dry & Wet Rainy Months, Very Good Time & High Season For Lake Mburo:

End of December, January, and most parts of February.

Wet Rainy Months, Good Time & Mid-Peak Season For Lake Mburo:

September and October are both rainy periods though September is also a peak period with high number of visitors into Lake Mburo. These months are also the start of the lush green season.

Wet Rainy Season, Least Best Time & Low Season For Lake Mburo:

March, April, May, and November.

Hot & Cool Months:

There is only 1-2 Celsius degrees variation in temperature in between months at Lake Mburo. January, February, July, Aug and September are the hottest months with highs of 27ºC (80 F) during the day and lows of 15 C (59 F) at night while April, May, October and November are the coolest months with highs of 25 C (77 F) during the day and lows of 13 C (55 F) at night. All other months average around 26 C (79 F) during the daytime while nighttime temperatures average around 14 C (57 F).

Best Time For Birdwatching Safaris In Lake Mburo:

The best time for birding safaris in Lake Mburo Park is January, February, June and July when the rains are the least and roads are navigable. The migratory birds arrive in November and leave by April. The peak rainy months of April and November bring abundance of food that leads to a lot of avian activity though trails can be slippery, and also roads and airstrips can be challenging to navigate.
Key Takeaways
Maximum daytime temperatures ranging from 25 C (77 F)  and 27 C (80 F) and minimum nighttime temperatures ranging from 13 C (55 F) to 15 C (59 F) as through the year

Long dry season beginning in June and continuing on until the middle of September

Best time to visit during the dry months since there are fewer bugs, vegetation is sparse, and spotting animals congregating around watering holes is easy

Northern summers coinciding with the winter months in Uganda, families can plan visits when schools are closed, or to spend the holidays during the holiday months of end of December and early January

Activities are best experienced during the dry season when the roads and trails easily traversable
Visiting Lake Mburo During the Dry Seasons - Is It The Best Time To Go On Safari Based On Climate, Temperatures & Weather Conditions?
If you're a wildlife enthusiast, you probably have plans to go on game drives to view the incredible birdlife and fauna in the park. For your best sightings, you may want to take your
safari holiday in Uganda
during one of the dry seasons. Like the rest of Africa, Lake Mburo National Park has two wet seasons and two dry seasons. The long dry season begins in June and continues through July and August. The short dry season lasts for three months in December, January, and February. These months are the best times for a visit to Lake Mburo Park because the weather is cool and dry. You are likely to encounter fewer bugs such as mosquitoes, and the undergrowth is sparse.
Wet Seasons In Lake Mburo Park & How To Plan Activities During The Rainy Period?
If a visit to the region is more convenient during the wet seasons, it's good to note that the rains bring new life and a burst of fresh vegetation to the park; the new greenery is simply beautiful to view. You can also take advantage of smaller crowds and, perhaps, more bird sightings. Do keep in mind that the roads in the park tend to get muddy, making travel more time-consuming. With that said, some accommodations (like safari lodges and camps) lower their room prices, so your trip could be more economical during this period. 
Though annual rainfall levels tend to average around 700-800 mm, Lake Mburo National Park is shy of erratic rains. Even during the height of the rainy season, it does not rain continuously here; there are times when the sun is out and the sky is clear. Like the rest of Africa, this reserve in Uganda is prone to unusual weather patterns because of climate change. If you're worried about this, know that your game drives and other
safari activities in Lake Mburo
can be planned around the weather conditions based on your arrival and departure days of your safari with AfricanMecca.
.
Other Considerations When Planning Your Safari Dates For Lake Mburo Park
Animal-viewing easier during this period because animals are more likely to congregate near water bodies becomes scarce. The short dry season also coincides with the harshest part of winter in the northern hemisphere, making it a pleasant time for a getaway to sunny Uganda. It's worth noting that the long dry season tends to coincide with school holidays in Europe, North America and in East Africa and also the
wildebeest migration
in
Serengeti (Tanzania)
and
Masai Mara (Kenya)
, so you may also encounter a higher number of family tourists with children in the parks and reserves in Uganda at this time.
| | |
| --- | --- |
| Lake Mburo Park Rating By AfricanMecca | |
Write A Trip Review On Lake Mburo In Uganda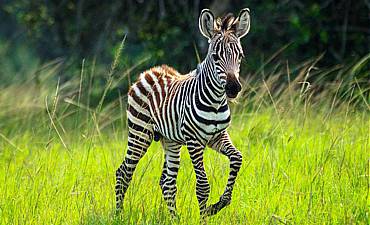 Read More +
LAKE MBURO NATIONAL PARK GUIDE
Lake Mburo National Park is a small but rich haven of wildlife in Lake Mburo National Park. This reserve is the smallest of all the parks in the country but it has significant socioeconomic importance.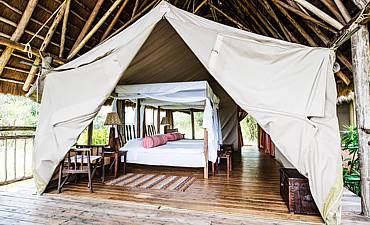 Read More +
WHERE & BEST PLACES TO STAY IN LAKE MBURO
Lake Mburo has limited quality camps and lodges. AfricanMecca only recommends Mihingo Lodge that affords a mid-range Deluxe Tier 2 Safari rating. It offers a tented lodge experience with diverse activities.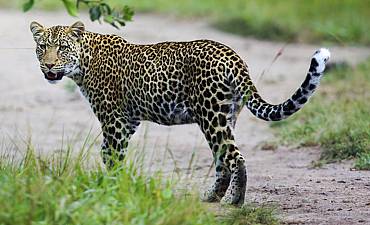 Read More +
LAKE MBURO SAFARI ACTIVITIES & TOUR ATTRACTIONS
Lake Mburo Park offer many activities such as horse riding safaris, biking, bush walks, day and night game drives, boat trips, cultural interactions with the Banyankole Bahima tribe, visit to wildlife hides.
AFRICANMECCA REVIEWS
What are our Customers saying about us? READ MORE REVIEWS

AfricanMecca Safaris offers incredibly knowledgeable and skilled services! Our travel arrangements for 2 months of volunteering with TEACH Rwanda in country were made quickly and economically. Honored to work with Raza!

Janet Brown - TEACH Rwanda Founder - United States

I just returned from a month in Africa, specifically Rwanda & Kenya. I am left breathless with my experience. AfricanMecca Safaris coordinated the entire trip for me and left no detail, nothing for me to do.

Carol Bobb - Pennsylvania, United States

AfricanMecca Safaris created a remarkable honeymoon tailored to our interests and desires. The quality of service and delivery of experience was unsurpassed. I highly recommend AfricanMecca Safaris to honeymooners, families, or any traveler.

Noorin & Jason Nelson - Maryland, United States

I booked my safari holiday through AfricanMecca. They were the most helpful company I have ever dealt with and I work within the travel industry. I had the most amazing time. The holiday went as clockwork with no hitches anywhere.

Shelley Roberts - Hemel Hempstead, United Kingdom

This is to let you know my guests, The Bryant's, had a wonderful time on the trip Samburu, Masai Mara/Kenya, Chobe/Botswana & Victoria Falls/Zambia. Everything was perfect! Thank you.

Christine Milan - MT Carmel Travel - Connecticut, United States

We have returned from our African adventure and would like to thank you very much for your part in making this such a wonderful experience. We were lucky enough to time the Great Migration from the Serengeti, which was amazing.

Denise Paterson - Belmont, Australia

Rwanda was amazing. The accommodations, food, and guides AfricanMecca arranged were great. Raza also helped us through the complicated process of getting permits for gorilla trekking. AfricanMecca is a fantastic company to work with.

Stephanie Weir - United States
HAVE YOU VISITED LAKE MBURO FOR AN AFRICA SAFARI IN UGANDA?
Write A Travel Or Tourist Trip Review To Share Your Experiences
WRITE LAKE MBURO REVIEW
AMS BLOG
VIEW ALL -
26 October 2017 by AfricanMecca Safaris, in Blog For AfricanMecca Safaris,Safari Planning Blog Posts - AfricanMecca Safaris

Baggage Guidance & Restrictions On Flying Safaris In Africa Published By Afr...

READ MORE +

07 June 2017 by AfricanMecca Safaris, in Blog For AfricanMecca Safaris,Latest Kenya Blog Posts From AfricanMecca Safaris,Safari Planning Blog Posts - AfricanMecca Safaris

Masai Mara Horseback Riding Safari In Kenya Published By AfricanMecca Safaris | ...

READ MORE +

24 March 2017 by AfricanMecca Safaris, in Blog For AfricanMecca Safaris,Safari Planning Blog Posts - AfricanMecca Safaris

Times Square New York Hosts Kenya Tourism Board & Wilderness Safaris Meet Up...

READ MORE +