AUTHENTIC SAFARIS & PERSONALIZED TOURS IN LAKE MBURO WITH AFRICANMECCA
What Safari Attractions & Tour Activities To Experience During Your Lake Mburo Visit?
Lake Mburo National Park covers an area of 370 square kilometers (143 square miles) and, though small, has a variety of habitats and biomes. Along with the region's 13 lakes, 5 of which are included within the borders of the park, there are extensive swamps that support a rich wetland ecosystem with an array of wildlife. Savannah grasslands, copses of acacia and commiphora, riparian forests, and papyrus marshes provide a haven for a wide range of herbivores, a few carnivores, and avian life. A
family safari vacation
in Uganda will offer a chance to indulge in many adventure activities at Lake Mburo, some are suitable for parents with young children.
Key Takeaways
Small park covering an area of 370 sq km (143 sq mi) with a diversity of scenic landscapes

Home to 350 species of birds including 22 migratory northern species

68 species of mammals along with various reptiles, amphibians, insects, and smaller creatures
You can go on fauna viewings on walking safaris, which also offer the opportunity to get a closer look at insects, amphibians, reptiles, and other smaller creatures you wouldn't notice on a typical game drive. Nonetheless, the classic game drives offer a chance to see some of the 68 species of mammals present in the park, including grazing herbivores like warthog, reedbuck, topi, Defassa waterbuck, oribi, duiker, buffalo,  Rothschild's giraffe, and many more. Although common in other parts of the continent, this is the only region in Uganda to find impalas. You will also find the eland and Burchell's zebra, viewable only in Lake Mburo and
Kidepo
. 
Predators prowling the park include hyenas, genets, and leopards; lions have recently been seen again in the park after a long absence. Avid bird watchers vacationing in
Lake Mburo Park
are thrilled to be able to spot about 350 species here, including 22 migratory species that arrive from Palaearctic and Afrotropical regions. The lakes abound with around 300 hippos and many crocodiles. Spend time boating on the lakes and you will surely come across various aquatic birds. Fishing is another activity available to tourists.
Horseback riding safaris, mountain biking, wild running are the unique adventure activities to do here at Lake Mburu. Spend some time in a hide close to a watering hole and salt lick to watch the animals visit to drink and lick the saline soil. The hides and a wooden viewing platform were set up by the Uganda Wildlife Authority.
Watch Video On Lake Mburo Safari Experiences
Our Top 7 Safari Activities In Lake Mburo - Things You Can Do & See
Page Content - Start Here
1. Game Drives To View The Diverse Wildlife Of Lake Mburo
Key Takeaways
Drives along the Research Track with your guide on board to spot herds of herbivores grazing

Visiting the Kazuma Lookout for stunning views of the 5 lakes of the park

Night game drives to spot nocturnal creatures that remain hidden away in the day
Lake Mburo National Park has several sections and trails with special appeal for wildlife lovers, as they have a dense concentration of bird and animal life. Choose the Research Track for views of warthog, oribi, reedbuck, topi, Burchell's zebra, giraffes, and buffaloes cooling off in the muddy swamplands. You might also wish to add a drive to the Kazuma Lookout to your
Uganda wildlife safari
itinerary for Lake Mburo. After parking the safari vehicle at the bottom of the hill, climb to the top for breathtaking panoramas of the 5 lakes of the park. If the wet season, consider driving along Eland Track for a spectacular experience.
The environs of Lake Mburo National Park allow for tours and explorations both inside and outside the reserve boundaries. You will be riding in a specialized safari vehicle with an AfricanMeca assigned guide on board to help you spot the wildlife hidden in the bush and learn more about the behaviors. Drive to the dams for livestock outside the park for sightings of crested cranes, shoebills, and other aquatic birds. The tribal villages on the outskirts of the park, are also a great place to visit, allowing guests to spot magnificent long-horned Ankole cattle grazing side by side with herds of eland, impalas, and topi.
Night game drives in Lake Mburo National Park offer the opportunity to view the park and its denizens in a whole different light. Be on the lookout for nocturnal animals such as the leopard, spotted hyena, and perhaps even a lion hunting in the bush. Also watch for smaller creatures like the white-tailed mongoose, genet cat, bush pig, gallago, and porcupine. Each
trip
takes around 2 hours and is conducted after dinner. The expert guide assigned may use spotlights to help you better see the animals. 
2. Boat Safaris Around Lake Mburo
Key Takeaways
Boating to view hippos and crocodiles

Sightings of gorgeous aquatic birds fishing in the lake

Each cruise lasting around 90 minutes and available for both kids and adults, life jackets provided
A boating trip on Lake Mburo is one of the must-dos on a visit to the park. Cruising the waters, you will be able to view aquatic birds as they hunt fish. Spot species like the fish eagle, finfoot, pelican, cormorant, heron, black crane, malachite kingfisher, shoebill stork, pied kingfisher, blue-headed weaver, rufous long-tailed starling, and hamerkop. Cruises are an hour and a half long, and both kids and adults are welcome on board. Life jackets are provided to all guests. Aside from the various animal species of
Lake Mburo Park (best time to visit)
that come to drink on the shores of the lake, you may also spot hippos and crocodiles in the shallows.
3. Birdwatching Safaris In Lake Mburo
Key Takeaways
Birdwatching excursions to view some of the 350 species of Lake Mburo

Rubanga Forest birdwalk to see some of the 40 woodland species

Opportunity to spot some of the aquatic bird species
Look out for species like the red-faced barbet, which is found only in Lake Mburo National Park. You may also see rare species such as the shoebill and African finfoot that are best seen along the swampy borders of the park's namesake lake. The expert guide assigned by AfricanMecca Safaris will accompany you on
birdwatching trips
. With his help, you could spot some fascinating species that color the background landscape with their brilliant hues. Among the many birds, look for the papyrus yellow warbler, brown-chested lapwing, Carruther's Cisticola, Abyssinian ground hornbill, white-winged warbler, Tabora (long-tailed) Cisticola, African wattled lapwing, saddle-billed stork, and African scops owl. The forest of Rubanga  is home to species like the yellow-rumped tinkerbird, hairy-breasted barbet, and blue-breasted kingfisher, to name a few. Other notable bird species are Rufous-bellied heron, Coqui francolin, bateleur eagle, black-bellied bustard, grey crowned crane etc.
AfricanMecca Safaris can also organize a Rubanga Forest birdwalk. The forest has a lovely shaded atmosphere under a canopy of trees that includes figs, acacia, markhamia, and platycladus, among others. From the viewing platform you can see more than 40 species of birds, 5 of which are limited to such forested habitats. As you walk with the guidance of a naturalist, look for species such as the double-toothed barbet, gray-backed harrier hawk, Camaroptera, Narina trogon, green pigeon, and shoebill stork.
Below is a list of some of the birds of Lake Mburo National Park
African Black-headed Oriole
African Finfoot
African Fish-Eagle
African Green-Pigeon
African Grey Hornbill
African Jacana
African Marsh Harrier
African Pied Wagtail
African Yellow White-eye
Bare-faced Go-away-bird
Barn Swallow
Bateleur
Black Crake
Black Kite
Black-headed Gonolek
Black-lored Babbler
Black-necked Weaver
Blue-breasted Kingfisher
Blue-cheeked Bee-eater
Broad-billed Roller
Brown Snake-Eagle
Cattle Egret
Chinspot Batis
Cinnamon-breasted Bunting
Collared Sunbird
Common Bulbul
Common Sandpiper
Common Scimitarbill
Crested Barbet
Crested Francolin
Dideric Cuckoo
Double-toothed Barbet
Emerald-spotted Wood-Dove
Flappet Lark
Fork-tailed Drongo
Giant Kingfisher
Green Sandpiper
Green-backed Camaroptera
Grey-capped Warbler
Hadada Ibis
Hamerkop
Lesser Striped Swallow
Little Egret
Little Greenbul

Lizard Buzzard
Long-toed Lapwing
Madagascar Bee-eater
Malachite Kingfisher
Mariqua Sunbird
Northern Grey-headed Sparrow
Papyrus Gonolek
Pied Kingfisher
Pin-tailed Whydah
Plain-backed Pipit
Purple-banded Sunbird
Red-billed Firefinch
Red-eyed Dove
Red-faced Crombec
Red-necked Francolin
Ring-necked Dove
Ruppell's Starling
Sand Martin
Sooty Chat
Shoebill
Speckled Mousebird
Spectacled Weaver
Splendid Starling
Spot-flanked Barbet
Squacco Heron
Striated Heron
Striped Kingfisher
Sulphur-breasted Bushshrike
Swamp Flycatcher
Tawny-flanked Prinia
Trilling Cisticola
Water Thick-knee
Wattled Lapwing
Western Yellow Wagtail
White-backed Night-Heron
White-browed Coucal
White-rumped Swift
White-winged Black Tern
White-winged Swamp Warbler
Willow Warbler
Wood Sandpiper
Woodland Kingfisher
Yellow-breasted Apalis
Yellow-fronted Tinkerbird
Yellow-rumped Tinkerbird
4. Cultural & Community Tours Near Lake Mburo Park
Key Takeaways
Interactions with the Banyankole Bahima tribe to learn about how they manage their long-horned Ankole cattle. Lessons in milking cows and tasting fresh milk

Opportunity to check out the traditional huts and learn about the ancient lifestyles of the people. Listening to folklore and sampling traditional dishes

Bicycle rides to the fishing village to learn traditional drying and preserving techniques
During your
African cultural safari
in Lake Mburo National Park, you can get an introduction to the pastoral way of life followed by the Banyankole Bahima people and learn a bit about how they manage the long-horned Ankole cattle they own. Walk to the village by foot or ride over on a bicycle. Take a lesson on milking cows and later get a taste of the fresh milk. You can also learn how ghee, clarified butter, is made before wandering through the grazing lands, co-inhabited by domestic cattle and local wildlife herds. You could also take a bicycle ride to the nearby fishing village. Get a crash course in the art of drying and preserving fish,, or hire a boat and float among the papyrus reeds, searching for hidden birds. 
As you travel out of Lake Mburo National Park through the Sanga Gate, you will reach the Igongo Cultural Center, located about 4 kilometers away. This cultural complex has a series of traditional huts where you can learn more about the ancient living styles of locals, including many customs still followed today. You will also learn about the reverence the tribes feel for their Ankole cattle believing them to be kings and queens. People living in the area include the Banyankole, Batooro, Bakiga, Banyakitara, and Banyoro. At the end of the tour, you can sample some of the traditional dishes, including served in the area, such as roasted goat.
5. Walking Safaris In Lake Mburo Park
Key Takeaways
Excursions organized in the early morning to experience the sights and sounds of animals waking up

Spotting tiny insects and small reptiles, amphibians, birds, and small animals hiding in the bush

Possibility of combining the walking tour with a picnic lunch beside the lake
Going on
walking safaris
in Lake Mburo National Park allows you to experience nature uniquely. In the company of an armed Uganda Wildlife Authority guide, you can take a bush walk in the early morning. You might encounter various antelopes grazing near the swamps or drinking from it. You can nature walk on the valley ridges and on its floors. Snap up this opportunity to view butterflies, tiny insects, reptiles, amphibians, and smaller animals like the mongoose or sitatunga. Your guide will identify different animal spoors for you to learn from. Each safari walk will take a couple of hours as traveling along a trail that loops around the lake. Combining the walk with a picnic lunch is also an option.
6. Horseback Safaris In Lake Mburo Park
Key Takeaways
Horseback safaris that last for around one to five hours, or overnight tours

Possibility of approaching animals more closely without the possibility of startling them off

Unique experiences of exploring the bush without the distraction of motorized vehicles
While going on game drives is often the best way to view wildlife on vacation, sounds from the safari vehicles sometimes tend to unsettle the animals.
Horseback safaris in Africa
are a unique option for those feeling a bit adventurous.
Mihingo Lodge
has a stable with well-trained horses that you can use to explore the bush. Revel in the tranquility and fresh air of a tour on horseback, with only the sounds of a breeze rustling the foliage and bird songs to accompany you. A horse ride can last from one to five hours based on your ability, or you can opt for the overnight horse safari in Lake Mburo National Park. Horses offer a special advantage: since they're four-legged creatures, other animals tend to allow you to approach them more closely without running away. Only experienced riders can book horse riding safaris as you need to be good at cantering and trotting.
7. Mountain Biking & Cycling In Lake Mburo Park
Key Takeaways
Biking safaris to explore animal trails and check out the smallest denizens of the forest and savannah

Personal tour guide to direct the excursion

Opportunity to view animals from closer distances without the sounds from safari vehicles
In place of horseback riding,
Lake Mburo National Park (where to stay)
also offers the fun option of a biking safari. Cycling along well-worn paths allows you to view some of the animals up close with minimal obtrusion to their activity. You can also explore narrow animal trails and, perhaps, proceed to bike to view a termite mound as you take a closer look at some of the smaller denizens of the bush. A bike tour guide will accompany you, while AfricanMecca will make sure you have a supply of drinking water and snacks for your biking excursion, which may have you passing among grazing herds of zebras, giraffes, impalas, warthogs, topis and waterbucks without causing a rustle. We highly recommend pre-booking your mountain biking excursion prior to arrival as there are very limited bikes available each day.
| | |
| --- | --- |
| Lake Mburo Park Rating By AfricanMecca | |
Write A Trip Review On Lake Mburo In Uganda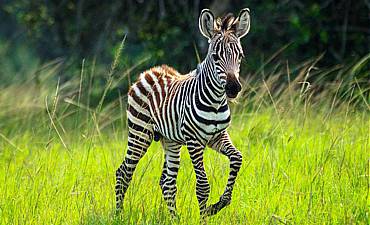 Read More +
LAKE MBURO NATIONAL PARK GUIDE
Lake Mburo National Park is a small but rich haven of wildlife in Lake Mburo National Park. This reserve is the smallest of all the parks in the country but it has significant socioeconomic importance.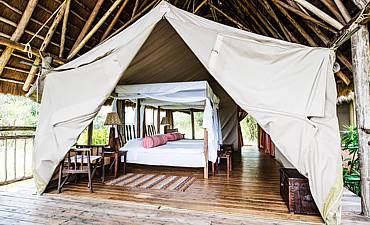 Read More +
WHERE & BEST PLACES TO STAY IN LAKE MBURO
Lake Mburo has limited quality camps and lodges. AfricanMecca only recommends Mihingo Lodge that affords a mid-range Deluxe Tier 2 Safari rating. It offers a tented lodge experience with diverse activities.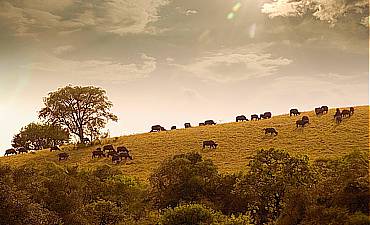 Read More +
BEST TIME TO VISIT LAKE MBURO
Like most locations in Africa, Lake Mburo National Park has two wet rainy seasons and two dry seasons. December to February, June to August are the best times to visit Lake Mburo Park in Uganda.
AFRICANMECCA REVIEWS
What are our Customers saying about us? READ MORE REVIEWS

AfricanMecca Safaris offers incredibly knowledgeable and skilled services! Our travel arrangements for 2 months of volunteering with TEACH Rwanda in country were made quickly and economically. Honored to work with Raza!

Janet Brown - TEACH Rwanda Founder - United States

I just returned from a month in Africa, specifically Rwanda & Kenya. I am left breathless with my experience. AfricanMecca Safaris coordinated the entire trip for me and left no detail, nothing for me to do.

Carol Bobb - Pennsylvania, United States

AfricanMecca Safaris created a remarkable honeymoon tailored to our interests and desires. The quality of service and delivery of experience was unsurpassed. I highly recommend AfricanMecca Safaris to honeymooners, families, or any traveler.

Noorin & Jason Nelson - Maryland, United States

I booked my safari holiday through AfricanMecca. They were the most helpful company I have ever dealt with and I work within the travel industry. I had the most amazing time. The holiday went as clockwork with no hitches anywhere.

Shelley Roberts - Hemel Hempstead, United Kingdom

This is to let you know my guests, The Bryant's, had a wonderful time on the trip Samburu, Masai Mara/Kenya, Chobe/Botswana & Victoria Falls/Zambia. Everything was perfect! Thank you.

Christine Milan - MT Carmel Travel - Connecticut, United States

We have returned from our African adventure and would like to thank you very much for your part in making this such a wonderful experience. We were lucky enough to time the Great Migration from the Serengeti, which was amazing.

Denise Paterson - Belmont, Australia

Rwanda was amazing. The accommodations, food, and guides AfricanMecca arranged were great. Raza also helped us through the complicated process of getting permits for gorilla trekking. AfricanMecca is a fantastic company to work with.

Stephanie Weir - United States
HAVE YOU VISITED LAKE MBURO FOR AN AFRICA SAFARI IN UGANDA?
Write A Travel Or Tourist Trip Review To Share Your Experiences
WRITE LAKE MBURO REVIEW
AMS BLOG
VIEW ALL -
26 October 2017 by AfricanMecca Safaris, in Blog For AfricanMecca Safaris,Safari Planning Blog Posts - AfricanMecca Safaris

Baggage Guidance & Restrictions On Flying Safaris In Africa Published By Afr...

READ MORE +

07 June 2017 by AfricanMecca Safaris, in Blog For AfricanMecca Safaris,Latest Kenya Blog Posts From AfricanMecca Safaris,Safari Planning Blog Posts - AfricanMecca Safaris

Horseback Riding Safari In Masai Mara (Kenya) Published By AfricanMecca Safaris ...

READ MORE +

24 March 2017 by AfricanMecca Safaris, in Blog For AfricanMecca Safaris,Safari Planning Blog Posts - AfricanMecca Safaris

Times Square New York Hosts Kenya Tourism Board & Wilderness Safaris Meet Up...

READ MORE +