BALLOON SAFARIS IN SERENGETI (2023-2024 PRICES)
Expert Guide On Balloon Trips In Serengeti
A Serengeti balloon safari is a fantastic once in a lifetime experience, particularly suitable for a bird's eye-view game viewing experience on your AfricanMecca wildlife tour in northern Tanzania. Hot air balloon rides leave from three sites in this prime national park. In Central Serengeti, wildlife gathers year-round in the Seronera River Valley where there is permanent water. The Great Migration passes through around May and June.
The Western Serengeti includes the Grumeti River, scene of theatrical crossings during the Great Migration in June and July, when hundreds of thousands of gnu, brave the giant Nile crocodiles, and many perish while others detour to avoid the perilous river. In South Serengeti plains, the wildebeests assemble from December onwards, to calve in February, producing 8000 newborn every day on a three-week marathon, a sight not to be missed on your personalized nature travel in Serengeti.

The plains of the Serengeti are particularly suited to balloon flights which are particularly convenient, letting you get aerially closer and distinctly accessible to the action than you could be by a game-viewing safari vehicle
(

read more on when is the best time to visit Serengeti

)
.
Conditions are favorable early every morning, but you are advised to pre-book this popular activity for your safari holiday to East Africa due its limited seating availability. Unfortunately, only children over seven year, old and fit and active adults can be accommodated. Because weight is a crucial safety consideration, passengers weighing over 120 kilos (265 pounds) may need to reserve two places.

The balloons are immense. Baskets are compartmented for comfort and security, accommodating 16 people for each one-hour voyage. The price reflects the enormous cost of the balloons due to a safety replacement every few hundred hours, equivalent to swapping with a high-end automobile.
High fees are payable to the national park for tourist concessions for every single passenger. A skilled, experienced and licensed pilot and staff of 20 are needed for each trip, including launching and recovery as well as transport to and from the launch and celebratory champagne breakfast.
Each flight is unique, some high enough to view the panoramic landscape for miles ahead, others low enough to see individual animals at close quarters. It is not a cheap excursion, but it will make your northern Tanzania vacation one of the most memorable of your whole life. It is possible to charter special private balloon flights in the Grumeti Reserve for honeymoon couples on their romantic trip in the great plains of Africa.

Balloon Safari Experience In Serengeti With AfricanMecca
For your Serengeti hot-air balloon trip in northern Tanzania, you will be collected around 0500 hours. An hour predawn drive through the bush to your launch site is a delight in itself. You may see nocturnal animals in the headlights that you could not have encountered any other way. Near a river like Seronera or Grumeti, you may meet grazing hippo.
On the plains, a lioness may return from her kill, a hyena slinking in her wake. In the cool early morning, a light-weight long-sleeved jacket and long trousers are a wise idea, with sturdy shoes. Remember to take your binoculars and DSLR camera to make the most of this highlight of your Serengeti excursion.
The huge balloon inflates swaying impatiently as it lifts. The intermittent roaring of the burner reminds you to put on your hat as it can get quite warm overhead. Assistants hold the basket steady, ensuring it remains level during take-off. Then comes the heart-stopping moment when you lose touch with the earth and become part of the dawn. As you ascend, the sky lightens from purple to pink. The sun clears the horizon, flooding the Serengeti plains with golden light.

Your stomach clenches as you look out over your unobstructed basket side to the receding earth. Losing contact with the ground or the feeling of being totally at the mercy of the wind can cause an atavistic shudder. For an hour, you will have no control over where you go or what you see. However skillful your pilot, he can only go where the wind takes him, so you need to accept your helplessness, let yourself experience the enriching sights, sounds and sensations of your flight as well as the emotions it arouses.
It is an unprecedented opportunity to learn so much about this unique method of travel in Eastern Africa and so much more about yourself. Serengeti animals on the endless lawn below are miniaturized from your new perspective. As your shadow looms behind them, they bound ahead, rear ends roundly prominent. The warthog raises his thin, pennant tail like a radio aerial. The zebra flaunts its beautiful striped rumps. The elephant lumbers like an old man in baggy trousers.

Herds of thousands of seasonal migrating herbivores stream out for miles behind and ahead as far as the eye can see. You may fly low over a flat-topped Acacia thorn tree to startle flapping vultures then creep over its precipitous edge to see grassland far below. Perhaps you will encounter the startled head of a giraffe atop its long, swaying neck as you over-fly the branches where it stretches to feed. Below, you may see hippo in the Mara River, or disturb flocks of egrets into flight. Lion proudly stands their home ground or families of elephant in line, nose to tail, trek towards the horizon.
Back on the ground, you will receive your commemorative certificate and a champagne toast, then drive to join the rest of the morning's balloonists for a hearty English hot breakfast, cooked on burners. You will discover a new appetite for life, for appreciative conversations with your fellow adventurers, high on adrenalin, and unlimited helpings of good, hearty food and bubbly, served in superlative style in unforgettable surroundings. What a climax to an AfricanMecca safari! On completion, your guide meets you at a designated pickup point to
continue on with your game drive tour in Serengeti National Park
.
Picture Gallery For Balloon Safaris in Serengeti, Tanzania – Click on any image to view a larger photo
2023-2024 COST OF SERENGETI BALLOON SAFARI
AfricanMecca recommends you plan and book your balloon safari in Serengeti at least 8 to 10 months prior to your arrival. Balloons safaris are almost fully booked all year round due to limited seating capacity and high demand. Please contact our expert Africa consultant to customize your safari and request prices based on your travel preference.

Prices are in US $ Dollars. Price guide is per person sharing.
2023 Prices (CY) - Serengeti Balloon Safari - Early Morning Activity
| Serengeti Balloon Safari - CY | Per Person Sharing |
| --- | --- |
| January To December | $599 |
Balloon safaris are only available at designated camps and lodges in Serengeti based on 5.00 am pick-up. Contact us to plan your safari in Serengeti.
2024 Prices (NY) - Serengeti Balloon Safari - Early Morning Activity
| Serengeti Balloon Safari - NY | Per Person Sharing |
| --- | --- |
| January To December | $690 |
What Is Included:
Knowledgeable program expertise, pre-planning resource guidance along with firsthand experience.
Professional balloon safari pilot guiding services. All pilot guides are experts in African wildlife, game driving, culture and history, many of whom speak other European languages.
Bush breakfast after the flight.
Pick-up from your camp or lodge while drop-off will be at a specific balloon drop-off location where you Serengeti guide and vehicle will meet you .
All balloon flight fees, VAT, government levies, service charges and taxes for the services booked.
Africa, America and Europe office and emergency contact details.
What Is Not Included:
Other services, tours, activities, flights, accommodation, drinks and meals that are outside the included offerings, personal expenses such travelers insurance, medical evacuation, communication charges, gratuities - tips, visas, airport specific passenger charges, international airfares, that are extra and NOT part of the included itinerary.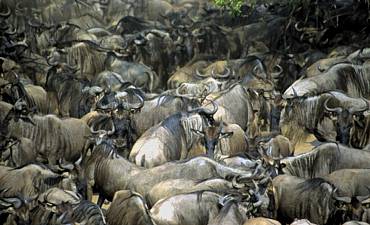 Read More +
WILDEBEEST MIGRATION
The Great Wildebeest Migration is the largest single movement of wild animals in the world, deservedly listed as one of its eight Natural Wonders and an exceptional inspiration for a dream tour.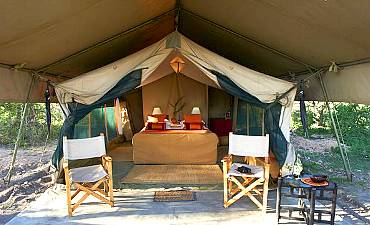 Read More +
WHERE TO STAY IN SERENGETI
Accommodations in Serengeti come in two main types, lodges and camps. Lodges are solidly brick or stone-built complexes while camps are pitched canvas that are either permanent, seasonal or mobile units.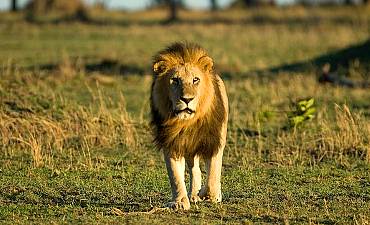 Read More +
SAFARI & TOUR IN SERENGETI
With your AfricanMecca guide in a custom-designed 4x4 vehicle, you will experience the wildebeest migration, the Big Five - from royal lion prides to pachyderm elephant herds on the plains and more.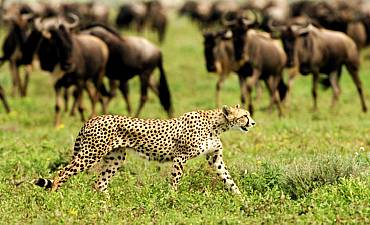 Read More +
BEST TIME TO VISIT SERENGETI
There are distinct best times for a nature trip to Serengeti. Once you know what you have experienced and what more it has to offer, you will want to return time and again as each month unfolds a new chapter.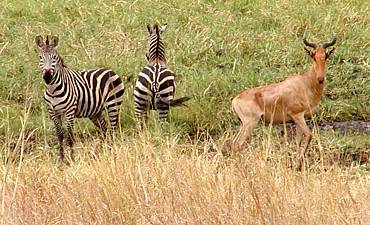 Read More +
GUIDE ON SERENGETI PARK
Across the vast Serengeti plains, a fantastic cast of wild fauna including impressive numbers of hooved herbivores, predators and avi-fauna. Amongst them, the principal actors are wildebeests.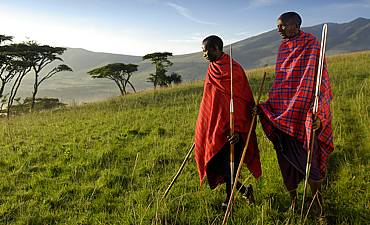 Read More +
MAASAI TRIBE OF SERENGETI
The iconic Maasai of the Serengeti and Ngorongoro wilderness have been herding their cattle for thousands of years. A proud, nomadic warrior race who count their wealth in cattle and children.
AFRICANMECCA REVIEWS
What are our Customers saying about us? READ MORE REVIEWS

AfricanMecca's professionalism and care understands that what distinguishes Africa is its authenticity, the land, people and wildlife who do not share our world of fashion and fanfare that distinguish so many travel companies today.

Cyril Christo & Marie Wilkinson, Conservation Photographers, Authors & Wildlife Documentary Producers - USA

Jambo Raza, We all had a fantastic time on our Tanzania safari. Accommodations were excellent and we loved our guide - Rodgers. We will definitely recommend this safari to others. Thanks for all your help making the arrangements.

Dr Thomas Davis, Methodist Hospital, Minnesota, United States

AfricanMecca Safaris created a remarkable honeymoon tailored to our interests and desires. The quality of service and delivery of experience was unsurpassed. I highly recommend AfricanMecca Safaris to honeymooners, families, or any traveler.

Noorin & Jason Nelson - Maryland, United States

Thanks again to you for arranging a wonderful trip for us. Everything was great from the fantastic wildlife, the scenery, the people, the accommodations and the food. The safari was everything we had hoped for.

Liz and Gunnar Kristiansen - Ontario, Canada

I booked my safari holiday through AfricanMecca. They were the most helpful company I have ever dealt with and I work within the travel industry. I had the most amazing time. The holiday went as clockwork with no hitches anywhere.

Shelley Roberts - Hemel Hempstead, United Kingdom

We have returned from our African adventure and would like to thank you very much for your part in making this such a wonderful experience. We were lucky enough to time the Great Migration from the Serengeti, which was amazing.

Denise Paterson - Belmont, Australia

We had an absolutely amazing trip in Arusha, Serengeti and Gombe - everything went smooth as silk. Thank you so much Raza for making this trip, the trip of a lifetime. We had an absolutely brilliant time.

Tiffany Heitz & Lesley Smith - California, United States
HAVE YOU VISITED SERENGETI FOR AN AFRICA SAFARI IN TANZANIA?
Write A Travel Or Tourist Trip Review To Share Your Experiences
WRITE SERENGETI REVIEW
AMS BLOG
VIEW ALL -
26 October 2017 by AfricanMecca Safaris, in Blog For AfricanMecca Safaris,Safari Planning Blog Posts - AfricanMecca Safaris

Baggage Guidance & Restrictions On Flying Safaris In Africa Published By Afr...

READ MORE +

07 June 2017 by AfricanMecca Safaris, in Blog For AfricanMecca Safaris,Latest Kenya Blog Posts From AfricanMecca Safaris,Safari Planning Blog Posts - AfricanMecca Safaris

Masai Mara Horseback Riding Safari In Kenya Published By AfricanMecca Safaris | ...

READ MORE +

24 March 2017 by AfricanMecca Safaris, in Blog For AfricanMecca Safaris,Safari Planning Blog Posts - AfricanMecca Safaris

Times Square New York Hosts Kenya Tourism Board & Wilderness Safaris Meet Up...

READ MORE +