TRIP IDEA & SAMPLE ITINERARY FOR YOUR KILIMANJARO CLIMB & SAFARI FROM MOSHI
When visiting Moshi for your Kilimanjaro trek we recommend a safari visit to Serengeti, Ngorongoro, Tarangire & Selous. You may optionally extend out to other wilderness areas in Western Tanzania, and experience a primate chimpanzee safari at Mahale or Gombe ending with a beach vacation and Swahili cultural tour in the exotic spice island of Zanzibar.
ARRIVAL - DAY 1 & 2 - OVERNIGHT AT CHANYA LODGE – ALTITUDE: 890 METERS
Your Tanzanian mountain trip begins in Moshi town after your arrival pickup from Kilimanjaro International Airport or even Arusha Airport, a commercial hub where English is spoken amidst international arrivals, although a few words of Swahili are much appreciated. Chanya Lodge is located in the suburbs of the town, and contains everything you will need for the night before you set out to climb the fabulous and shining Mount Kilimanjaro. You are advised for safety not to walk in town at night. Your pre-climb briefing reminds you of anything you might still need for your Kilimanjaro trekking adventure. Sort your mountain gear into two packs. Leave anything unnecessary in safe storage at the hotel. Your daily needs fit into a medium backpack, including personal documents and money, camera, personal medical kit and supplies, to which you will add water and a packed lunch provided to you. Keep your walking boots, trekking poles, gaiters etc. to wear with light clothing. Pack no more than 15 kilos (33 lbs) for your porter to carry. This will include sleeping bag and ground mat, warm clothing for the higher mountain zones, any unrequired equipment, non-essential belongings and any snack bars or energy drink powders stock that you wish to take. You will be able to make good most deficiencies at the hotel climbing equipment hire center before enjoying an appetizing evening meal and turning in early for a comfortable night's sleep at Chanya Lodge before an early morning start on your ambitious African highlands safari expedition on to the Kilimanjaro.
DAY 3 - OVERNIGHT AT MACHAME CAMP – ALTITUDE: 3000 METERS
Before breakfast, do final checks of your two pack gear: a small backpack for your own daily needs and a duffel bag to be carried by your personal porter. Make sure you have filled enough water for the day, got your packed lunch, store excess luggage with the hotel, your passport and money are all stored with you. You will need trekking poles and light clothing. Drive for 45 minutes through farmland with views of the imposing snow-draped peak which is your destination. At the 1800 meters Machame Gate, you will register with the authorities of Kilimanjaro National Park and meet your Uhuru Trails by AfricanMecca mountain staff team. Your guides and porters may welcome you with a clapping chorus which will become familiar over the next few days. It subtly warns that Kilimanjaro is beautiful, but can be treacherous as a serpent. They know that a climbing adventure on Kilimanjaro can be a deceptively dangerous undertaking. You would be wise to heed them. They will be your guardian angels on this African trekking challenge. Your journey begins through humid tropical forest, thick with ferns and moss. Colobus monkeys chatter and screech in the leaf canopy. The Kilimanjaro code, "Pole, Pole," take it slowly, is often heard on this grueling first lap as the track becomes a steep rocky stairway with tree roots, and later some open scrubland areas till 3000 meters, with mists closing in and gray lichen beards hanging from tree branches. During the day, you will have climbed 1200 meters over few kilometers in five to seven hours as an introduction to your Kilimanjaro mountain expedition. Your porters and cook had gone on ahead to set up tents at Machame Camp and prepare a cooked dinner in a mess tent, with chairs and tables provided for your arrival.
DAY 4 - OVERNIGHT AT SHIRA CAMP – ALTITUDE: 3800 METERS
Spectacular views unfold with the dawn as you
hike across a rock strewn lava ridge with tree heathers, weird columnar echiums and giant groundsels
like huge green globes atop tall, shaggy pillars. A short scramble up the rock wall brings you out onto the Shira Plateau where you will find pebbles of volcanic obsidian, relics of the youth of this oldest of Kilimanjaro's three volcanoes. You now appear to be going the wrong way, slightly west, heading away from the face of Kibo, but you are on the right trail. The terrain levels out after crossing a few streams with waterfalls as you approach Shira Cave. Picnic lunch at Picnic Rock in the sunshine, feeling fit and free on the rolling heath. This is a good moment on your Tanzanian mountain challenge trip. The vegetation gradually becomes shorter and more tussocky. White cushions of everlasting flowers are the only vegetation amidst a wasteland of thrown rocks and lava turrets as you head for dinner at Shira Camp with an altitude gain of 850 meters where white-necked ravens swoop on food scraps. You will have reached 3800 meters in a steady five to seven hour walk.
DAY 5 - OVERNIGHT AT BARRANCO CAMP – ALTITUDE: 3900 METERS
The sun rises from a bowl of cloud beneath your feet illuminating white banks above you and below in pastel pinks and gold. You may see the
sky island of Mount Meru in the distance floating on the morning mist
. This will become a treasured focus of your Mount Kilimanjaro trekking tour memories. The scenery is becoming more alien with strange lava formations in a stony alpine desert. Chill mists close in. Padded jackets and woolly hats are necessary and you are feeling the breathless effects of altitude. To help with acclimatization of 680 meters, you will cross a valley and climb up 150 meters through alpine desert to the monolithic Lava Tower before descending 530 meters through the "Garden of Senecios" into the Barranco Valley at 3900 meters – a fine acclimatization camp site for "climb high and sleep low" protocol . This trek will take five to seven hours and leave you time to take some fantastic photos of amazing rock formations in breath-taking colors when the sun breaks through the mists, with staggering vistas of the Western Breach and Kilimanjaro's stunning glaciers. This African highlands adventure vacation will provide a surfeit of visual treasures. Make the most of a hot, tasty dinner before wrapping up warmly to spend the night in under a canopy of stars in freezing temperatures at Barranco Camp.
ACCLIMATIZATION DAY 6 - OVERNIGHT AT KARANGA CAMP – ALTITUDE: 4200 METERS
Today, you will climb the Great Barranco Wall in
aid of acclimatization
, a hair-raising experience for anyone with the least tendency to vertigo. It is not a technical climb needing ropes and pitons, but more of a scramble, often on all fours as you squeeze between narrow gaps in lava barriers and inch around overhanging obstructions on this steep, narrow stretch of perilous barrier cliff. This is where your admiration for your porters assumes awed dimensions as they bound like dik-diks up the narrow trail, balancing huge, unwieldy loads on their heads. Here, your guide will find extra time and sympathy enough to stand between you and the drop into infinity to guide your feet carefully with his hands, or to offer you a supporting shoulder or a firm wrist grip to haul you up the more difficult rises. You will realize how much your Kilimanjaro challenge success and enjoyment depends on your cheerful support private and dedicated guide. Karanga Camp is your overnight valley base at 4200 meters. You may now be losing your appetite and need painkilling medication for high altitude headaches. Make sure your head and support guide are aware of your symptoms and abide by their judgment from here on. They may decide that it is unsafe for you to proceed with your Kili dream climb based on your 300 meter acclimation ascent completed on this day and send you back to a lower altitude with an accompanying guide.
DAY 7 - OVERNIGHT AT BARAFU CAMP – ALTITUDE: 4600 METERS
Another four to five hour trek over sedimentary rocks will test your stamina. You will need your strong support boots to avoid turning an ankle. Your balance and agility may well be impaired, so take your time and go carefully. You will be taken aback at Mweka junction where most trails converge and a steady surge of slightly zombified walkers joins the trail to or from Barafu Campsite, 4600 meters above sea level. Arriving mid-afternoon at Barafu Camp, try to rest and sleep after a very early dinner in the late afternoon. You will probably not sleep soundly at Barafu because of the altitude, and you will be up again just after midnight on the final push to Stella Point and Uhuru Peak. This is the moment of decision. Your guide will check to see if you are in
fit condition to continue this Kilimanjaro endurance climb
. Extreme breathlessness or confusion may make it necessary for you to turn back at any point from here on. Familiarize yourself with this rocky site before drinking in the spectacle of sunset over the Mawenzi Crater. 400 meters are added as part of your ascend today.
DAY 8 - OVERNIGHT AT MWEKA CAMP – ALTITUDE: 3000 METERS AFTER SUMMITING AT UHURU PEAK AT 5895 METERS
In order to conquer Kilimanjaro on your African mountain holiday just before sunrise and reach Uhuru Peak at 5895 meters with time to descend 2795 meters to Mweka Camp, it is necessary to set out at midnight with headlamps to illuminate the trail. Make no mistake, this stretch will challenge your body and mind. Temperatures are very cold and the way is long and steep. Push hard on your trekking poles for five to six soul-destroying hours to Stella Point at 5730 meters, where many people decide that enough is enough. A brief rest is allowed to appreciate the magnificent vistas of ice, snow and painted clouds as the sun rises. Push on for another one to two hours along the edging of the crater to the highest point, Uhuru Peak and take your trophy pics before you are bullied into rousing your exhausted body for the descent. You may have resembled the walking dead for the last few hours of this epic Tanzanian grueling trekking trip, but you will soon feel the adrenalin rush that will take you back down, with care on the loose scree to avoid ankle and knee injuries. Tightly laced boots are a necessary precaution. It was precarious fun to slide rapidly down the scree arm in arm with your Uhuru Trails guide, but this is now discouraged because of the ecological impact of erosion by over 50,000 climbers every year and risk of injuring your lower leg. On the five to seven hour return trek, it gets easier to breathe and the headache and nausea recede until at Mweka Camp at 3000 meters where you will have the best sleep
(read more on the top 10 reasons to climb with AfricanMecca)
.
DAY 9 - OVERNIGHT AT CHANYA LODGE – ALTITUDE: 890 METERS
Make sure to look back where you have been to engrave the summit of Africa's highest mountain on your mind before descending for three to four hours through the forest to Mweka Gate where you will collect your Kilimanjaro mountain success certificates, join in a rousing chorus of the Kilimanjaro song. The ceremonial presentation of appreciative tips to your exemplary support team leaves you with a glow of comradeship and achievement. Thereafter,
be met and driven back to your base accommodation in Moshi, Chanya Lodge
. Here you can luxuriate in a shower, swim in the pool, enjoy a well-earned beer, a massage and a super- satisfying dinner as you talk over your Tanzanian highlands adventure experiences. What will you take home from this Kilimanjaro mountain tour with Uhuru Trails by AfricanMecca? Apart from aches and pains and photographs, you will take a new distinct confidence and self-respect for conquering the highest freestanding mountain in the world!
DAY 10 - DEPARTURE DAY - AIRPORT TRANSFER OR CONTINUE ON AN OPTIONAL SAFARI WITH AFRICANMECCA
Wake up at your own time at your Kilimanjaro base accommodation but in time for breakfast, check out and transfer to the airport for your flight back home, or for those trekkers who are on a
Tanzania wildlife safari with AfricanMecca
, you will be picked up by your safari guide and continue on with your travels in Tanzania or the others parts of Africa.
DAY 11 & 12 - TARANGIRE
Proceed to
Tarangire National Park
for the next 2 nights. The tributaries and swamps of the Tarangire River provide permanent water sources when surrounding shallow lakes dry up, thus attracting a migratory movement of up to 250,000 mammals during the dry season from June to October with a more varied mix of ungulates.
DAY 13 & 14 - NGORONGORO CRATER
Proceed to
Ngorongoro
for the next 2 nights with a combo-game drive at the spectacular
Great Rift Valley lake - Manyara
, and also on the Ngorongoro Crater floor. Home to the densest concentration of wild animals in Africa, Ngorongoro Crater is sited within 100 square miles of varied micro-climates, encompassing over 30,000 mammals, half of them rangy wildebeest and well-rounded zebra, together with their many predators, lordly lion, lithe cheetah, retiring leopard, opportunist jackal and skulking hyena, with a vast cast of smaller mammals and birds, form a compelling destination for a dream tour of Tanzania.
DAY 15 & 16 - CENTRAL SERENGETI
You will proceed to the
Seronera Valley in Central Serengeti
for the next two nights, a year-round game-viewing mecca with impressive populations of herbivores and predators which remain even after the spectacular hordes of rutting wildebeest and zebra have gone. Across the vast plains of the
Serengeti National Park
range a fantastic cast of wild creatures including impressive numbers of hoofed herbivores, predators and avi-fauna. Amongst them, the principal actors are the blue wildebeest (gnu) and the stalking predators, determining the nature of the ecosystem by their spectacular
annual Great Migration, The Greatest Show Of The Natural World
.
DAY 17 - 18 - SERENGETI - SOUTH, NORTH, WEST & EAST
After your stay in Central Serengeti, you will proceed for 3 nights to the polar direction of where the migrating wildebeests are located, moving from or towards the area
(view Serengeti wildebeest migration map)
, and choosing a strategic Serengeti accommodation to maximize on your migration tracking activities, predator-prey interactions and other diverse terrestrial, aquatic and avian fauna viewing opportunities. The Great Migration of the wildebeest in the Serengeti is the largest single movement of wild animals in the world, deservedly listed as one of the "Natural Wonders Of The World", and a superb reason for a dream tour of Tanzania with AfricanMecca.
RECOMMENDED PRE AND POST SAFARI AND BEACH EXTENSIONS IN TANZANIA
After your Northern Tanzania safari, we recommend a combination off-beat extension to either Southern or Western Tanzania depending on your safari activity and wildlife preferences. Thereafter, harmoniously conclude with a beach rest and relaxation visit to the Eastern coast of Tanzania with varied seashore, cultural and historic experiences available, including the spice island of Zanzibar, the secluded Ras Kutani beach, idyllic private islands of Mnemba, Fanjove and Lazy Lagoon or a bush and beach experience at Saadani National Park. The options are endless!
SOUTHERN TANZANIA SAFARI EXPERIENCE - RECOMMENDED FOR 3 NIGHTS STAY
Selous Game Reserve in Southern Tanzania has 55,000 square kilometers (over 21000 square miles) of pristine wilderness designated as a UNESCO World Heritage Site since 1982. It is the stately Rufiji River with its navigable network of stunning oxbow lakes and tributaries forming an inland delta that makes Selous so unique from all the other parks in Tanzania. You can boat, walk and game drive here! Apart from its massive herds of tens of thousands of elephants and Cape buffalo, the reserve boasts a varied population of large mammals including huge pods of hippos and prides of lions as well as packs of African wild dogs and families of black rhinoceros, both fast disappearing in other parts of Africa.
Ruaha is one of the most awe-inspiring African safari destinations. Its unspoiled character results from its inaccessibility which contributes to the tremendous range of wildlife to be found on tour in wild Ruaha, not in vast herds of single species, but in diverse and wide-spread fauna communities. In its unadulterated ecology, lions snooze on the sandy Mwagusi River bed and rangy cheetah mothers can be spotted with their hungry cubs around rocky kopjes on dry grassland as they wait to ambush a careless antelope. The park boasts of over of 20,000 elephants in dissected herds, and also buffalo, hundreds of crocodiles and hippopotamus, 38 kinds of fish in the Great Ruaha River, and one of the largest bird checklist ever to delight a twitcher's heart, with over 570 species recorded.
WESTERN TANZANIA SAFARI EXPERIENCE - RECOMMENDED FOR 4 NIGHTS STAY
Only a few hundred privileged African safari enthusiasts can visit Katavi National Park each year. Arguably the most remote and unspoiled wildlife haven in Tanzania, at 4471 square kilometers (1727 square miles) in extent, this is the third largest wilderness area dedicated to the conservation of spectacular concentrations of indigenous mammals, including thousands of Cape buffalo, various antelopes, zebras, elephants, hippos, crocodiles and predators such as lions, cheetahs, leopards, hyenas and jackals. The endangered African wild dogs are also found here as well as many smaller felines, including the golden and wild cats, servals, caracals and civets.
There are four sub-species of chimpanzees in Africa, all threatened by loss of their tropical forest habitats. One sub-species is found on the banks of the stunningly beautiful
Lake Tanganyika in western Tanzania
. The most popular primate safaris are in Gombe and Mahale, sites of intensive studies of chimpanzees, mankind's closest living genetic kin with more than 95% of DNA in common. Dr. Jane Goodall studied one group of over 60 chimpanzees, the Kasakela community, which you may see on a chimpanzee safari to Gombe Stream National Park, where she has set up a research center. Down in Mahale Mountains, the park is justly famous by Japanese researchers headed by the late Dr. Toshisada Nishida since the 1960s, where for over 800 wild chimpanzees roam, more than any other African park.
EASTERN TANZANIA BEACH EXPERIENCE - RECOMMENDED FOR 3 TO 6 NIGHTS STAY
Tanzania's Eastern coastline and surrounding islands have come a long way from its tempestuous history of imperialists from many nations vying for control of this priceless gem on the shores of the Indian Ocean. Today, its peaceful and tranquil environment offers you a dream beach vacation where turtles are nesting, completely oblivious to humans, cream beautiful deserted sands and waves caressing them under the warmth of the tropical sun. The only sounds that greet you are that of the waves softly stroking the sand and the sea breeze rustling through the Indian Ocean palm trees on your secluded beach. Complement your beach holiday with Swahili cultural and historic experiences in
Zanzibar
,
Bagamoyo
and
Kilwa
.
PUBLIC SOCIAL MEDIA STREAM FROM CLIMBERS AROUND THE WEB FOR MACHAME ROUTE SHARING AN INDEPENDENT PHOTO EXPERIENCE & PERSPECTIVE OF THEIR SPECIFIC CLIMB.
Thanks To The Tanzanian Park Authorities And Government For Hosting These 40,000 To 50,000 Climbers Annually, And More Importantly, Cheers To These Climbers For Supporting Sustainable Tourism In Northern Tanzania.

Click Here For More Social Media News And Updates For Mount Kilimanjaro


CONTACT AND TALK TO OUR SAFARI EXPERTS TODAY TO KICK-START YOUR TOUR PLANNING PROCESS
Request Tanzania Custom Or Tailor-Made Safari Pricing Based On Your Specific Travel Dates At Your Preferred Safari Tier Camp Or Lodge
CONTACT AN EXPERT ON TANZANIA SAFARI PRICES & TOURS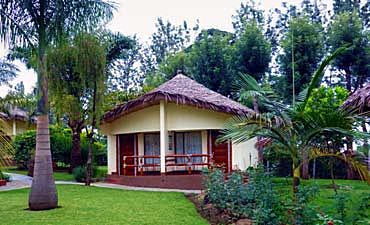 Read More +
WHERE TO STAY IN MOSHI
Most of the accommodations in Moshi are value Hotel Tier 3 options. This is as a result of the town primarily setup as a budget basecamp settlement to rival Arusha for accessibility to Kilimanjaro climbs.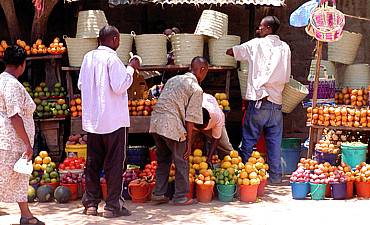 Read More +
MOSHI TOURS & ATTRACTIONS
You could take long walks in the coffee and banana plantations, spend time bird watching or experience the Mamba Marangu Cultural Tour for a glimpse into the traditional way of living of the Chagga people.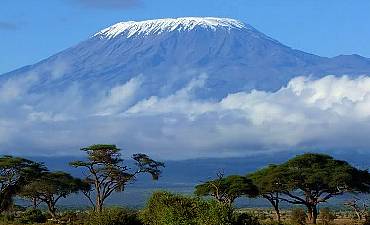 Read More +
BEST TIME TO VISIT MOSHI
You could consider choosing the warm and dry months for your visit to Moshi, especially if you are climbing Kilimanjaro. Best months to go to Moshi are January and February, and also from June to October.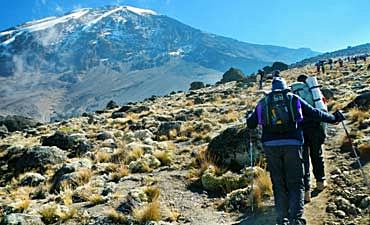 Read More +
KILIMANJARO CLIMBS & TREKS
Your Kilimanjaro dream climb is entirely your own to design. Uhuru Trails by AfricanMecca will work with you to customize exactly the triumphant Tanzanian mountainous quest experience you want.
AFRICANMECCA REVIEWS
What are our Customers saying about us? READ MORE REVIEWS

I just fell in love with Steven, our guide in Tanzania. Not only did he take care of us, but he truly cared about us. Thank you so much for planning and executing a dream for me.

Maria Staebler - Connecticut, United States

I booked my safari holiday through AfricanMecca. They were the most helpful company I have ever dealt with and I work within the travel industry. I had the most amazing time. The holiday went as clockwork with no hitches anywhere.

Shelley Roberts - Hemel Hempstead, United Kingdom

Loretta and I had a great time on our honeymoon. Simiton, your safari guide in Tanzania was awesome! He was very professional, very accommodating and very knowledgeable. We are already talking about our next trip to Africa!

Loretta and Danny Haag - California, United States

AfricanMecca's professionalism and care understands that what distinguishes Africa is its authenticity, the land, people and wildlife who do not share our world of fashion and fanfare that distinguish so many travel companies today.

Cyril Christo & Marie Wilkinson, Conservation Photographers, Authors & Wildlife Documentary Producers - USA

Dear Raza, Not a day has passed that we have not been overwhelmed by what we experienced, and by how fantastic our vacation was. It was truly magical. We saw the" Big Five", lion mating and the migration. It was the vacation of a lifetime.

Jamie Davis & Liudmila Kondakova - California, United States

First off, we had the most amazing time ever and wanted to thank you very much. Tanzania proved without a doubt to meet all of our expectations. Every detail was thought of on our trip by AfricanMecca and were are all flawless.

Marcy Burton & Ryan Kerr - Ontario, Canada

We wanted to thank you for the great amount of care you put into helping us with our travel planning for Africa. We were very much in your hands. Many thanks again, Raza for all your care, attention, advice and professionalism.

Lorraine Beach and Marilyn Jolly - Marrickville, Australia
ARE YOU PLANNING TO BOOK AN AFRICAN SAFARI TRIP TO MOSHI IN TANZANIA?
Do You Need Knowledgeable, Experienced & Specialist Guidance For Your Travels In Moshi ? Let Us Help Plan Your Trip Itinerary Correctly
CONTACT AN AFRICA TRAVEL EXPERT ON MOSHI
HAVE YOU VISITED MOSHI FOR AN AFRICA SAFARI IN TANZANIA?
Write A Travel Or Tourist Trip Review To Share Your Experiences
WRITE MOSHI REVIEW
AMS BLOG
VIEW ALL -
26 October 2017 by AfricanMecca Safaris, in Blog For AfricanMecca Safaris,Safari Planning Blog Posts - AfricanMecca Safaris

Baggage Guidance & Restrictions On Flying Safaris In Africa Published By Afr...

READ MORE +

07 June 2017 by AfricanMecca Safaris, in Blog For AfricanMecca Safaris,Latest Kenya Blog Posts From AfricanMecca Safaris,Safari Planning Blog Posts - AfricanMecca Safaris

Masai Mara Horseback Riding Safari In Kenya Published By AfricanMecca Safaris | ...

READ MORE +

24 March 2017 by AfricanMecca Safaris, in Blog For AfricanMecca Safaris,Safari Planning Blog Posts - AfricanMecca Safaris

Times Square New York Hosts Kenya Tourism Board & Wilderness Safaris Meet Up...

READ MORE +