Read More About Gombe Lodges & Camps In Western Tanzania
Gombe has only 1 safari lodge which is considered a tourist category accommodation with fully inclusive hospitality services.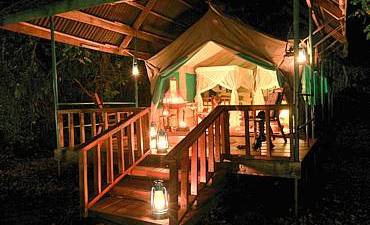 Read More +
MBALI MBALI GOMBE LODGE
Deluxe Experience - Safari Tier 2
CONTACT AND TALK TO OUR SAFARI EXPERTS TODAY TO KICK-START YOUR TOUR PLANNING PROCESS
Request Tanzania Custom Or Tailor-Made Safari Pricing Based On Your Specific Travel Dates At Your Preferred Safari Tier Camp Or Lodge
CONTACT AN EXPERT ON TANZANIA SAFARI PRICES & TOURS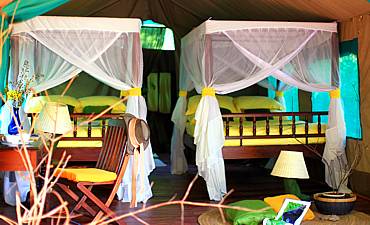 Read More +
WHERE TO STAY IN GOMBE
There is only one proper tourist focused Gombe lodging with only seven tented rooms i.e. Mbali Mbali Gombe Lodge. It generally tends to be booked up months and even a year in advance in the peak season.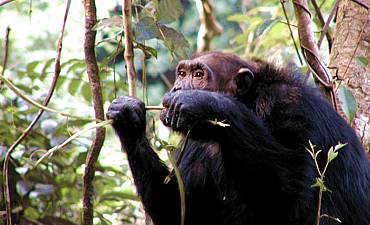 Read More +
SAFARI & TOUR IN GOMBE
Although best known as a superb wilderness for a chimpanzee safari, Gombe Park is a photographer's delight for its birds and butterflies, its magnificent scenery and its unspoiled lakes beaches.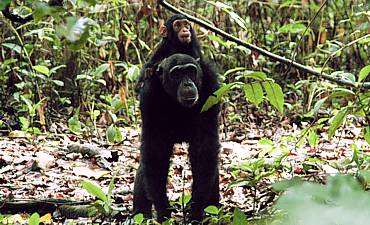 Read More +
BEST TIME TO VISIT GOMBE
For much of the year, Gombe is a superlative wilderness for an adventurous chimpanzee tour in Tanzania. In the dry season from June to September, there is very little rain or none at all.
AFRICANMECCA REVIEWS
What are our Customers saying about us? READ MORE REVIEWS

If you want a safari company with whom you'll feel truly cared for, then you won't do better than AfricanMecca Safaris. Visiting Gombe had been a dream since I was a kid and watched the National Geographic with Jane Goodall.

Dr Leigh Harwood - Virginia, United States

I recently returned from a trip to Tanzania with a party of eleven people (Canisius College school group) visiting remote Chimpanzee and Wildlife in Gombe, Mahale, Selous. I am pleased to report that I was entirely satisfied in every respect.

Dr. Michael Noonan - Professor At Canisius College - New York, United States

We have just recently returned from our trip to Tanzania. The ladies in our party are fans of Jane Goodall so Gombe was on the list, we couldn't imagine a trip there. Our thanks to the AfricanMecca team and Raza for a most exceptional trip!

Warren & Sharon Hanselman - California, United States

I booked my safari holiday through AfricanMecca. They were the most helpful company I have ever dealt with and I work within the travel industry. I had the most amazing time. The holiday went as clockwork with no hitches anywhere.

Shelley Roberts - Hemel Hempstead, United Kingdom

Dear Raza, Just to let you know we had a great adventure at Gombe Stream National Park. All went well. Saw chimps every day and lots of them on first and last day. Service and food at the camp was excellent. I would highly recommend this trip.

Ron Deutch - US Embassy - Bujumbura, Burundi

We saw more than 20 chimpanzees including chimps I've read about -- Freud, Faustino, Wilkie... so amazing. We had an absolutely amazing trip in Arusha, Serengeti and Gombe - everything went smooth as silk. Thank you so much Raza

Bruce and Susie Ironside - New Zealand

We have enjoyed nature in other places in the world, however nothing compares to the excitement of trekking chimpanzees in the hills of Gombe National Park. We sincerely thank AfricanMecca and Raza Visram for their personalized service.

Dr. Gabriel Trueba - Universidad San Francisco de Quito - Ecuador
HAVE YOU VISITED GOMBE FOR AN AFRICA SAFARI IN TANZANIA?
Write A Travel Or Tourist Trip Review To Share Your Experiences
WRITE GOMBE REVIEW
AMS BLOG
VIEW ALL -
26 October 2017 by AfricanMecca Safaris, in Blog For AfricanMecca Safaris,Safari Planning Blog Posts - AfricanMecca Safaris

Baggage Guidance & Restrictions On Flying Safaris In Africa Published By Afr...

READ MORE +

07 June 2017 by AfricanMecca Safaris, in Blog For AfricanMecca Safaris,Latest Kenya Blog Posts From AfricanMecca Safaris,Safari Planning Blog Posts - AfricanMecca Safaris

Masai Mara Horseback Riding Safari In Kenya Published By AfricanMecca Safaris | ...

READ MORE +

24 March 2017 by AfricanMecca Safaris, in Blog For AfricanMecca Safaris,Safari Planning Blog Posts - AfricanMecca Safaris

Times Square New York Hosts Kenya Tourism Board & Wilderness Safaris Meet Up...

READ MORE +