Read More On The Rwanda City & Park Day Tour Experiences
Visit "The Land of a Thousand Hills" and you will no doubt be impressed the friendliness of the people and the amiable way they welcome you to their home, Rwanda. Start your vacation in the city of Kigali, the country's capital, and take note of the new buildings everywhere. You will come to realize that the spirit of rejuvenation and rebirth is what defines this nation. You might even say that Rwanda, despite its ancient cultures, is a new country born after the events of 1994, when the people came face to face with the reality of how political propaganda can warp the minds of innocent citizens, and the horrors that can follow.

Take a day tour in Kigali to learn about the memorials that were established in various parts of the metropolis, and you will sense the attempts by Rwandans' to come to terms with the genocide and make amends for their actions. The memorial sites include Kigali Genocide Memorial, Camp Kigali Belgian Monument, Nyanza Genocide Memorial, and Ntarama Church. Listen as guides tell poignant stories of the people who lost their lives. To learn about the birth of the city and its founder, Richard Kandt, you can visit his home, Kandt House, which is now the Museum of Natural History that modestly showcases the fascinating flora and fauna of Rwanda.





As rich as the culture of the country is, so, too, is the artistic talent that abounds among young people. They are learning to express themselves in unique ways, and the pieces of art they create reflect the vibrant ethos of Rwanda. To catch a glimpse of this art, take a day trip around establishments such as the Inema Art Center, Ivuka Arts Center, and Niyo Art Gallery, which also display the traditional music and dance forms of the tribes and handcrafted items such as exquisite Rwandan jewelry, ethnic ornaments, and other artifacts. These centers work hard to support the children and provide livelihoods through art.

Next on your holiday trip itinerary in Kigali should be an ethnic shopping spree at the Caplaki Handicrafts Cooperative, where you can find items such as drums, pottery, woven baskets, tribal masks, and other treasures created by hand. Visit the Parliament Building before heading to The Dancing Pots, which displays unique pottery and ceramics, along with the dance forms of the Batwa people.

Kigali's strategic location makes it possible to drive to Rwanda's Volcanoes National Park in just a few hours. You can visit the surrounding attractions after your gorilla trek, including the Musanze Caves, which were created long ago by volcanic activity in the Albertine Rift Valley.

While in the vicinity, perhaps take a hike up Mount Karisimbi or Mount Bisoke. You'll not only enjoy the thrill of your trek but be rewarded by exhilarating views of magnificent scenery from the top of the reserve. Travel up to the site of Dian Fossey's grave and pay your respects to the courage and love of this remarkable woman, who gave her life for the preservation of the famed mountain gorillas of Rwanda. To experience the traditional living styles and customs of the people, you must take a cultural tour of Iby'lwacu Village at Kinigi. Spend time reveling in the Intore dance forms and listening to the "gorilla songs," with a performance by the Ngayabatema, also known as the Kayuku.





Tour Buhanga Forest and you can journey back to a time when people were fully in tune with the spirit of nature and its many mysteries. View the natural lava formations and the varied birds, reptiles, and other small fauna that reside here. You can also learn about the crowning rituals and mystical ceremonies of Rwanda's old tribal kings. Be sure to take time to visit the "Inyabutatu ya Banyarwanda" tree, which symbolizes the unity of the country's three ethnic tribes, and the sacred spring that flows only in the dry season.

While on a chimpanzee primate safari at Nyungwe Forest Park, you can spend time on a day trip exploring Banda Village and gain a fascinating look into how people have lived in this region for many centuries. If you would like to see what a yesteryear Rwandan royal house looked like, visit the Kitabi Cultural Village, which has an authentic replica.

These are only some of the day tours you can experience during your time in Kigali, Volcanoes, and Nyungwe. For more information about these enjoyable experiences, contact AfricanMecca Safaris and let a planner design the perfect urban and wilderness day tours for you.



CONTACT AND TALK TO OUR SAFARI EXPERTS TODAY TO KICK-START YOUR TOUR PLANNING PROCESS
Request Rwanda Custom Or Tailor-Made Safari Pricing Based On Your Specific Travel Dates At Your Preferred Safari Tier Camp Or Lodge
CONTACT AN EXPERT ON RWANDA SAFARI PRICES & TOURS
Comprehensive Rwanda Safari & Tour Planning Guide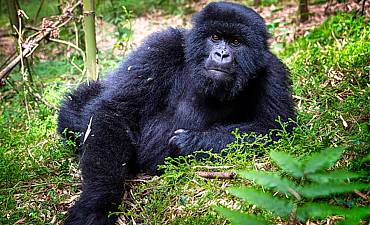 Read More +
SAFARI PRICES FOR RWANDA
Review individual itineraries and prices of our suggested Rwanda safaris with the option of customizing your Africa tour based on your needs and preferences.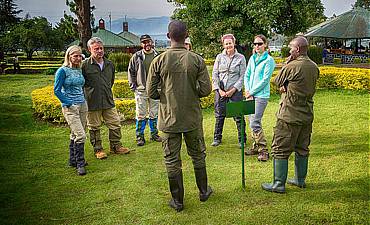 Read More +
AFRICA TRIP IDEAS FOR RWANDA
Review experiences available in Rwanda from gorilla treks, photo wildlife safari, hiking, family to honeymoon romantic vacation, beach lakes, cultural & birding tours.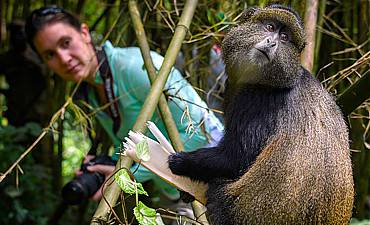 Read More +
PARKS & RESERVES IN RWANDA
Review information on wildlife safari parks, reserves and lakes in Rwanda i.e. Volcanoes, Nyungwe Forest, Akagera, Gishwati-Mukura and Lake Kivu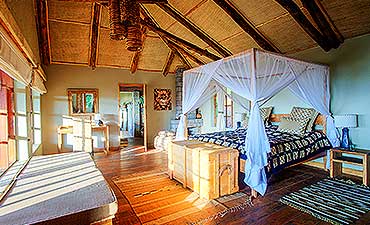 Read More +
ACCOMMODATIONS IN RWANDA
Review information on safari lodges and camps, city hotels, lakeside resorts in Rwanda's pristine wilderness, cities, lake beach shores and idyllic forests.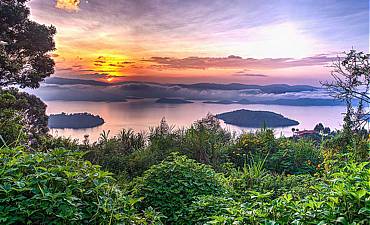 Read More +
BEST TIME TO VISIT RWANDA
Review details on the best time to go to Rwanda to visit its various wildlife outback, forests, beachside lakes, cities and towns, mountains and other wildernesses.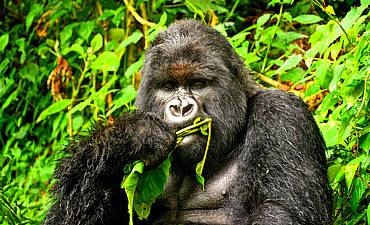 Read More +
RWANDA PRIMATE & GORILLA TREK
Review the opportunity to see the mountain gorillas and golden monkeys of Volcanoes Park and other primates like chimpanzees and colobus monkeys of Nyungwe.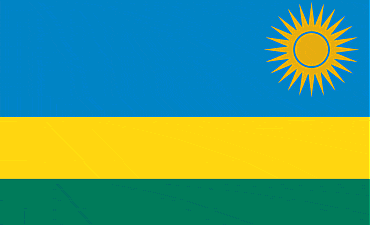 Read More +
RWANDA COUNTRY PROFILE
Review country information and travel tips on Rwanda i.e. geography, culture, history, climate, tipping guide, what to pack and wear, entry requirements and more.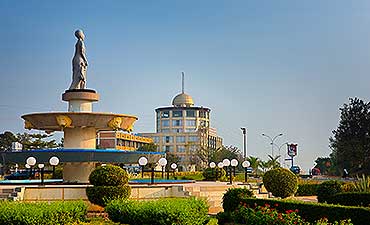 Read More +
CITY DAY TOURS FOR RWANDA
Review city tour suggestions on full or half day options in Kigali. Experiences can be customized around your vacation travels in Rwanda parks and reserves.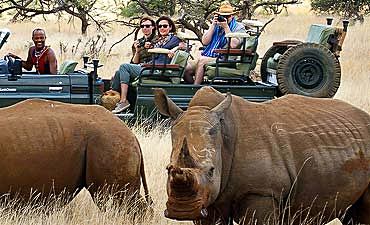 Read More +
AFRICAN SAFARI PRICES
Check out safari prices and itineraries for parks and reserves in other African countries e.g. Tanzania, Kenya, Uganda, Botswana, South Africa, Zambia etc. Namibia, Mozambique, Malawi and Zimbabwe are available on request.
AFRICANMECCA REVIEWS
What are our Customers saying about us? READ MORE REVIEWS

I just returned from a month in Africa, specifically Rwanda & Kenya. I am left breathless with my experience. AfricanMecca Safaris coordinated the entire trip for me and left no detail, nothing for me to do.

Carol Bobb - Pennsylvania, United States

Rwanda was amazing. The accommodations, food, and guides AfricanMecca arranged were great. Raza also helped us through the complicated process of getting permits for gorilla trekking. AfricanMecca is a fantastic company to work with.

Stephanie Weir - United States

Jambo Altaf and Raza! We are back on earth now after our fabulous honeymoon. This is to say THANK YOU so much for organising a week in Kenya that we will never forget.....!

Dr Krina Zondervan, Oxford University - United Kingdom

Jambo Raza!!! The safari trip was spectacular! Everything went off without a hitch. We loved the Masai Mara. The migration was awesome. You listened to what I wanted and delivered it perfectly.

Judi & Chaim Platt - Toronto, Canada

I cannot say enough about the quality of AfricanMecca. Their teams in Kenya and Tanzania were top notch. Raza, again thanks to you and your entire organization! We will be repeat customers.

Dan Kobick - Managing Director, PricewaterhouseCoopers - New York, United States

AfricanMecca Safaris offers incredibly knowledgeable and skilled services! Our travel arrangements for 2 months of volunteering with TEACH Rwanda in country were made quickly and economically. Honored to work with Raza!

Janet Brown - TEACH Rwanda Founder - United States

This is to let you know my guests, The Bryant's, had a wonderful time on the trip Samburu, Masai Mara/Kenya, Chobe/Botswana & Victoria Falls/Zambia. Everything was perfect! Thank you..

Christine Milan - MT Carmel Travel - Connecticut, United States
ARE YOU PLANNING TO BOOK AN AFRICAN SAFARI TO RWANDA?
Do You Need Knowledgeable, Experienced & Specialist Guidance For Your Travels In Rwanda? Let Us Help Plan Your Trip Itinerary Correctly
CONTACT A RWANDA VACATION EXPERT
EXPLORE MORE ON NATIONAL PARKS, CAMPS, LODGES, LAKE HOTELS & RESORTS IN RWANDA
HAVE YOU VISITED EASTERN AFRICA FOR A SAFARI IN RWANDA?
Write A Travel Or Tourist Trip Review To Share Your Experiences
WRITE RWANDA TRIP REVIEW
AMS BLOG
VIEW ALL -
26 October 2017 by AfricanMecca Safaris, in Blog For AfricanMecca Safaris,Safari Planning Blog Posts - AfricanMecca Safaris

Baggage Guidance & Restrictions On Flying Safaris In Africa Published By Afr...

READ MORE +

07 June 2017 by AfricanMecca Safaris, in Blog For AfricanMecca Safaris,Latest Kenya Blog Posts From AfricanMecca Safaris,Safari Planning Blog Posts - AfricanMecca Safaris

Masai Mara Horseback Riding Safari In Kenya Published By AfricanMecca Safaris | ...

READ MORE +

24 March 2017 by AfricanMecca Safaris, in Blog For AfricanMecca Safaris,Safari Planning Blog Posts - AfricanMecca Safaris

Times Square New York Hosts Kenya Tourism Board & Wilderness Safaris Meet Up...

READ MORE +