Tipping is one way of expressing your appreciation and thanks for the services you receive and to give something back to the local community in Uganda. Tips provide encouragement and satisfaction, and boost the confidence of the people working to make your stay more comfortable. It is advisable to carry $1 dollar bills for giving small tips. If you need guidance with the appropriate tips, check out the suggestions below:
Game Lodge, Camp, Guides On Your Safari Tour Or Gorilla, Golden Monkey and Chimpanzee Primate Treks
Primate Guide: $20 per person to each guide - each trek has 1 or 2 guides depending on the primate family, group size and trekking range
Primate Tracker: $10 per person to each tracker - each trek has 2 trackers at the very minimum
Primate Ranger: $10 per person to each ranger - each trek has 2 security rangers (front and rear)
Porter: $10 per person plus the hire cost of porterage. The cost to hire a porter is $20 per trek
Safari guides in wildlife parks on a full-day tour: $10-15 per person per day. Tip half that amount for half-day activities.
General Safari Camp / Lodge Staff:
Place your tips in the communal staff tipping box or tipping jar so that they can be shared among the room cleaners, meal servers, porters, and other staff personnel working around the camp or lodge. You can pay about $3 to $5 per person per day.
Other Tips:
City transfer tips can be between $3 and $5 per transfer depending on the distance covered and the time taken.
Hotel staff including housekeeping personnel tips: $1 to $2 per person per day
Porters at the hotel or airport: $1 to $2 per porter movement
Restaurants: 10% of the total bill.
CONTACT AND TALK TO OUR SAFARI EXPERTS TODAY TO KICK-START YOUR TOUR PLANNING PROCESS
Request Uganda Custom Or Tailor-Made Safari Pricing Based On Your Specific Travel Dates At Your Preferred Safari Tier Camp Or Lodge
CONTACT AN EXPERT ON UGANDA SAFARI PRICES & TOURS
Comprehensive Uganda Safari & Tour Planning Guide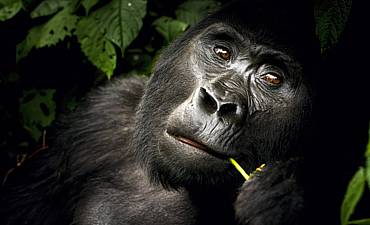 Read More +
SAFARI PRICES FOR UGANDA
Review individual itineraries and prices of our suggested Uganda safaris with the option of customizing your Africa tour based on your needs and preferences.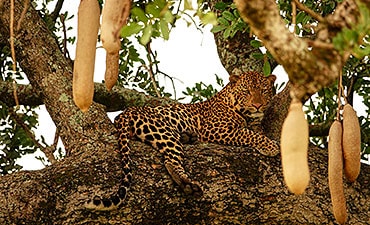 Read More +
HOW TO PLAN UGANDA SAFARI?
How to plan Top 11 Uganda safari trips from gorilla and chimpanzee primate treks, photographic, family, romantic honeymoons tours to hiking trails, birdwatching, luxury tour, private and custom tour.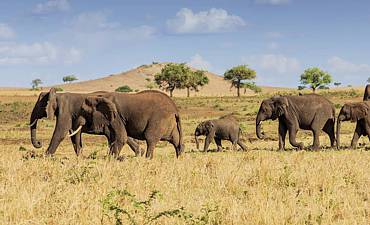 Read More +
PARKS & RESERVES IN UGANDA
Review information on wildlife safari parks, reserves and lakes in Uganda i.e. Bwindi, Queen Elizabeth, Kibale, Murchison Falls, Kidepo Valley, Mgahinga, Semliki, and Lake Mburo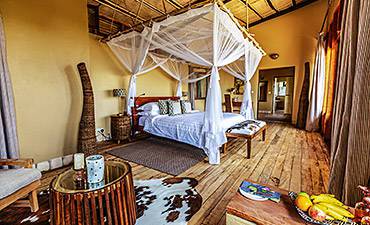 Read More +
ACCOMMODATIONS - LODGES, CAMPS, HOTELS IN UGANDA
Review information on safari lodges and camps, city hotels, lakeside resorts in Uganda's pristine wilderness, cities, lake beach shores and idyllic forests.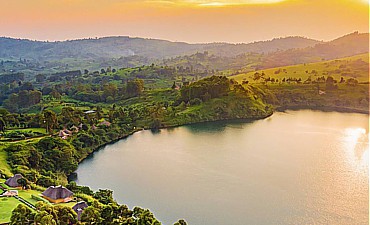 Read More +
BEST TIME TO VISIT UGANDA ON A SAFARI VACATION
Review details on the best time to go to Uganda to visit its various wildlife outback, forests, beachside lakes, cities and towns, mountains and other wildernesses.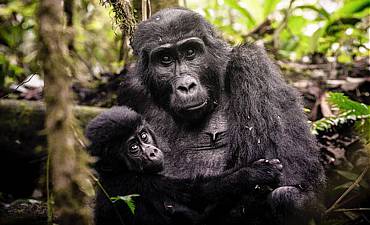 Read More +
UGANDA GORILLA TREK & CHIMPANZEE SAFARIS
Experience the opportunity to track down endangered mountain gorillas of Bwindi and Mgahinga National Parks and other primates like chimpanzees and monkeys of Kibale, Kyambura Gorge, Budongo and Semliki.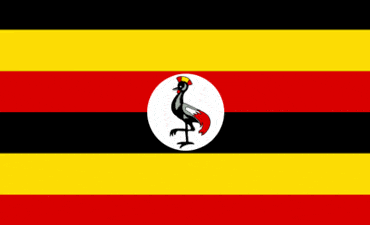 Read More +
UGANDA COUNTRY PROFILE
Review country information and travel tips on Uganda i.e. geography, culture, history, climate, tipping guide, what to pack and wear, entry requirements and more.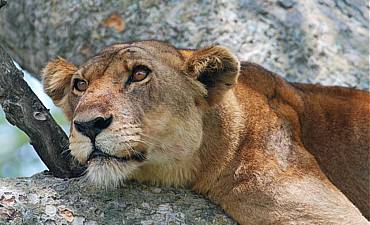 Read More +
TOP 10 REASONS TO VISIT UGANDA
There are infinite reasons to visit Uganda e.g distinct gorilla and chimpanzee parks, one stop affordable safari destination, big game and birding paradise, diverse activities, mountain climbing etc.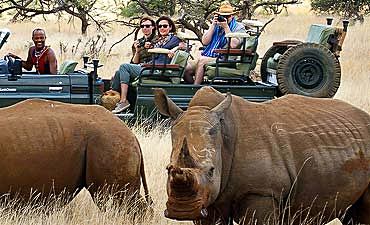 Read More +
AFRICAN SAFARI PRICES
Check out safari prices and itineraries for parks and reserves in other African countries e.g. Tanzania, Kenya, Rwanda, Botswana, South Africa, Zambia etc. Namibia, Mozambique, Malawi and Zimbabwe are available on request.
AFRICANMECCA REVIEWS
What are our Customers saying about us? READ MORE REVIEWS

I just returned from a month in Africa, specifically Rwanda & Kenya. I am left breathless with my experience. AfricanMecca Safaris coordinated the entire trip for me and left no detail, nothing for me to do.

Carol Bobb - Pennsylvania, United States

Rwanda was amazing. The accommodations, food, and guides AfricanMecca arranged were great. Raza also helped us through the complicated process of getting permits for gorilla trekking. AfricanMecca is a fantastic company to work with.

Stephanie Weir - United States

Jambo Altaf and Raza! We are back on earth now after our fabulous honeymoon. This is to say THANK YOU so much for organising a week in Kenya that we will never forget.....!

Dr Krina Zondervan, Oxford University - United Kingdom

Jambo Raza!!! The safari trip was spectacular! Everything went off without a hitch. We loved the Masai Mara. The migration was awesome. You listened to what I wanted and delivered it perfectly.

Judi & Chaim Platt - Toronto, Canada

I cannot say enough about the quality of AfricanMecca. Their teams in Kenya and Tanzania were top notch. Raza, again thanks to you and your entire organization! We will be repeat customers.

Dan Kobick - Managing Director, PricewaterhouseCoopers - New York, United States

AfricanMecca Safaris offers incredibly knowledgeable and skilled services! Our travel arrangements for 2 months of volunteering with TEACH Rwanda in country were made quickly and economically. Honored to work with Raza!

Janet Brown - TEACH Rwanda Founder - United States

This is to let you know my guests, The Bryant's, had a wonderful time on the trip Samburu, Masai Mara/Kenya, Chobe/Botswana & Victoria Falls/Zambia. Everything was perfect! Thank you..

Christine Milan - MT Carmel Travel - Connecticut, United States
EAST AFRICA SAFARI BOOKING & TOUR HOLIDAY IDEA UGANDA FOR 2022-2023
We recommend visiting Bwindi for your gorilla safari trek, and combining it with Queen Elizabeth, Murchison Falls, and Kibale (chimpanzee safari) alongside your city tour visits of Kampala and Entebbe.

You may optionally extend out to other wilderness areas such as Mgahinga to track down golden monkeys and gorillas in the same park, Jinja for whitewater rafting on the Nile River, and Semliki, Lake Mburo or Kidepo for an offbeat wildlife tour.

You can end your vacation on the beach at Lake Victoria or even extending out to the exotic spice island of Zanzibar or Lamu, or even Mombasa.
Best Safari Planning Ideas & Trip Experiences For Uganda
Below are guide references on how to plan each of the below safari experience in Uganda. Alternatively, go to the summary section for a quick overview of each trip planning experience.
READ MORE
ARE YOU PLANNING TO BOOK AN AFRICAN SAFARI TO UGANDA?
Do You Need Knowledgeable, Experienced & Specialist Guidance For Your Travels In Uganda? Let Us Help Plan Your Trip Itinerary Correctly
CONTACT A UGANDA VACATION EXPERT
EXPLORE MORE ON NATIONAL PARKS, CAMPS, LODGES, LAKE HOTELS & RESORTS IN UGANDA
HAVE YOU VISITED EASTERN AFRICA FOR A SAFARI IN UGANDA?
Write A Travel Or Tourist Trip Review To Share Your Experiences
WRITE UGANDA TRIP REVIEW
AMS BLOG
VIEW ALL -
26 October 2017 by AfricanMecca Safaris, in Blog For AfricanMecca Safaris,Safari Planning Blog Posts - AfricanMecca Safaris

Baggage Guidance & Restrictions On Flying Safaris In Africa Published By Afr...

READ MORE +

07 June 2017 by AfricanMecca Safaris, in Blog For AfricanMecca Safaris,Latest Kenya Blog Posts From AfricanMecca Safaris,Safari Planning Blog Posts - AfricanMecca Safaris

Masai Mara Horseback Riding Safari In Kenya Published By AfricanMecca Safaris | ...

READ MORE +

24 March 2017 by AfricanMecca Safaris, in Blog For AfricanMecca Safaris,Safari Planning Blog Posts - AfricanMecca Safaris

Times Square New York Hosts Kenya Tourism Board & Wilderness Safaris Meet Up...

READ MORE +