Those opting to
travel to Rwanda
are required to comply with the rules and regulations laid down by the government. Some passengers may be able to obtain a visa on arrival, while others will need to apply for it at the Rwandan Diplomatic Consulates in their home country or online at
https://irembo.gov.rw/rolportal/en/web/dgie/newhome
.
We highly recommend you apply for your visa online 6 weeks prior to arrival into Rwanda.
Below is an overview of the requirements. Please note that requirements can change at any time with or without notice; always check Rwanda's consular website for complete details. Your safari consultant at AfricanMecca Safaris will do their utmost to advise you about any other information you may need.
Countries Exempt of Visa Requirements
If you belong to a country that has a bilateral agreement with Rwanda, you may be eligible to tour or visit the country for up to 90 days without a visa. Countries falling under this category include Singapore, Mauritius, Hong Kong, Philippines, and the Democratic Republic of Congo. Citizens from the Republic of South Africa are exempt from visas for stays up to 30 days.
East African Community Partners
Citizens of Uganda, Tanzania, and Kenya belong to the EAC, or East African Community. Those visiting Rwanda will only need to obtain a visitor's pass on arrival, which is valid for 6 months. There is no visa fee payable for this pass, and you can renew it at any point of entry.
Countries with Visa on Arrival Agreements
Passport holders of countries like the United States of America, United Kingdom, Israel, New Zealand, Germany, Australia, and Sweden can receive a visa on arrival. This visa costs $50.00 and is valid for 30 days. Passengers need not apply in advance for it, but can if they prefer.
Applying for the Visa at the Rwandan Consulate
Those wishing to apply for a visa must contact the Rwandan Consulate in their home country and provide the necessary documents. Keep in mind that processing visa requests can take 3 to 5 business days when applying in person at the consulate or online, or two to three weeks if applying by post. Since officials may be processing a large number of visa applications, it is recommended that you apply well before your intended travel dates. When applying for a visa, you will require the following:
Passport or any other valid travel document, valid for 6 months past your trip arrival date in Rwanda.
Completed visa application form, typewritten or filled out in the applicant's own handwriting.
Two passport sized photographs with the ears visible. The pictures should be taken against a white background.
A letter explaining your reasons for visiting Rwanda, signed by you.
Booking confirmation showing your hotel or tour reservation for the duration of your stay.
If you have been invited to travel in the country by a Rwandan citizen, attach the invitation letter along with a photocopy of the passport or ID of the citizen. If you have been invited by a non-citizen, you need to attach your host's resident permit.
Proof of payment of the visa fee to the consulate bank account.
Proof that you have adequate finances to meet the cost of your trip in the country. You may also have to display this evidence at the Rwandan entry point.
If you hold UK Travel Documents, the UN Convention of 1951 requires that you attach it to your application, along with proof of residence. Acceptable proof of residence documents include a current utility bill or bank statement.
Those applying for a visa by mail must enclose a self-addressed, stamped envelope along with the other documents. You can also make arrangements with a courier company to collect your documents.
Payment of Visa Fees
Visa fees must be transferred directly into the High Commission Consular account before the visa application is made. Cash payments, cheques, and postal orders are not valid at the High Commission of Rwanda. Once you have proof of payment in hand, enclose it with your visa application. If the Rwandan consulate rejects your visa request, or if you withdraw it, note that these fees will not be refunded. If applying online, ensure you have paid with your credit card.
Extending Visas
You will find the maximum visa validity periods in your passport or travel permit papers, including whether the visa is valid for one entry only, or whether you may leave the country and enter multiple times. Only specific classes of visas are eligible for extension; those who wish to extend a visa must submit an application while the old visa is still valid. If your visa has expired, you must either leave the country or apply for and receive an extension within five days. After this grace time, the immigration office could refuse your extension request; you may also have to pay a penalty and be deported.
Changing Visa Class
The Rwandan consulate issues visas in different classes. In case you need to apply for a visa permit in a different class from the one you already have, you can approach the Director General to make your request. Note that this application can be made only as long as your existing permit is valid. Certain visa classes, including those on group tourist visas, are not allowed to change their status. You can find information about whether or not your entry permit class is changeable on the visa document itself.
Entry Health Requirements
Since Rwanda has no cases of Yellow Fever, the Rwandan Ministry of Health takes extraordinary steps to ensure that the disease is not brought into the country by travelers arriving from locations where the disease is prevalent. The country mandates that travelers entering the country from countries with yellow fever provide proof of vaccination at the border post. The vaccination must have taken place at least 10 days prior to entry into Rwanda. Passengers arriving from countries non-endemic to yellow fever with no documented outbreaks need not carry a vaccination certificate. If you live in or have just toured a country endemic to yellow fever or that has had a recent case of the disease, you must show a vaccination certificate. Countries endemic to yellow fever include, in alphabetical order: Angola, Argentina, Benin, Bolivia Plurinational, Brazil, Burkina Faso, Burundi, Cameroon, Central African Republic, Chad, Colombia, Congo, Cote d'Ivoire (Ivory Coast), Democratic Republic of the Congo, Ecuador, Equatorial Guinea, Ethiopia, French Guiana, Gabon, Gambia, Ghana, Guinea, Guinea-Bissau, Kenya, Liberia, Mali, Mauritania, Niger, Nigeria, Panama, Paraguay, Peru, Senegal, Sierra Leone, South Sudan, Sudan, Suriname, Togo, Trinidad and Tobago, Uganda, and Venezuela.
CONTACT AND TALK TO OUR SAFARI EXPERTS TODAY TO KICK-START YOUR TOUR PLANNING PROCESS
Request Rwanda Custom Or Tailor-Made Safari Pricing Based On Your Specific Travel Dates At Your Preferred Safari Tier Camp Or Lodge
CONTACT AN EXPERT ON RWANDA SAFARI PRICES & TOURS
Comprehensive Rwanda Safari & Tour Planning Guide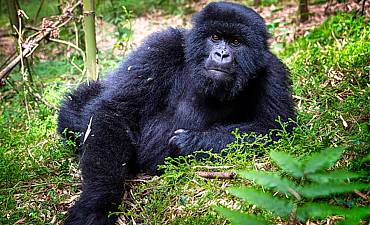 Read More +
SAFARI PRICES FOR RWANDA
Review individual itineraries and prices of our suggested Rwanda safaris with the option of customizing your Africa tour based on your needs and preferences.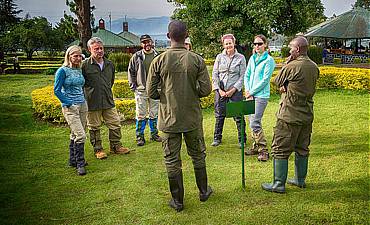 Read More +
AFRICA TRIP IDEAS FOR RWANDA
Review experiences available in Rwanda from gorilla treks, photo wildlife safari, hiking, family to honeymoon romantic vacation, beach lakes, cultural & birding tours.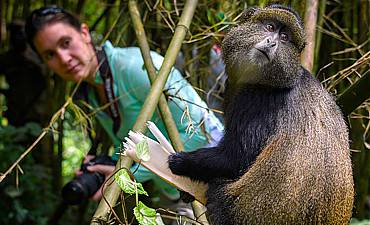 Read More +
PARKS & RESERVES IN RWANDA
Review information on wildlife safari parks, reserves and lakes in Rwanda i.e. Volcanoes, Nyungwe Forest, Akagera, Gishwati-Mukura and Lake Kivu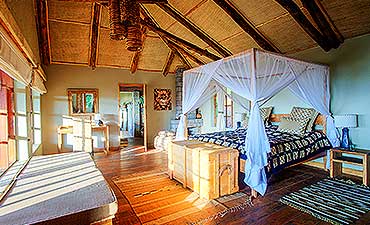 Read More +
ACCOMMODATIONS IN RWANDA
Review information on safari lodges and camps, city hotels, lakeside resorts in Rwanda's pristine wilderness, cities, lake beach shores and idyllic forests.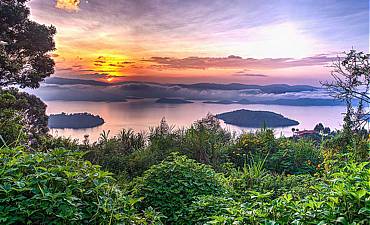 Read More +
BEST TIME TO VISIT RWANDA
Review details on the best time to go to Rwanda to visit its various wildlife outback, forests, beachside lakes, cities and towns, mountains and other wildernesses.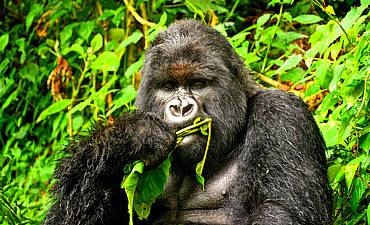 Read More +
RWANDA PRIMATE & GORILLA TREK
Review the opportunity to see the mountain gorillas and golden monkeys of Volcanoes Park and other primates like chimpanzees and colobus monkeys of Nyungwe.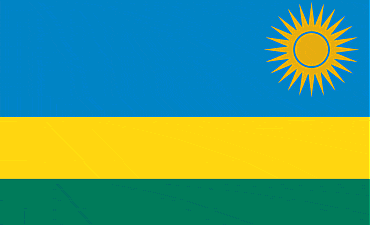 Read More +
RWANDA COUNTRY PROFILE
Review country information and travel tips on Rwanda i.e. geography, culture, history, climate, tipping guide, what to pack and wear, entry requirements and more.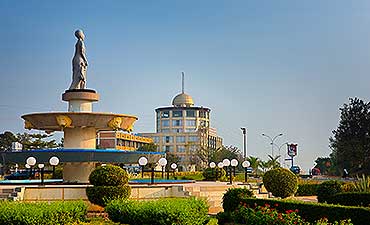 Read More +
CITY DAY TOURS FOR RWANDA
Review city tour suggestions on full or half day options in Kigali. Experiences can be customized around your vacation travels in Rwanda parks and reserves.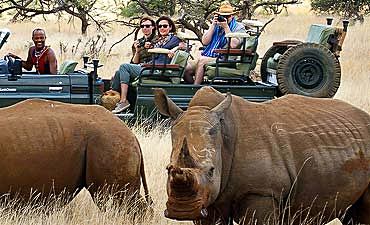 Read More +
AFRICAN SAFARI PRICES
Check out safari prices and itineraries for parks and reserves in other African countries e.g. Tanzania, Kenya, Uganda, Botswana, South Africa, Zambia etc. Namibia, Mozambique, Malawi and Zimbabwe are available on request.
AFRICANMECCA REVIEWS
What are our Customers saying about us? READ MORE REVIEWS

I just returned from a month in Africa, specifically Rwanda & Kenya. I am left breathless with my experience. AfricanMecca Safaris coordinated the entire trip for me and left no detail, nothing for me to do.

Carol Bobb - Pennsylvania, United States

Rwanda was amazing. The accommodations, food, and guides AfricanMecca arranged were great. Raza also helped us through the complicated process of getting permits for gorilla trekking. AfricanMecca is a fantastic company to work with.

Stephanie Weir - United States

Jambo Altaf and Raza! We are back on earth now after our fabulous honeymoon. This is to say THANK YOU so much for organising a week in Kenya that we will never forget.....!

Dr Krina Zondervan, Oxford University - United Kingdom

Jambo Raza!!! The safari trip was spectacular! Everything went off without a hitch. We loved the Masai Mara. The migration was awesome. You listened to what I wanted and delivered it perfectly.

Judi & Chaim Platt - Toronto, Canada

I cannot say enough about the quality of AfricanMecca. Their teams in Kenya and Tanzania were top notch. Raza, again thanks to you and your entire organization! We will be repeat customers.

Dan Kobick - Managing Director, PricewaterhouseCoopers - New York, United States

AfricanMecca Safaris offers incredibly knowledgeable and skilled services! Our travel arrangements for 2 months of volunteering with TEACH Rwanda in country were made quickly and economically. Honored to work with Raza!

Janet Brown - TEACH Rwanda Founder - United States

This is to let you know my guests, The Bryant's, had a wonderful time on the trip Samburu, Masai Mara/Kenya, Chobe/Botswana & Victoria Falls/Zambia. Everything was perfect! Thank you..

Christine Milan - MT Carmel Travel - Connecticut, United States
ARE YOU PLANNING TO BOOK AN AFRICAN SAFARI TO RWANDA?
Do You Need Knowledgeable, Experienced & Specialist Guidance For Your Travels In Rwanda? Let Us Help Plan Your Trip Itinerary Correctly
CONTACT A RWANDA VACATION EXPERT
EXPLORE MORE ON NATIONAL PARKS, CAMPS, LODGES, LAKE HOTELS & RESORTS IN RWANDA
HAVE YOU VISITED EASTERN AFRICA FOR A SAFARI IN RWANDA?
Write A Travel Or Tourist Trip Review To Share Your Experiences
WRITE RWANDA TRIP REVIEW
AMS BLOG
VIEW ALL -
26 October 2017 by AfricanMecca Safaris, in Blog For AfricanMecca Safaris,Safari Planning Blog Posts - AfricanMecca Safaris

Baggage Guidance & Restrictions On Flying Safaris In Africa Published By Afr...

READ MORE +

07 June 2017 by AfricanMecca Safaris, in Blog For AfricanMecca Safaris,Latest Kenya Blog Posts From AfricanMecca Safaris,Safari Planning Blog Posts - AfricanMecca Safaris

Masai Mara Horseback Riding Safari In Kenya Published By AfricanMecca Safaris | ...

READ MORE +

24 March 2017 by AfricanMecca Safaris, in Blog For AfricanMecca Safaris,Safari Planning Blog Posts - AfricanMecca Safaris

Times Square New York Hosts Kenya Tourism Board & Wilderness Safaris Meet Up...

READ MORE +