AUTHENTIC SAFARIS & PERSONALIZED TOURS IN KIBALE WITH AFRICANMECCA
What Safari Attractions & Tour Activities To Experience During Your Kibale Visit?
While discussing your safari vacation in the renowned Kibale National Park with the AfricanMecca tour consultant, you'll probably want to know about possible activities in the park based on your preference and fitness levels. You may be interested to learn that the reserve's diverse landscape varies greatly in altitude, resulting in a wide range of flora that attracts a variety of birds, primates, terrestrial animals, reptiles, and other creatures. Further, Kibale National Park forms a corridor that connects several larger wilderness reserves, including the
Queen Elizabeth National Park
to the south. This wildlife corridor allows for the unrestricted movement of wildlife among the bordering parks, which means you may be lucky enough to spot many rare varieties of terrestrial, semi-aquatic and avian fauna.
The main attraction of the reserve is the astounding variety of primates found in this region of Uganda. During your
primate trek tour
in the park, you will learn that Kibale is famous for its population of nearly 1500 chimpanzees, along with 12 other types of primates including the grey-cheeked mangabey, black and white colobus monkey, spectacled demidoff, and bush babies. As you trek along the forest trails of Kibale National Park, also look for some of the 70 types of mammals, 375 bird species, 250 kinds of butterflies, and various reptiles, amphibians, and insects that make the park their home.
Key Takeaways
Park landscape covering a range of altitudes that has a diversity of flora and incredible fauna living in them
The primary activity is tracking wild chimpanzees. Kibale is home to an astounding 1500 chimpanzee individuals
Each group allowed to spend 60 minutes with an assigned habituated family.
Visitors allowed to accompany researchers as they observe and record primate activities and behavior
Other activities including birdwatching, crater lakes hikes, cultural interactions, chimp habituation experience, canoe excursions, and night forest walks
The expert guide accompanying you will have a keen knowledge of the forest and will help you spot the specific habituated family of chimpanzees that has been assigned to you. As per the regulations laid down by the Uganda Wildlife Authority, a fixed number of permits is issued to guests on their safari holiday each day, allowing them to spend a precious hour viewing the primates in their natural habitat.
But
Kibale National Park
has yet another fascinating activity that you can take part in. After procuring the necessary permits many months prior to arrival, you can accompany an expert ranger naturalist as they conduct their research on the chimpanzees. As you visit primate groups with them, you will have the rare opportunity to learn how the habituation process takes place so that the animals become used to the presence of humans and allow them to approach without feeling threatened and moving away quickly.
If you are an enthusiastic
birder on safari in Africa
, traveling to the Bigodi Wetlands Sanctuary is a must. This area abounds with a stunning diversity of birdlife which includes the rare shoebill stork. In addition to nature walks in the daytime, you can sign up for explorations in the late evening. Experience life in the bush as nocturnal creatures emerge from their hiding places to forage for food, even as other species settle in for the night.
Since Kibale Conservation Area lies in the Albertine Rift valley area, you can also enjoy seeing any of the several crater lakes that dot its landscapes, each a remnant of the intense volcanic activity that occurred here in the distant past. These lakes now act as magnets for avian fauna and are spectacular to view. You can also enjoy canoe trips on the lakes.
As enriching as it is to see the wildlife of Kibale National Park, so is experiencing the
culture
of this western region of Uganda. When safari vacationing in the reserve, take time to visit the outskirt villages of the Bakiga and Batoro tribes. Participate in their music and dances and, perhaps, take a lesson in making baskets, hats, and other handcrafted items. Learn about their ancient customs and tribal traditions and the fascinating art of making medicines from plants and herbs. Since young children under 12 years are not allowed on chimpanzee trekking safaris, you can sign them up for other activities such as batik painting, photographing nature, and fishing in the ponds.
Watch Video On Kibale Safari Experiences
Our Top 7 Safari Activities In Kibale - Things You Can Do & See
Page Content - Start Here
1. Chimpanzee Trekking Safaris In Kibale Forest
Key Takeaways
Tracking down habituated families of chimpanzees that live in the park; orientation sessions provided to instruct visitors on what to expect
Chimpanzee trekking safaris beginning at 8 a.m. or 2 p.m. Each trek taking around 2 to 3 hours walking along easy to moderate hiking trails
Only 24 permits issued each day for 3 groups with a maximum of 6 to 8 members. There are also 2 addiitional groups available
If you sign up for the chimpanzee trekking safari in Kibale National Park
(
where to stay
)
, you will be assigned to one of the 5 groups of chimps that have been habituated for tourism and research. The first is the Kanyawara community, which comprises 60 individuals, while the second is a very large family with 200 individuals. These groups have been studied under the Kibale Chimpanzee Project. The third group frequents the Kanyanchu area, and the tracking activity involving this group is called the Kanyanchu Primate Walk. The fourth and fifth groups are Mahlae - M and Ngogo communities. Most of the chimp tracking excursions begin at 8 a.m. or at 2 p.m., though the timing can be adjusted where possible when combining other activities around Kibale Park on that particular day. The last group is located in the northern Sebitole region which is dedicated for research.
Before starting out, you will attend a short orientation session where you will learn about the do's and don'ts of your visit, and other rules to follow when in the company of the chimpanzees. Each trip takes 2 to 3 hours of walking along easy to moderate forest trails — more like a nature walk than a high intensity hike. The experienced tracker leading the way will locate the family so you can reach them in less time. Once you find the family, you will be allowed to spend 60 minutes in their company, observing the chimps as they forage for food, hunt, groom one another, mating, nap in the trees, or even descend to the ground for introspect.
Each group of visitors consists of 6 to 8 members. To join a group, you must obtain a permit prior to arrival from the park authorities. And since only 24 permits are issued each day in Kibale National Park, be sure to inform your AfricanMecca Safaris consultant of your wish to go chimpanzee trekking at the time of booking your
adventure safari holiday in Uganda
2. Kibale Chimpanzee Habituation Experience (CHEX) Safari
Key Takeaways
Participating in the Chimpanzee Habituation Experience (CHEX) where research rangers study the primates and familiarize them with the presence of humans.
Each excursion starts at 6 a.m. and lasts up to 7 p.m. Only 6 visitors allowed to join the CHEX trek on a given day, so acquiring permits months prior to arrival is highly recommended due to high demand
Opportunity to study chimps as they forage for food and caring for their young
While watching the chimpanzees go about their regular activities in Kibale National Park is an amazing experience, you can sign up for an even more interesting excursion – participating in the Chimpanzee Habituation Experience, called CHEX by the locals. While the ordinary trekking
trip in Kibale
can be covered in 2 to 3 hours, depending on the current location of the primates in the Kanyanchu region, CHEX starts at 6 a.m. and gives you a closer look at a typical day in the life of a chimpanzee. You will likely come upon the chimps coming down from the temporary nests they make for the night.
Once spotted, you can watch them foraging for food, mating, nursing their young, or patrolling the perimeters of their territory in Kibale National Park. On rare occasions, travelers have had the good fortune to see them at closer range as they are not fully habituated, when they descend to the forest floor. Your excursion will end with a return back to the park base by 7 p.m. This is to ensure chimps get their privacy when they build new nests in the trees and settle in for the night. Only 6 guests are allowed to participate in the habituation experience each day.
You'll want to keep in mind that, as a rule, chimpanzees are shy creatures and will take off if they see humans approaching. However, CHEX allows for a more intimate view of how scientists study the families in an unobtrusive, non-threatening way, so that the chimps accept human visitors as part of the environment of Kibale National Park. You will be delighted to see how the animals continue with their activities, scarcely paying any attention to you. Most
Kibale accommodations
provide a packed lunch for you to bring along for the day, and you can spend your time asking the researchers questions and observing every aspect of the primates behavior, which is often amazingly similar to humans.
Since only a fixed number of permits are issued each day for CHEX, it's best to discuss your plans with the AfricanMecca tour operator well in advance. Please note that CHEX experience is high intensity, and requires trekking for many hours of following the chimpanzees over long distances. There is always a rare possibility of not finding the semi-habituated chimps for the day, and you may then be redirected to observe the habituated chimpanzees of the Kanyanchu group.
3. Birdwatching Safaris In Kibale
Key Takeaways
Birdwatching excursions around some of the prime locations in the reserve. Possible sightings of various species during chimpanzee-trekking safari in the Kanyanchu locale
Knowledgeable guides to accompany visitors and talk about bird habitats, breeding, feeding and nesting habits
Opportunity to view breeding and migratory birds
Kibale National Park is a treasured destination in Uganda for forest
birdwatching
aficionados, and it's not uncommon for travelers to plan trips with the sole intention of racking up sightings of many of the incredible 375 species of avian life that thrive here. You are likely to spot several types of birds on your chimpanzee-trekking excursions in the Kanyanchu area, which is also well-known as a prime birding locale. You can also sign up for one of the dedicated bird-watching excursions in Kanyanchu, which begins at 7 a.m. every day. The Bigodi Wetlands Sanctuary is another premier locale just outside the boundaries of the park and boasts a concentration of 138 kinds of birds including the shoebill.
The expert Uganda birding guide accompanying you will help you spot the various species and explain in detail their favored habitats and nesting habits. There are several viewing platforms and boardwalks in the forest that make spotting birds a lot easier. Should you choose to
visit Kibale National Park (best time)
from March to May and September to November, you may come across various breeding birds in their plumage with plenty of food available. Migratory birds arrive south around November to April to escape the cold winters of the northern hemisphere, and are best seen in the open areas rather than woodland areas of Kibale.
As you travel along the forest trails, look for species such as the superb sunbird, yellow-billed barbet, black-and-white shrike-flycatcher, white-spotted flufftail, hairy-breasted barbet, black bishop, Grey-winged Robin-chat, brown-throated wattle-eye, black-crowned waxbill, papyrus gonolek, white-tailed ant-thrush and many more.
Below is a list of some of the birds of Kibale National Park
Nahan's Partridge
Forest Francolin
Afep Pigeon
White-naped Pigeon
Fiery-necked Nightjar
Sabine's Spinetail
Cassin's Spinetail
Scarce Swift
Dusky Long-tailed
Olive Long-tailed
White-spotted Flufftail
Ruwenzori Turaco
Red-chested Owlet
Cassin's Hawk-eagle
Mountain Buzzard
Bar-tailed Trogon
Congo Pied
Grey-cheeked Hornbill
Brown-cheeked Hornbill
Forest Scimitarbill
Black Bee-eater
Blue-throated Roller
Eastern Yellow-billed
Yellow-spotted Barbet
Speckled Tinkerbird
Western Green
Yellow-throated Tinkerbird
Hairy-breasted Barbet
Cassin's Honeybird
Willcocks's Honeyguide
Buff-spotted Woodpecker
Brown-eared Woodpecker
Fine-banded Woodpecker
Yellow-crested Woodpecker
Grey Parrot
Green-breasted Pitta
Western Black-headed
Mountain Oriole
Petit's Cuckooshrike
African Shrike-flycatcher
Jameson's Wattle-eye
Chestnut Wattle-eye
Bocage's Bush-shrike
Papyrus Gonolek
Terpsiphone rufiventer
White-tailed Crested-flycatcher
White-bellied Crested-flycatcher
Dusky Tit
Western Nicator
Green Crombec
White-browed Crombec
Ruwenzori Apalis
Masked Apalis
Buff-throated Apalis
Tawny-breasted Camaroptera
Chubb's Cisticola
White-winged Swamp-warbler
Eastern Mountain
Red-tailed Bristlebill
Honeyguide Greenbul

Joyful Greenbul
Grey Greenbul
Plain Greenbul
Red-tailed Greenbul
Toro Olive
White-throated Greenbul
Uganda Woodland-warbler
Red-faced Woodland-warbler
Green Hylia
Ruwenzori Hill-babbler
Brown Illadopsis
Scaly-breasted Illadopsis
Chestnut-winged Starling
Waller's Starling
Sharpe's Starling
Stuhlmann's Starling
Narrow-tailed Starling
Purple-headed Starling
White-tailed Ant-thrush
Rufous Flycatcher-thrush
Oberländer's Ground-thrush
Black-eared Ground-thrush
Fire-crested Alethe
Cassin's Flycatcher
Sooty Flycatcher
Dusky-blue Flycatcher
Grey-throated Tit-flycatcher
White-eyed Slaty-flycatcher
Blue-shouldered Robin-chat
Yellow-breasted Forest-robin
Equatorial Akalat
Lowland Akalat
Grey-headed Sunbird
Grey-chinned Sunbird
Blue-throated Brown
Blue-headed Sunbird
Green-throated Sunbird
Purple-breasted Sunbird
Bronze Sunbird
Tiny Sunbird
Northern Double-collared
Red-chested Sunbird
Superb Sunbird
Baglafecht Weaver
Black-billed Weaver
Northern Brown-throated
Yellow-mantled Weaver
Brown-capped Weaver
Vieillot's Black
Red-headed Malimbe
Red-bellied Malimbe
Red-faced Crimsonwing
Dusky Crimsonwing
Yellow-bellied Waxbill
White-collared Oliveback
White-breasted Nigrita
Pale-fronted Nigrita
Woodhouse's Antpecker
Yellow-browed Citril
4. Exploring Spectacular Crater Lakes Of Kibale & Top Of The World
Key Takeaways
Exploring the crater lakes of the Albertine Rift Valley left behind by centuries-old extinct volcanoes
Hiking trips to the rims of the lakes including "Top of the World" for fabulous views of the surrounding landscape and viewing birds and small animals. Touring various other lakes for fishing and canoeing
Excursions starting in the early morning and lasting for three hours, visitors advised bringing a packed lunch
Owing to the fact that Kibale National Park is within the Albertine Rift Valley, there are several crater lakes within and around its conservation areas that mesmerize tour visitors with their lush green vegetation and natural beauty. You can sign up for an
African hiking trip
up the hills that cradle the lakes and revel in the spellbinding views from the top. Some of the lakes have safari holiday accommodations built on their crater rim boundaries, which you can choose to book for your stay. The lakeside areas are magnets for a wide range of birds and other wildlife that you may have the chance to spot on your nature walks or cycling excursions.
The most famous lake in the west of Kibale National Park is Lake Nyinambuga, which has been featured on the Uganda 20,000 currency note. Lake Nkuruba has perhaps the most picturesque vistas and is known by visitors as a great place to spot red colobus and black and white colobus monkeys. While canoeing and fishing are interesting activities to do at the lakes, swimming isn't encouraged here because of hazards such as bilharzia. You'll also want to avoid encroaching on the local hippos' territory in Lake Nyabikere, also known as the Lake of Frogs. Other craters you could consider exploring are Lake Nyinabulitwa, Lake Nkuruba, and Lake Nyamirima. For a walk through the famous Arabica coffee plantations, you can travel to Lake Kasenda.
Most crater hikes in Kibale begin early in the morning, so you can scale the slopes while the weather remains relatively cool. On your hiking tour of the "Top of the World" excursion, we recommend that you bring along a packed lunch, along with adequate bottled water or other beverages to remain hydrated. Wear tough hiking boots and clothing that covers you completely. Also, bring a light rain jacket and a walking stick to help you scale the slopes. A typical crater lake excursion takes about three hours to complete, and the AfricanMecca assigned guide accompanying you will regale you with tales of the exciting history of Kibale's crater lakes as you enjoy sighting many species of the local flora and fauna.
5. Kibale Evening Forest Walks
Key Takeaways
Night walking excursions to spot nocturnal creatures that become active at night. Unique experiences of the forest including the sights and smells of the twilight zone
Forest walks starting at 7:30 p.m. from the park headquarters after dinner
Each trek lasting for 1.5 to 2 hours is conducted in the company of an expert forest guide
Exploring Kibale National Park at night introduces you to a whole range of fascinating creatures that become active only in the dark. Sign up for this unique excursion and you will meet nocturnal animals like the potto, mongoose, bushbaby, and tree hyrax. Also, look for the odd civet or serval cat hunting for a meal.
A typical night forest walk begins at 7:30 p.m., right after dinner, from the park headquarters, where you will receive a short orientation talk given by the Uganda Wildlife Authority rangers. The trek continues for 1.5 - 2 hours, and you will be carrying high-powered torches (flashlights) to
hike tour
the forest trails in the company of an expert guide. It is advisable to bring at least a liter of water in your backpack and come dressed in long pants with the hems or gaiters tucked into the tops of sturdy boots. You may want to wear a long-sleeved shirt and insect repellent to prevent bites. Having a lightweight rain jacket along in case of a sudden shower is also recommended.
The consultants at AfricanMecca Safaris recommend this adventure vacation activity
(
reasons to visit Uganda
)
because experiencing the African jungle at night has a whole different feel. It is not for the faint hearted! You'll hear the chirping of crickets and the high-pitched shriek of a hyrax, mingled with the chatter of chimps. Breathe in the scents of the forest at night and catch sight of a reptile in a tree. All of these sensations envelop you and provide a glimpse of a unique facet of Kibale National Park – one that remains hidden in the daylight.
6. Cultural & Community Tours Near Kibale Park
Key Takeaways
Kibale Association for Rural and Environmental Development (KAFRED) organized to conserve the culture and livelihood of communities displaced by the park's official demarcation. Winner of the esteemed UNDP Equator Initiative Award assisting people with education, health, and sanitation
Visitors welcomed to interact with the Bakiga and Batoro communities to learn about their traditional way of life.
Visits to the village church, school, and village medicine man. Engaging in the folklore of the people who relate tales of their history and travels to their present-day home
The authorities in Kibale National Park recognize the need to support the communities that lost their homes and livelihood because of the demarcation of the park's boundaries. Accordingly, they have initiated the Kibale Association for Rural and Environmental Development (KAFRED), an organization dedicated to conserving the biodiversity of the inhabitants of the park by providing opportunities for jobs through eco-tourism. The organization has earned the renowned UNDP Equator Initiative Award and now assists with education, health and public sanitation, and other important services that benefit the local population and thereby discourage illegal hunting in the forest reserve.
Book a
cultural tour on your Uganda safari
where you can visit the local village to develop an understanding and appreciation of the lifestyle of the Batoro people. Your excursion will include a visit to the village church, elementary school, and the village medicine man. Learn about the activities traditionally undertaken by women, as well as their rites and ceremonies. You will also hear tales such as "The Village of Two Tribes," which talk about the travels of the migrating Bakiga clan and their assimilation with the native Batoro in the 1950s. Members of KAFRED may also take you on a nature walk through the Magombe swamplands of Kibale's conservation wilderness to view the resident fauna.
7. Touring Bigodi Wetlands Sanctuary For Primates & Birds
Key Takeaways
Visits to the Bigodi Wetlands Sanctuary located in the Magombe Swamp
Sightings of 8 species of primates and 138 species of gorgeous birdlife
Earnings from tourism used for the upliftment of the community and building of infrastructure.
Although the Bigodi Wetlands Sanctuary is not actually within the boundaries of Kibale National Park, you can add a day trip to explore it to your safari vacation
itinerary for Uganda
. Located in the Magombe Swamp area, this scenic wilderness is famous for its 138 species of birds, along with various mammals including eight primate species like the grey-cheeked mangabey, L'Hoest's monkey, black-and-white colobus monkey, blue monkey, vervet monkey, red-tailed monkey, red colobus monkey, and olive baboon. The mongoose, bushbuck, bush pig, otter, and elusive sitatunga antelope can also be sighted here. Among the birds, look out for the rare grand blue turaco and shoebill stork.
The Bigodi Wetlands Sanctuary takes its name from the Rutooro word
kugody,
which means "to walk wearily," and is managed by the local Kibale Association For Rural And Environmental Development (KAFRED). The local communities linked to KAFRED benefit from tourism activity in Kibale National Park, and the earnings from safari guests go toward the building of roads, schools, bridges, and to pay the wages of teachers. The farmers also earn an income from selling their produce to the lodges and camps set up around reserve, and from receiving visitors in their African-style homes to introduce them to the typical Batoro lifestyle.
Various other occupations have also emerged among the local communities, mainly centering on visitor presence in the region. Since they're experts on the flora and fauna of Kibale
,
many of the tribe's members now work as guides, an employment activity that has led to the cessation of poaching within the boundaries of the park and sanctuary. Tourism now supports the higher education of the children of the villages. Meanwhile, the 40-member Bigodi Women Group creates handicrafts using sustainable raw materials from the wetlands. These goods are sold locally and exported to various global locations.
| | |
| --- | --- |
| Kibale Park Rating By AfricanMecca | |
Write A Trip Review On Kibale In Uganda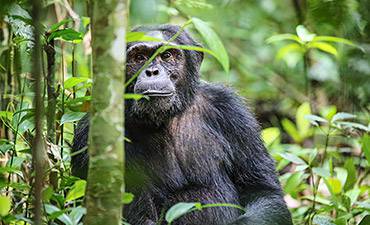 Read More +
KIBALE NATIONAL PARK GUIDE
Kibale National Park is a stunningly beautiful natural reserve in Uganda. Its most valued treasure is an incredible diversity of primates – 13 species in all, including the rare Eastern chimpanzee.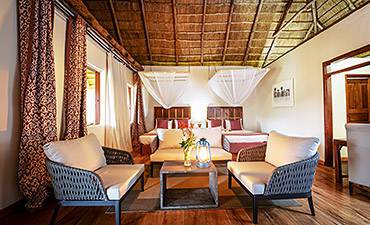 Read More +
WHERE & BEST PLACES TO STAY IN KIBALE
Kibale has varied accommodations, from the luxuries of Kyaninga Lodge to the deluxe option of Ndali Lodge. The value lodge options in Kibale National Park are Crater Safari Lodge and Primate Lodge.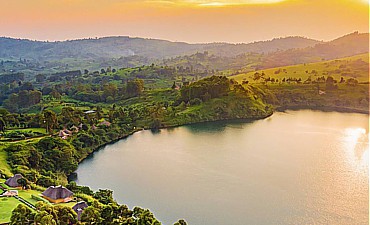 Read More +
BEST TIME TO VISIT KIBALE
Like most locations in Africa, Kibale National Park has two wet rainy seasons and two dry seasons. June to August and end of December, January, and February is the best time to visit Kibale in Uganda.
AFRICANMECCA REVIEWS
What are our Customers saying about us? READ MORE REVIEWS

AfricanMecca Safaris offers incredibly knowledgeable and skilled services! Our travel arrangements for 2 months of volunteering with TEACH Rwanda in country were made quickly and economically. Honored to work with Raza!

Janet Brown - TEACH Rwanda Founder - United States

I just returned from a month in Africa, specifically Rwanda & Kenya. I am left breathless with my experience. AfricanMecca Safaris coordinated the entire trip for me and left no detail, nothing for me to do.

Carol Bobb - Pennsylvania, United States

AfricanMecca Safaris created a remarkable honeymoon tailored to our interests and desires. The quality of service and delivery of experience was unsurpassed. I highly recommend AfricanMecca Safaris to honeymooners, families, or any traveler.

Noorin & Jason Nelson - Maryland, United States

I booked my safari holiday through AfricanMecca. They were the most helpful company I have ever dealt with and I work within the travel industry. I had the most amazing time. The holiday went as clockwork with no hitches anywhere.

Shelley Roberts - Hemel Hempstead, United Kingdom

This is to let you know my guests, The Bryant's, had a wonderful time on the trip Samburu, Masai Mara/Kenya, Chobe/Botswana & Victoria Falls/Zambia. Everything was perfect! Thank you.

Christine Milan - MT Carmel Travel - Connecticut, United States

We have returned from our African adventure and would like to thank you very much for your part in making this such a wonderful experience. We were lucky enough to time the Great Migration from the Serengeti, which was amazing.

Denise Paterson - Belmont, Australia

Rwanda was amazing. The accommodations, food, and guides AfricanMecca arranged were great. Raza also helped us through the complicated process of getting permits for gorilla trekking. AfricanMecca is a fantastic company to work with.

Stephanie Weir - United States
HAVE YOU VISITED KIBALE FOR AN AFRICA SAFARI IN UGANDA?
Write A Travel Or Tourist Trip Review To Share Your Experiences
WRITE KIBALE REVIEW
AMS BLOG
VIEW ALL -
26 October 2017 by AfricanMecca Safaris, in Blog For AfricanMecca Safaris,Safari Planning Blog Posts - AfricanMecca Safaris

Baggage Guidance & Restrictions On Flying Safaris In Africa Published By Afr...

READ MORE +

07 June 2017 by AfricanMecca Safaris, in Blog For AfricanMecca Safaris,Latest Kenya Blog Posts From AfricanMecca Safaris,Safari Planning Blog Posts - AfricanMecca Safaris

Horseback Riding Safari In Masai Mara (Kenya) Published By AfricanMecca Safaris ...

READ MORE +

24 March 2017 by AfricanMecca Safaris, in Blog For AfricanMecca Safaris,Safari Planning Blog Posts - AfricanMecca Safaris

Times Square New York Hosts Kenya Tourism Board & Wilderness Safaris Meet Up...

READ MORE +